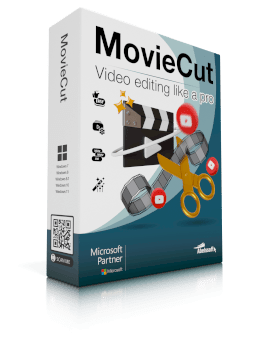 Abelssoft MovieCut是一款功能实用的视频剪辑软件,该软件可帮助用户快速录制你生活中美好的时刻,用户可以按照您的意愿来剪切某个视频,支持常见的MP4、MOV、AVI等视频格式,还可以调整视频的亮度、添加音乐、特效和滤镜。
---
File size: 60 MB
A recorded video can capture precious moments of your life or the life of others: the first steps of your child, the stage acting of your niece or the opening dance on your wedding. Videos shall keep these moments forever. MovieCut is especially made for these moments. Recorded videos can be edited in a few minutes. Your cuts and edits are applied in realtime for you to keep track of all the edits you've done to the video. Results are directly visible in the preview.
Very easy operation
Results like from a professional with very easy operation with just a few clicks!
Useful Effects and Filters
Let videos fade in and out, light and dark areas fade in and out or underlay them with atmospheric music.
Publish your video on YouTube
Besides the usual file export, the finished video can also be uploaded directly to YouTube.
Many video formats
MovieCut was developed to support and process all important video formats.