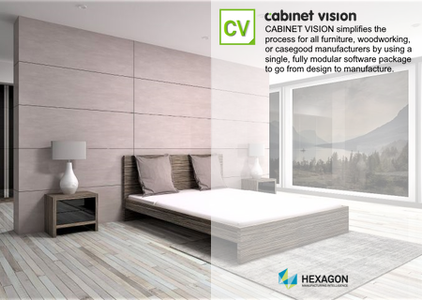 Hexagon CABINET VISION 2021.1.0.571 | 3.8 Gb
The Vero Software, a part of Hexagon development team, is pleased to announce the availability of CABINET VISION 2021.1.0.571. Version 2021 sports a new and modern user interface, improved visual styles, and keyboard shortcuts in addition to a wide range of new features.
CABINET VISION 2021 Release
Shadowline/Handle-less Cabinetry
The streamlined look and feel of handle-less cabinetry can be a significant challenge to produce efficiently using traditional construction methods. In the absence of handles or knobs, handle-less cabinets must be built with recessed channels to ensure that doors and drawers are easy to open. Designed to help woodworkers transition quickly from design to production, the CABINET VISION 2021 design-to-manufacturing suite simplifies the process of constructing handle-less, also known as shadowline, cabinets for any job. This new capability is, now available to all CABINET VISION users, helping woodworkers respond to the current design trend while remaining competitive, and better able to retain and win business.
Cabinet-Door Manager
Cabinet-door production comprises a significant portion of cabinetry work, and many cabinet shops maintain libraries of thousands of cabinet-door styles, making the task of finding and reusing door designs frustrating and time consuming. In response to this common challenge, a new Door Manager has been introduced, that enables users to manage all activities related to door production efficiently by maintaining a dynamic door database.
Software Architecture
Hexagon has re-structured its software so that customers can build the design-to-manufacturing solution they need to meet the immediate demands of their business, eliminate the purchase of functions that are not required to achieve significant cost savings. Users begin by choosing to specialize in either cabinets or closets, which ensures that they receive the industry-specific tools needed for taking projects from engineering through to production. They can then build highly customised solutions by adding the tools they need to fulfil their broader business needs. Dubbed "multipliers," these tools build upon, or multiply, the power of the core industry tools.
New Multipliers
Available multipliers include xRendering, which offers photorealistic rendering capabilities essential for sales opportunities and presentations, and xMachining, which includes the Screen-to-MachineTM solution used to produce the NC code that programs machines for production. Using Screen-to-Machine, NC code is generated for completed project designs with a few clicks of a mouse, and that code is sent to the CNC machinery that will cut the parts.
CABINET VISION makes it simple for furniture, woodworking, or casegood manufacturers of all sizes to play to their strengths, by using a single, fully modular software package to go from design to manufacture. This software provides you with a choice of core components that enable you to enhance productivity and improve quality and customer service within your chosen specialism. Each core component provides layout, cut listing, basic rendering and primary estimating functions. Fast, practical and precise, CABINET VISION excels at rapidly and seamlessly converting designs into all the information you need on the factory floor to manage manufacturing process. And an intuitively simple parametric function means you can capitalise on previous bespoke designs by resizing elements without reprogramming. The result is a faithful reproduction of designs and the reduction of both time-consuming processes and human error.
Headquartered in England, Vero Software develops and distributes CAD CAM software radically enhancing the efficiency of design and manufacturing processes. The company's world-renowned brands include Alphacam, Cabinet Vision, Edgecam, Machining STRATEGIST, PEPS, Radan, SMIRT, SURFCAM, WorkNC and VISI, along with the production control ERP/MRP system Javelin and WorkPLAN. Vero has direct offices in the UK, Germany, Italy, France, Japan, USA, Brazil, Netherlands, China, South Korea, Spain and India supplying products to more than 45 countries through its wholly-owned subsidiaries and reseller network. Vero is part of Hexagon (Nordic exchange: HEXA B), a leading global provider of design, measurement and visualization technologies that enable customers to design, measure and position objects, and process and present data.
Product: Hexagon CABINET VISION
Version: 2021.1.0.571
Supported Architectures: x64
Website Home Page : http://www.cabinetvision.com
Languages Supported: english
System Requirements: Windows *
Size: 3.8 Gb
---
Password/解压密码www.tbtos.com