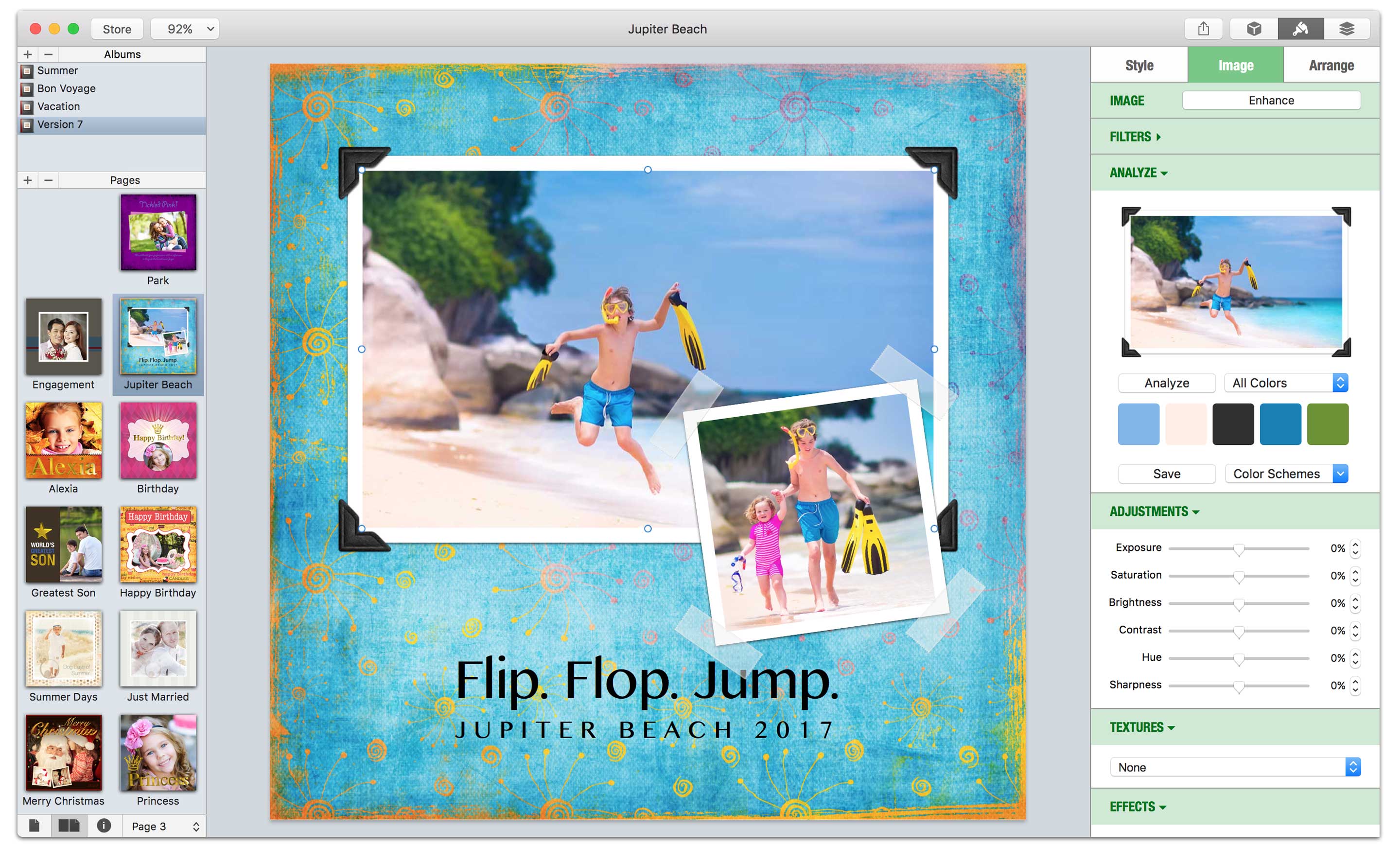 iScrapbook是一种数字剪贴簿工具,旨在为新手和专业人员使用的剪贴簿。它多种多样的设计类别处于领先地位,但很容易使用,每个人都可以做出惊人的效果。 iScrapbook剪贴簿管理整个过程,从网页设计到相册的组织。
iScrapbook将帮助你比传统的剪贴簿获得更多的剪贴簿以及更少的时间并且做出做更专业的结果。
---
Chronos iScrapbook 7.0.1 | MacOSX | 372.8 MB
iScrapbook is a digital scrapbook tool designed for both novice and professional scrapbookers. Its class-leading assortment of design tools are sophisticated, yet easy to use.
iScrapbook is the #1 scrapbooking application for Mac. It's designed for both novice and professional scrapbookers. iScrapbook manages the entire scrapbooking process from page design to album organization.
Start with a template or create your own design from scratch.
iScrapbook comes with over 200 professionally-designed templates to get you started. Simply drag and drop your photos into the placeholders on the template to make it your own. Customize further with journaling, headlines, artwork, and more.
NEW! The amazing Photo Analyzer.
Select any photo on your design and then press a special button to see the dominant colors in the photo. You can then create a color scheme based on these colors.
NEW! Create designer-worthy color schemes.
Use the built-in color wheel to discover color combinations based on the same color theory that artists use. To make your color exploration more fun, the color wheel spins when you select a new base color and offers educational tips.
NEW! Perfect blends between colors.
Create blends between two colors to create a monochromatic look that's pleasing to the eye. Supports tints, shades, tones, and custom blends.
NEW! Grab the color of any pixel.
Use the eyedropper tool to quickly and easily retrieve the color of any pixel on your screen — a convenient way to create color schemes from artwork or source material already on your design.
NEW! Warm vs cool colors.
Warm versus cool refers to the psychological impact colors have in conveying a message. Warm colors are frequently associated with the warm of fire and the sun while cool colors are frequently associated with the coolness of the sea, sky, and foliage. The warm/cool indicator divides the color wheel into warm and cool colors, so you correctly convey the messaging you want.
Maps integration.
Add a beautiful map to your scrapbook page to help others see exactly where the event you're scrapbooking took place. This feature is especially useful for remembering out-of-the-way towns on road trips and international destinations that might be unfamiliar to others. Choose from standard, satellite, and hybrid maps. Plus, you can also include routes, points of interest, and marker pins.
Impress with 3D headlines.
Use a 3D headline to give your page an eye-catching sophistication usually only achievable by professional designers. You get to control everything: the materials used for the headline, the lighting, the reflections, the 3-dimension perspective, and more. You'll be amazed how easy and fun it is to experiment with different looks.
One-click photo frames are quick and easy!
With one click, you can now add a frame to any photo. Choose from 10+ different frame styles. Each style is customizable so you customize attributes like color, border tickness, etc.
Includes: simple borders (square corners, round corners, circular), photo corners (black, white, silver, gold), tape (transparent & masking), staples, corner cutouts, scalloped edges, polaroid (regular, antique, crinkled, tattered, faded, vintage), mat (adjustable bevel), and burnt edges.
Instant paper overlays add texture.
iScrapbook uses advanced image compositing to blend built-in textures with your photos. The textures make it simple to customize your photos with a variety of sophisticated and antique motifs. Choose from over 49 different overlays including papers (folded, crumpled, canvas, linen, and more), glass, and old film (dust, scratches, crackle).
Draggable special effects.
Normally, a special effect is applied directly to a photo. But sometimes you want a special effect to appear on top of a shape, solid-color background, or across several objects on your page. Now you can with three special lighting effects that you simply drag and drop anywhere on your page: sunburst (all-new), sparkle, and lenticular halo.
Fun smart shapes.
Scrapbookers love to frame and crop photos with fun shapes. iScrapbook includes 50+ smart shapes many of which can be customized. In addition to regular shapes, these include bracket frames, doughnuts, speech bubbles, shields, teardrop, stars, and more.
Reflection perfection.
You can easily add a reflection to any graphic, shape, or text box and the reflection is completely customizable. For example, you can control the transparency, height, and offsets of the reflection to get the exact effect you're after.
Streamlined font previews.
The Font Preview shows you exactly how your selected text will look in different fonts. You can choose to display the previews in a list or as an animation in which the previews glide across the window in random directions. The animation option lets you sit back and watch for the ideal font.
New in Version 7
• Create and reuse an unlimited number of color schemes
• Photo analyzer figures out dominant colors in a photo
• Color wheel with 11 built-in color combinations for choosing great colors
• Color combinations include complementary, analogous, triadic, and more
• Built-in color theory tips educate about color use
• Color wheel supports artistic primary colors (RYB: red, yellow, blue)
• Color wheel supports modern primary colors (RGB: red, green, blue)
• Color blender creates blends between two colors
• Built-in color scheme access throughout the software
• Eyedropper retrieves the color of any pixel on the screen
• Warm/cool indicator for the color wheel
• Color blender also supports tints, shades, and tones
• Built-in sliders for adjusting the base color
• Built-in hex field for copying/pasting colors with other apps
System Requirements: Requires macOS Sierra (10.12) or later.
Home Page – https://www.chronosnet.com/store/software/iscrapbook
---
Download rapidgator
https://rg.to/file/dfcd7f217e9af51dbeeb733973aa835b/iScrapbook_7.0.4.rar.html
Download nitroflare
http://nitroflare.com/view/0088E1FBB2D3ED1/iScrapbook_7.0.4.rar
Download 城通网盘
https://u7940988.ctfile.com/fs/7940988-242417910
Download 百度云
链接: https://pan.baidu.com/s/11sutQ6RfiXJLLYeEYw1P3w 密码: jtxw