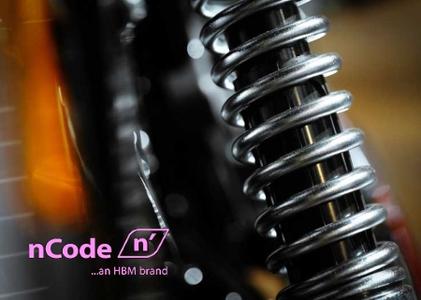 nCode 疲劳和耐久性软件
HBM nCode 软件可以帮助:
测试工程师做出正确的工程决定,进行快速分析和工作
设计工程师提高产品性能
操作和管理者明白产品用途并优化操作.
---
HBM nCode 13.x | 3.2 Gb
HBM Prenscia announces the version 13.0 release of nCode, the leading brand of durability, test and analysis software. nCode 13.0 offers improvements in functionality and performance for nCode DesignLife, nCode GlyphWorks and nCode VibeSys.
This latest release focuses on improved performance and new capabilities for vibration fatigue, modal analysis and acoustics. The updates in nCode 13.0 continue to add functionality to an already class leading product and provides unique capabilities in vibration fatigue.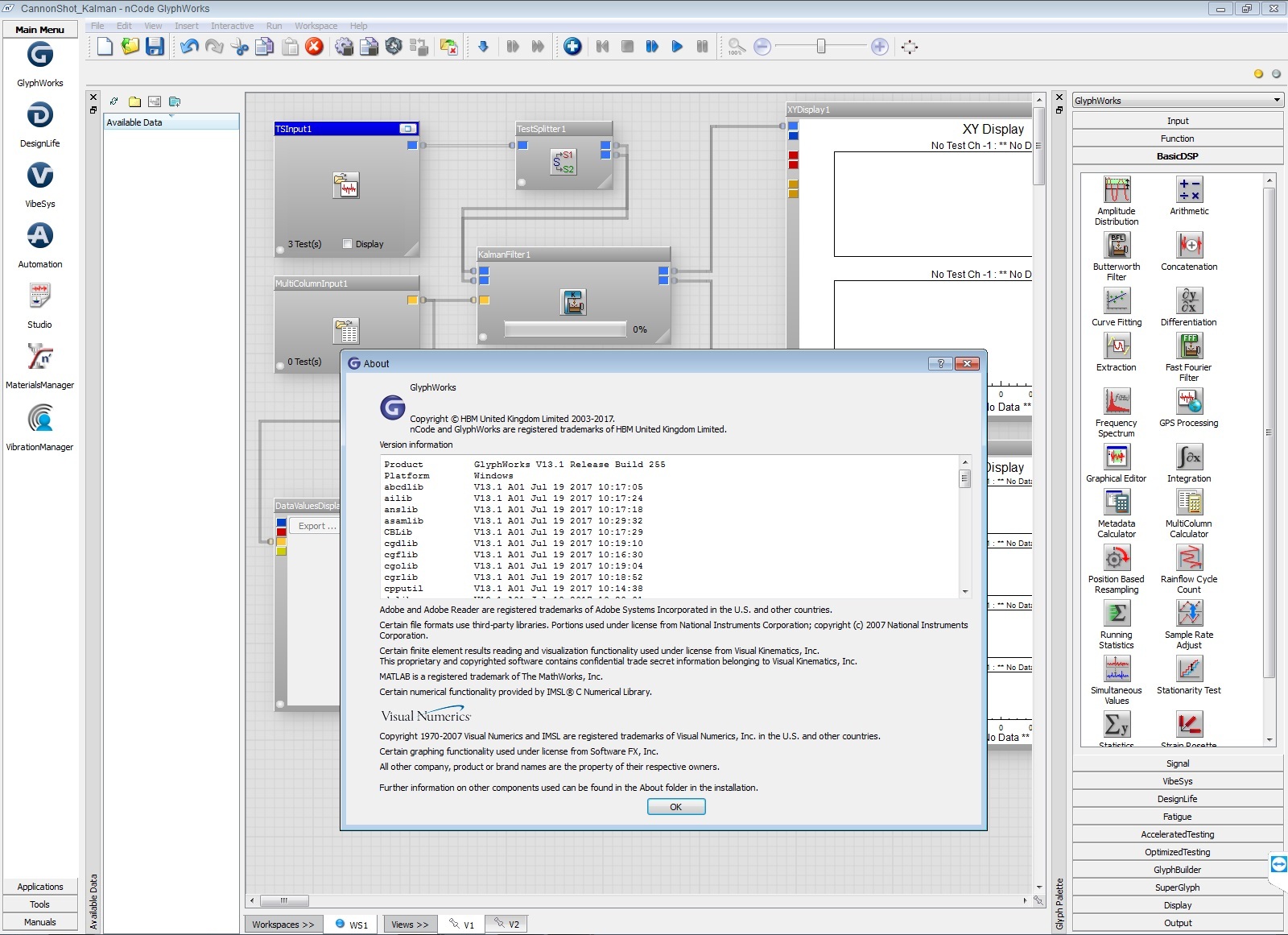 nCode VibeSys offers options to perform Modal Analysis, these features have been enhanced by providing new methods in experimental modal analysis and the display of operating defection shapes.
nCode DesignLife has new capabilities for vibration based spot weld and seam weld analysis. In addition to the standard capability of vibration fatigue using stress-life (SN), it is now possible to also use strain-life (EN) analysis methods for vibration loads. nCode DesignLife now offers a un-paralleled range of analysis options for vibrating structures including those made of short fibre composites.
nCode GlyphWorks improves with many general usability enhancements including the move to support Python version 2.7.12 for scripting of custom processes both with GlyphWorks, VibeSys and DesignLife.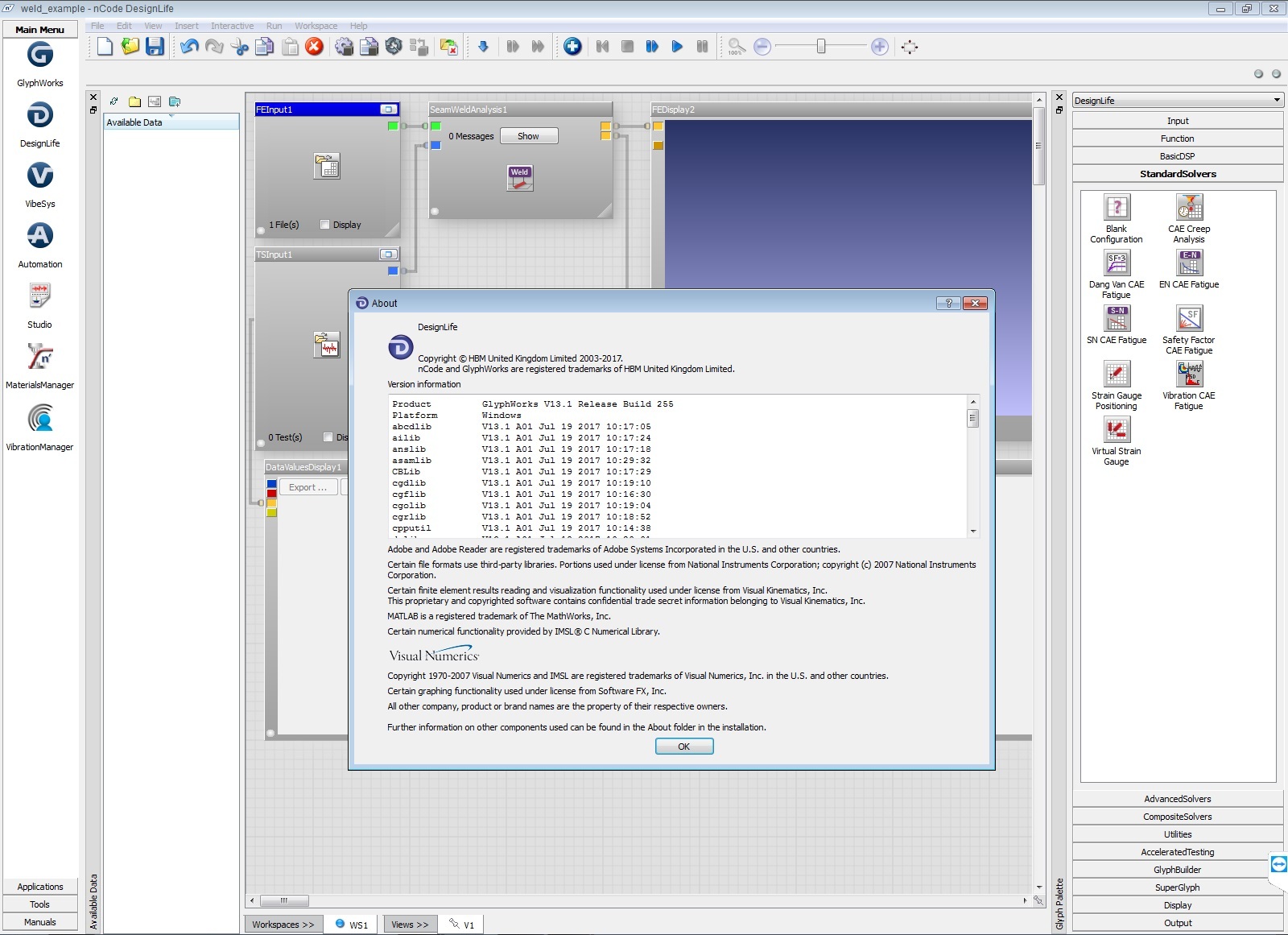 About HBM-nCode
nCode products are offered through HBM Prenscia, developer of innovative concepts and software solutions for improving reliability, availability, maintainability, safety, durability and performance. For over 30 years, the nCode brand has provided cutting-edge solutions spanning both test and CAE applications with specific capabilities for fatigue and durability.
Product: HBM nCode
Version: 13.x
Supported Architectures: 32bit / 64bit
Website Home Page : http://www.ncode.com
Language: multilanguage
System Requirements: PC
Supported Operating Systems: Windows 7even / 8.x / 10
Size: 3.2 Gb
---
Download rapidgator
https://rg.to/file/826d41cfeb2cd28e72e9f268b092a48e/bmHnC131.x64.part1.rar.html
https://rg.to/file/39fcc696b799b63d8a9c7e48303f189c/bmHnC131.x64.part2.rar.html
https://rg.to/file/2394c9d3364a18821c190cd173c54a95/bmHnC131.x64.part3.rar.html
https://rg.to/file/283f35e73c0a4eace5946bf2553f09b6/bmHnC131.x64.part4.rar.html
https://rg.to/file/ff5d2079bdeb33553b6b5203b426d2ab/bmHnC131.x64.part5.rar.html
https://rg.to/file/c2317d39c1b0bde6a083fd42375a8d4b/bmHnC131.x86.part1.rar.html
https://rg.to/file/830cb1c164d610d401b2ec76ffb4d964/bmHnC131.x86.part2.rar.html
https://rg.to/file/aa8aad37a08ee9d862bb9def83885ddd/bmHnC131.x86.part3.rar.html
https://rg.to/file/f142a61b0b8795e99c3ea648d7ccc623/bmHnC131.x86.part4.rar.html
https://rg.to/file/65aced1260cb7a77d4cb4659c5d02ad3/bmHnC131.x86.part5.rar.html
Download nitroflare
http://nitroflare.com/view/01C7FAD2A09D465/bmHnC131.x64.part1.rar
http://nitroflare.com/view/AC8FC97540EFF2B/bmHnC131.x64.part2.rar
http://nitroflare.com/view/9DBEA6E37361519/bmHnC131.x64.part3.rar
http://nitroflare.com/view/32632AAA6CB3FAB/bmHnC131.x64.part4.rar
http://nitroflare.com/view/6B0DE90790A166B/bmHnC131.x64.part5.rar
http://nitroflare.com/view/80507587635EA54/bmHnC131.x86.part1.rar
http://nitroflare.com/view/59AC94F715C1273/bmHnC131.x86.part2.rar
http://nitroflare.com/view/6B93519FE19624E/bmHnC131.x86.part3.rar
http://nitroflare.com/view/D42FB48EEB3F3A4/bmHnC131.x86.part4.rar
http://nitroflare.com/view/D48AC466289F289/bmHnC131.x86.part5.rar
Download 百度云
转载请注明:0daytown » HBM nCode 13.1 32/64