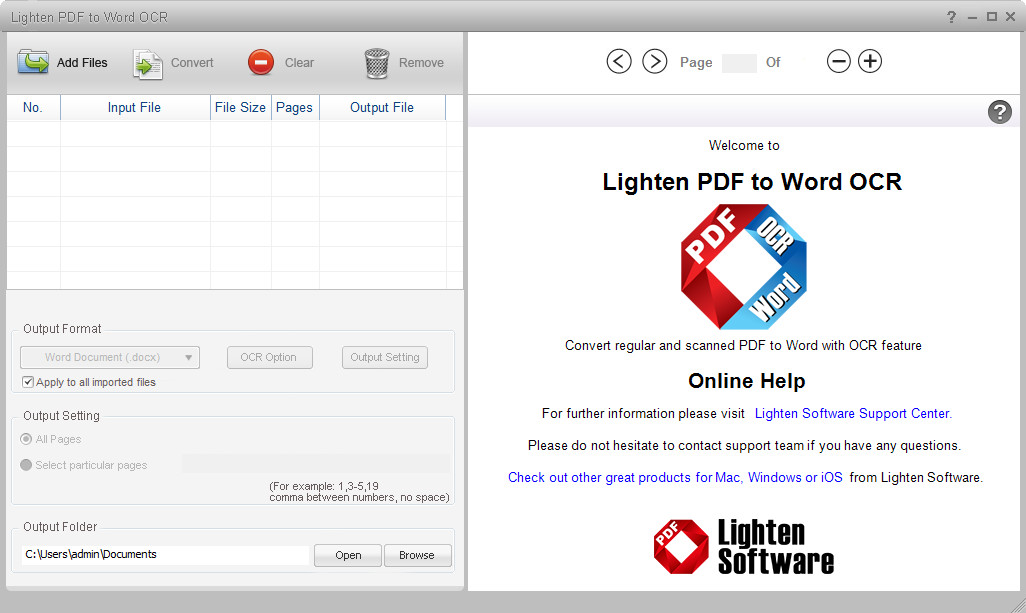 Lighten PDF to Word OCR是一款带有OCR功能的PDF转word工具,该软件可以一次将多个PDF文件转换成word文件,方便您进一步编辑,另外,该软件具有OCR功能,可以连接到扫描仪,将扫描出来的PDF文件转换成word文件,使得您可以更好地进行编辑。
Lighten PDF to Word OCR主要特性
1、使用OCR转换扫描的和常规的PDF文件
减轻PDF到Word OCR是PDF到Word转换器的PRO版本。现在,您可以花更少的时间重新输入,轻松地将内容从PDF文件移动到可编辑的Word文档,并保持所有原始格式。领先的OCR功能集成到这个应用程序,扫描的PDF可以被识别和转换。
2、将PDF快速转换为完整格式的Word文档
没有更多的重新输入,没有更多的复制粘贴。使用PDF to Word OCR,现在如果您想要从PDF文件中获取内容,或者在PDF文件中更新信息,将PDF转换为可编辑的Word文档要快得多。您只能转换任何选定的页面,并一次处理批量转换。
3、将扫描的PDF文档转换为可编辑的Word
想要对文档进行一些更改或复制部分内容,但是您拥有的是扫描副本?没有问题,凭借先进的光学字符识别(OCR)功能,可以准确识别和提取扫描PDF中的文本内容。您将获得可以在Word文档中编辑的文本内容。
4、伟大的转换结果
PDF到Word OCR在转换后保留尽可能多的原始外观和感觉。不管你的PDF格式是简单的还是复杂的。文本内容,表格,图形甚至多列布局可以很好地保留。
5、最佳表格转换功能
许多PDF文件都有表格数据。借助智能而灵活的表格转换功能,Lighten PDF to Word Converter可以自动转换检测和转换表格,让您在转换之前手动标记表格区域,添加行和列,合并或拆分单元格。所以无论表格数据有多复杂,都可以准确地保留表格。
---
Lighten PDF to Word OCR 6.0.0 Multilingual + Portable | 50.2/60.1 Mb
Lighten PDF to Word OCR is PRO version of PDF to Word Converter. Now you can spend less time retyping, easily move the contents from PDF files to editable Word documents, and keep all the original formatting well. Leading OCR function is integrated into this app, scanned PDF can be recognized and converted.
Quickly convert PDFs to full-formatted Word document
No more retyping, no more copy-paste. With PDF to Word OCR, now if you want to get the contents from PDF file, or update information in a PDF file, converting PDF to editable Word document goes much quicker. You can convert just any selected pages, and process batch conversion at one time.
Turn Scanned PDF documents into editable Word
Want to make some changes to a document or copy parts of the contents, but all you have is a scanned copy? No problem, with advanced Optical Character Recognition (OCR) function, text contents in scanned PDF can be accurately recognized and extracted. You'll get the text contents that you can edit in Word document.
Great conversion results
PDF to Word OCR preserves as much of the original looks and feel as possible after conversion. No matter your PDF's layout is simple or complex. Text content, tables, graphics and even multi-column layouts can be well retained.
The Best Table Conversion Feature
Many PDF files have table data. With the intelligent and flexible table conversion features, Lighten PDF to Word Converter can convert detect and convert table automatically, and let you manually mark table areas, add rows and columns, merge or split cells before conversion. So it can retain table accurately no matter how complex your table data is with these flexible features.
System Requirements
Operating System: Microsoft Windows®10, 8, 7, Vista and XP (all editions)
Does not require Microsoft office and Adobe product installed
Recommended hardware Processor: 2GHz Processor RAM: 1G
Free Space: File Size: 49.7MB, 200MB recommended
Home Page – http://www.lightenpdf.com
---
Download rapidgator
https://rg.to/file/62f1015922c960abdb8879bdb9a17fce/Lighten.PDF.to.Word.OCR.6.0.0.Portable.rar.html
https://rg.to/file/b6c6275f5696631e400848eae96e414a/Lighten.PDF.to.Word.OCR.6.0.0.rar.html
Download nitroflare
http://nitroflare.com/view/AE4F9EF58968F6E/Lighten.PDF.to.Word.OCR.6.0.0.Portable.rar
http://nitroflare.com/view/4500967A58EFB85/Lighten.PDF.to.Word.OCR.6.0.0.rar
Download 城通网盘
Lighten.PDF.to.Word.OCR.6.0.0.Portable.rar: https://u7940988.ctfile.com/fs/7940988-235046303
Lighten.PDF.to.Word.OCR.6.0.0.rar: https://u7940988.ctfile.com/fs/7940988-235046315
Download 百度云
链接: https://pan.baidu.com/s/1oAoS8sE 密码: igeb
转载请注明:0daytown » Lighten PDF to Word OCR 6.0.0 Multilingual + Portable