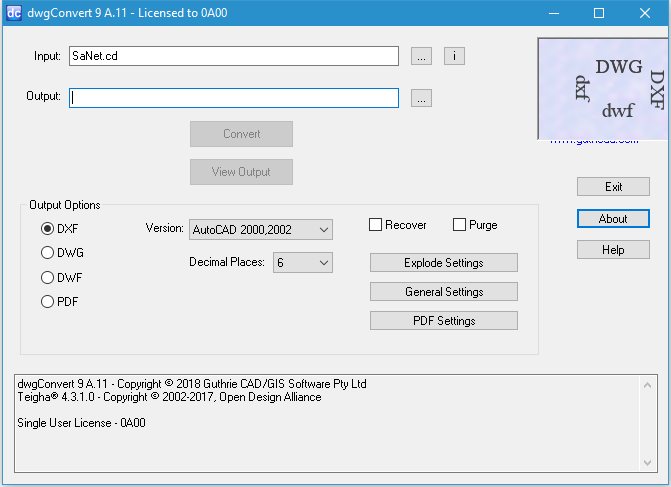 一款DWG/DXF文件转换工具,能在DXF和DWG版本之间转换。支持所有的DXF / DWG版本(9-14,2000-2002,2004-2009,2011-2017,2018),包括AutoCAD 2018。
---
Guthrie dwgConvert 9.0.9 | 44.4 MB
dwgConvert has all the features you need to convert AutoCAD drawings to other AutoCAD formats or PDF. dwgConvert converts between DXF and DWG files, and between DXF and DWG versions. All DXF/DWG versions through to AutoCAD 2018 are supported. 
AutoCAD files conversion
• Converts among DWG, DXF and DWF files, such as converting DWG to DXF / DXF to DWG / DWF to DWG etc.
• Converts all DWG, DXF and DWF files to PDF, such as converting DWG to PDF / DXF to PDF / DWF to PDF.
• Reads all DXF and DWG versions 2.5 to 2018
• Write DXF / DWG versions 9-14, 2000-2002, 2004-2009, 2011-2017, 2018
• Read / Write DWF versions 4.2, 5.5, 6.0
• Superior conversions to earlier versions of AutoCAD allow closest preservation of the original drawing.
Batch Conversion
• Available via both within the user interface, and on the command line.
• Supports Wild Card file naming. e.g. dwgConvert *.DWG *.DXF
• Command Line mode allows automated translations. (Available in Network Licenses and 5+ user Licenses only.)
Explode (Convert) Block references and entities
• Explode complex entities such as Attrib, Table, Spline, Region, 3DSolid, Body, Mechanical Desktop, Block, Dimension, Leader, Hatch, Polyface Mesh, 3D Face, Ellipse to simpler entity types.
• Extract and Replace OLE objects with Raster Images
• MText to Text conversion
• Explode SHX text to lines
• Explode of MText with emebedded fonts keeping embedded font styles
Repair and purge AutoCAD drawings
• Repair damaged drawings using the software's advanced audit and recover.
• Purge unused Blocks from the drawing. (A later version of dwgConvert will also purge unused Dimension Styles, Layers, Linetypes, Text styles.)
Other useful features
• Extract Layouts to separate drawings
• Remove all paper space Layouts to create a model space drawing only
• Delete entities on turned-off layers
dwgConvert9 New Features:
• dwgConvert 9 is a very easy-to-use, fast and reliable AutoCAD® file format / version converter.
• Support All AutoCAD DWG, DXF and DWF files. Support AutoCAD 2018
• Support AutoCAD to PDF (batch) conversion, such as DWG to PDF, DXF to PDF and DWF to PDF
• High Quality format / version conversion and batch Conversion (wildcard naming: *.dwg *.pdf).
• Explode block references and entities – AutoCAD license not required
• Recover corrupt AutoCAD drawings
• Extract Layouts to separate drawings
• Remove all paper space Layouts to create a model space drawing only
• and more…
Requirements: Win 2003/2008/2012/Citrix/XP/XP64/Vista/Vist64/Win7/win7x64/Win8/Win8x64/Win10
Home Page – http://www.guthcad.com
---
Download rapidgator
https://rg.to/file/14a8a34ba0592ee2768575039c3fb533/dwgConvert.9.0.9.rar.html
Download nitroflare
http://nitroflare.com/view/05C3DF8995F36C2/dwgConvert.9.0.9.rar
Download 城通网盘
https://u7940988.ctfile.com/fs/7940988-234669861
Download 百度云
链接: https://pan.baidu.com/s/1hsVR2MK 密码: gvks
转载请注明:0daytown » Guthrie dwgConvert 9.0.9