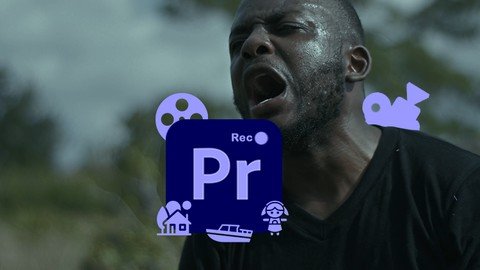 Published 11/2022
MP4 | Video: h264, 1280×720 | Audio: AAC, 44.1 KHz
Language: English | Size: 1.29 GB | Duration: 1h 46m
Learn filmmaking and editing
What you'll learn
Full understanding of the ins and outs of videography and editing
Build editing projects using a camera phone or professional camera
Master basic editing on a personal computer
understanding blockbuster visual effects design
Introduction to the use of green screens
Editing on the TikTok app
Requirements
A personal computer
A mobile phone or DSLR camera
Description
In this course we will introduce you to the wonders of filmmaking and video editing. using your phone or a professional camera you will build your first personal editing project, learn the easy way to make quick edits, how to upload on a social media platform, and even learn about blockbuster Hollywood techniques. A beginner course careful designed for adults with interest in learning videography, filmmaking, and video editing. The course will start by introducing you to the basics of making a video, learn the ins and outs of video cameras and mobile phone cameras. What would be your answer be if you were asked a simple question. What is video editing? According to Wikipedia "Video editing is the manipulation and arrangement of video shots. Video editing is used to structure and present all video information, including films and television shows, video advertisements and video essays. Video editing has been dramatically democratized in recent years by editing software available for personal computers. Editing video can be difficult and tedious, so several technologies have been produced to aid people in this task. Pen based video editing software was developed in order to give people a more intuitive and fast way to edit video." This course is here to remove the difficult and tedious part and offer you an easy, quick, and complex understanding of video editing with skills applied to it so you can edit your own videos.
Overview
Section 1: Course Introduction and Setup
Lecture 1 Introduction
Lecture 2 Basic ratios and mobile video recording
Lecture 3 Free trial/Purchasing and downloading Adobe Premiere
Lecture 4 Digital Camera
Lecture 5 Firing up Premiere and setting up our project
Lecture 6 Resources
Section 2: Beginner Editing with Adobe Premiere
Lecture 7 Creating Sequences based on a video file
Lecture 8 Renaming Sequences
Lecture 9 The Razor tool
Lecture 10 Finishing our sequence
Lecture 11 Video transitions in Adobe Premiere
Lecture 12 Speeding up and slowing down videos
Lecture 13 Freezing our video in Adobe Premiere and adding Text
Lecture 14 Styling and finishing our movie title
Lecture 15 Introduction to audio in Adobe Premiere
Lecture 16 Fading audio in and out in Adobe Premiere
Lecture 17 Color grading and Adjustment layers
Lecture 18 Color grading through LUTs in Adobe Premiere
Lecture 19 Adding a Letterbox to our video in Adobe Premiere
Lecture 20 Final and exporting our video in Premiere
Adults with interest in video editing and video making
---
Password/解压密码www.tbtos.com
转载请注明:0daytown » Adults Learn – Video Editing In Adobe Premiere: Beginner