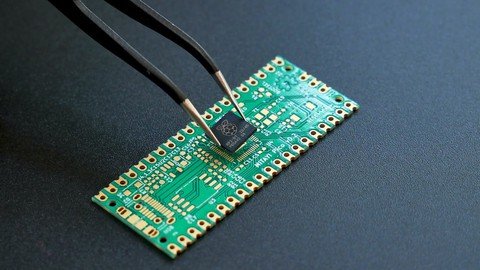 Published 11/2022
MP4 | Video: h264, 1280×720 | Audio: AAC, 44.1 KHz
Language: English | Size: 6.57 GB | Duration: 16h 6m
Your guide to the VLSI industry !
What you'll learn
Learn about CMOS VLSI design
Learn MOS transistor and how it is used in CMOS logic/circuit design
Understand step-by-step CMOS fabrication process
Learn how to draw a CMOS transitor layout
Learn CMOS circuit design principles
Learn basics of Hardware Description Language (HDLs)
Know about the latest in VLSI Technology and IC design fundamentals
Update yourself with the advances and know-how in VLSI and IC design
Know the design flow used in VLSI industry
Get job-ready for in-demand carrier in VLSI and IC design
Requirements
Basics knowledge in semiconductors and electronics
Interest in semiconductor technology, VLSI and IC design
Description
CMOS VLSI technology has ascended to the preeminent position in modern electronic system design. This technology has enabled the widespread use of wireless communication, Internet of things, and the personal computers. The inventions and innovations in this technology in the past two decades has seen a rapid and enormous growth. The transistor counts and clock frequencies of state-of-the-art integrated chips have grown by orders of magnitude. Power consumption of the chips is one of the concern today in chip design. This course will provide you the fundamentals and most relevant information in the semiconductor/VLSI/IC design process (with breadth and depth). The course will provide you the detailed information on the VLSI technology and equip you with the knowledge and the skills required to understand and perform the jobs in the VLSI industry. The course starts with the basics of CMOS logic/transistors/circuits and advances through many examples to the process of IC design and fabrication. This course is tailored for beginners who are interested in VLSI design, digital logic/circuit design and verification. The course will start with providing the background on the VLSI IC design flow used in ASIC/SoC design in the industry.The course contains detailed lectures and hands-on exercises. Each lecture has downloadable resources which you can use as a reference material. Most of the course contents contain brainstorming exercises/assignments/homework, so you'll learn extra to strengthen your understanding and the skills. Most importantly, a set of revision lectures are provided in Section 2 to not only brush-up the contents we learn in section 1, but also to provide you details and in-depth understanding, examples and know-how of the subject.Wish you happy learning!
Overview
Section 1: Introduction
Lecture 1 Introduction
Lecture 2 The MOS transistor
Lecture 3 CMOS Logic
Lecture 4 Tristate, latch and flip-flop
Lecture 5 CMOS fabrication and layout
Lecture 6 CMOS fabrication and layout
Lecture 7 IC layout principles
Lecture 8 Design partioning
Lecture 9 Circuit design
Lecture 10 Netlisting and floorplan
Section 2: Revision
Lecture 11 Revision
Lecture 12 Revision
Lecture 13 Revision
Lecture 14 Revision
Begineers interested in VLSI technology, IC design process, and fundamentals,Freshers looking for an entry-level jobs in VLSI industry,Training course for higher division undergrdautes in electronics, graduates in electronics and VLSI
---
Password/解压密码www.tbtos.com