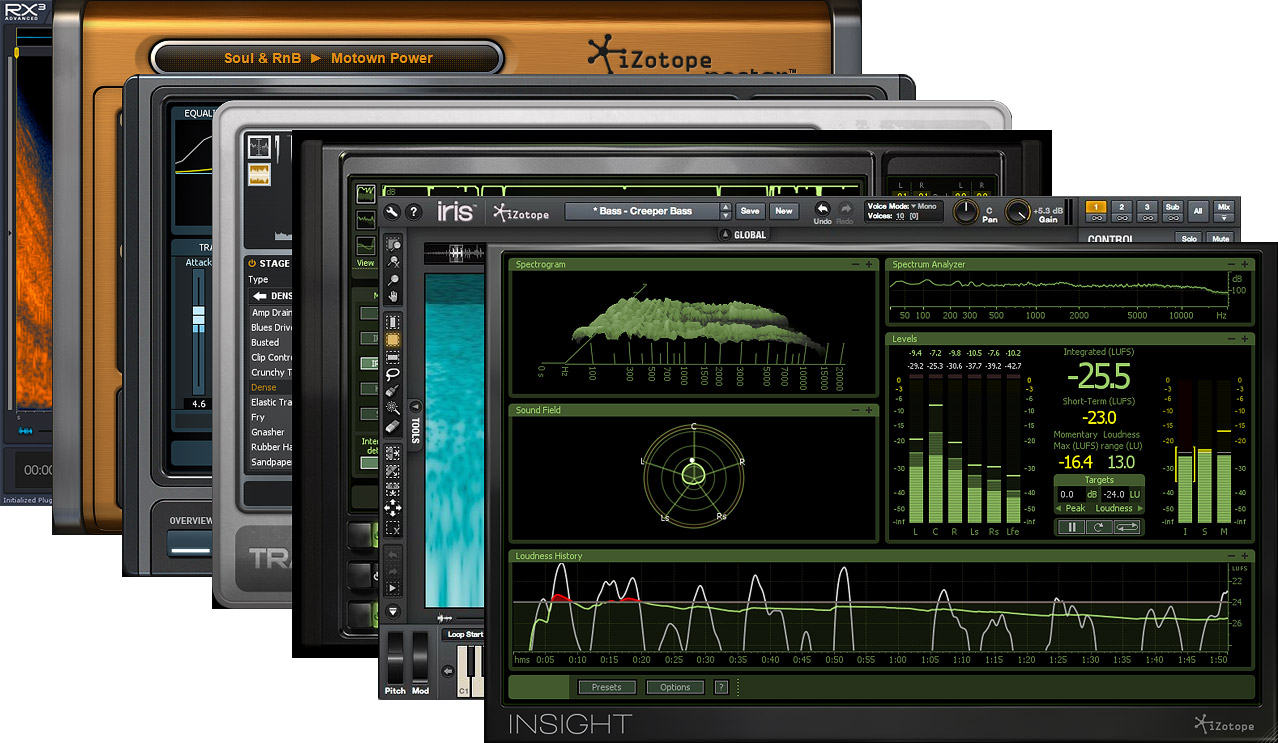 iZotope Alloy Insight Iris Nectar Ozone RX Trash WiN
Alloy v2.02: 35Mb | Insight v1.02: 27Mb | Iris v1.01: 140Mb | Nectar v2.00: 59Mb
Ozone Advanced v5.04: 172Mb | RX Advanced v3.01: 139Mb | Trash v2.03: 29Mb
Including iLock Emulator || Team R2R 2013.10.19
Alloy v2.02
Alloy 2 gives you futuristic tools, fast results and most importantly, fantastic sound. Bring character and life to every element of your mix with Alloy 2. Far more than just a traditional channel strip, Alloy 2 is a modern twist on classic mixing. The basics have been re-imagined with forward-thinking features and time-saving flexibility. Innovative sound sculpting tools are ripe with potential for delivering your distinctive sound. And best of all, Alloy 2 allows you to focus on mixing without distraction, neatly packaging the mixing essentials in a self-contained and completely configurable plug-in that puts everything you need at your fingertips.
Insight v1.02
Introducing Insight, a comprehensive metering suite for post production and broadcast applications. Insight provides an extensive set of audio analysis and metering tools, perfect for visualizing changes made during mixing and mastering, troubleshooting problematic mixes, and ensuring compliance with broadcast loudness standards. Fully customizable and scalable, Insight allows you to visually monitor all relevant information from your mono, stereo or surround mix in a convenient floating window. Keep an eye as well as an ear on your mix at all times with Insight.
Iris v1.01
Iris is an innovative sampling re-synthesizer that frees you to create sounds that could never before be produced. Start by dissecting up to three distinctive audio samples, using Iris's spectrogram display and easy selection tools to spotlight the most interesting spectral characteristics. Blend and layer your modified samples, then beef up their impact with a choice of suboscillator waveforms.
Nectar v2.00
Flawless vocal production is just a click away. From quick corrections to limitless creativity, Nectar 2 treats your voice to sweet results. Bring a vocal track to life with the only complete set of tools designed specifically for voice. Add impact with modeled plate reverb, harmonic saturation, and a wealth of creative effects. Stay in tune and remove distracting breaths without tedious, time- consuming editing. Instantly transform a single vocal take into a dynamic, harmonized ensemble. Whether you're tracking or you're mixing, Nectar 2 delivers professional vocals in an instant.
Ozone Advanced v5.04
iZotope's complete mastering system in a single integrated plug-in includes eight essential mastering tools: Maximizer, Equalizer, Multiband Dynamics, Multiband Stereo Imaging, Post Equalizer, Multiband Harmonic Exciter, Reverb, and Dithering.
RX Advanced v3.01
Rescue your audio from the cutting room floor! With remedies for noise, clipping, hum, buzz, crackles, and more, RX 3 is the most robust and best-sounding audio repair toolkit on the market. Used everywhere from Hollywood post production studios to leading sound editing facilities, iZotope RX 3 transforms troubled recordings into professional-grade material. 
Trash v2.03
Trash 2 takes the best of Trash and makes it even better. With an entirely new sonic architecture, brand new features, optimized performance, better sound quality, and support for modern hosts and formats, Trash 2 is primed for a powerful new era of audio mangling, distortion, and experimentation. Let sonic mayhem ensue.
R2R info
As we mention frequently, ProTools/AAX does not accept any modification. Thus, crackers are required to make true keygens or emulators for products. iZotope supports C&R authorization but the latest products are protected with RSA signature so that making keygens became a very hard job.
This time we made a iLok licenser emulation to callback the valid iLok/Advanced license to the iZotope applications. No app patches are needed, apps detect full iLok license from our emu. Check included text file for further installation info.
Platform: WiN32 – VST/VST3/RTAS, WiN64 – VST/VST3/AAX
iZotope.Alloy.2.v2.02.Incl.Emulator-R2R
iZotope.Insight.v1.02.Incl.Emulator-R2R
iZotope.Iris.v1.01.Incl.Emulator-R2R
iZotope.Nectar.2.Production.Suite.v2.00.Incl.Emulator-R2R
iZotope.Ozone.5.Advanced.v5.04.Incl.Emulator-R2R
iZotope.RX.3.Advanced.v3.01.Incl.Emulator-R2R
iZotope.Trash.2.v2.03.Incl.Emulator-R2R
---
Download uploaded
http://uploaded.net/file/p66n8bkw/iZotope.xx.rar
Download filefactory
http://www.filefactory.com/file/62p6qyr9bje7/n/iZotope.xx.rar
Download 城通网盘
http://www.400gb.com/file/32523949
Download 百度云
你是VIP 1个月(1 month)赞助会员,

转载请注明:0daytown » iZotope Alloy Insight Iris Nectar Ozone RX Trash WiN