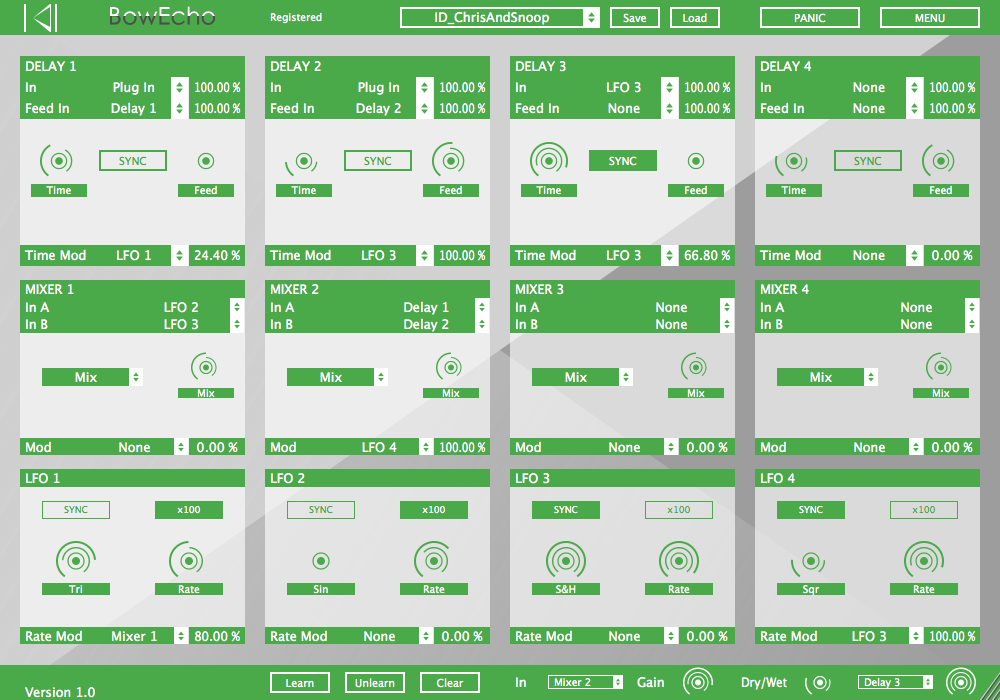 Inear Display BowEcho v1.0 (Win / Mac OS X) | 7.5 MB
BowEcho is a modular sound mangler based on 4 delay lines. It offers a large palette of sound design options thanks to 4 LFOs that can run at control or audio rate, 4 Mixers that can also act as gainers, basic filters, ringmodulators or stereo splitters, and the ability to route the output of each module the way you want. For example the LFOs can act as raw oscillators that can be used to ringmodulate the feedback path of a delay line. The delay times can be modulated over a wide range to generate noisy glitches or basic pitch­shifting of the input. BowEcho is a versatile delay plugin that can adapt to your sonic needs : use it as a simple flanger with only one delay and one LFO, or go crazy and route all modules in absurd ways to produce creepy screaming drones.
Additional features include the ability to resize the plugin interface to fit your display, share your presets between plugin formats and platforms, map your MIDI controller easily using the built-in MIDI learn system, and trigger presets using MIDI program changes.
To get you started, BowEcho comes loaded with a selection of 62 presets from great sound designers and artists Ivo Ivanov, Daed, and Apparition.
BowEcho is available for Windows and Mac Os X as VST (32/64 bit) and AU (32/64 bit, Mac only).
Linux version coming soon!
Features:
• 4 delay lines with optional tempo sync
• 4 "mixers" that can also act as gainers, basic filters, ringmodulators and stereo splitters
• 4 LFOs with optional tempo sync and the ability to run at audio rate
• flexible modular routing
• MIDI learn
• MIDI program change support
• Vector based resizable user interface
• Cross-platform presets
• 62 factory presets
• Lifetime free updates for registered customers
---
 Download uploaded
http://uploaded.net/file/fyg5ngtk/InDiBoEc1.0-R2R.rar
http://uploaded.net/file/cs8go7vy/InDiBoEc1.0.MacOSX-R2R.rar
Download rapidgator
http://rapidgator.net/file/b05244bce7b89c435bd36deaa58b79d1/InDiBoEc1.0-R2R.rar.html
http://rapidgator.net/file/097faa1a07a207e9ea90397a5e19d3d2/InDiBoEc1.0.MacOSX-R2R.rar.html
Download filefactory
http://www.filefactory.com/file/1pjm3g2ehthl/n/InDiBoEc1.0-R2R.rar
http://www.filefactory.com/file/6opaqu1on3j5/n/InDiBoEc1.0.MacOSX-R2R.rar
Download 城通网盘
InDiBoEc1.0-R2R.rar: http://www.t00y.com/file/31679174
InDiBoEc1.0.MacOSX-R2R.rar: http://www.t00y.com/file/31679175
Download 百度云
http://pan.baidu.com/s/1uvAfl