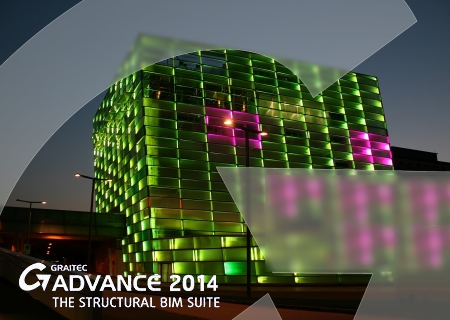 GRAITEC是一个致力于CAD与建筑结构分析解决方案的国际化的软件开发商。最新版的GRAITEC Advance 2013已正式发布,它是一款适用于建筑业专业人士的BIM结构系列软件。
 GRAITEC Advance 是一个建筑信息模型(BIM)系统,它实现了从整个工程设计,结构分析和文件编制到部件优化,详图设计和生产制造的自动化。
GRAITEC Advance 给结构设计者与详图设计者提供了一个理想的工作环境,通过它提供的工具,用户可以创建并快速地完成他们的建造项目:优化建造材料,避免项目的不一致性,加快周转时间,自动创建文件,项目历史追踪,与工作伙伴的信息交流等。
GRAITEC ADVANCE:BIM系列软件解决方案+互用性(interoperability)+高效性(productivity)+简易性(simplicity)
Graitec Advance系列软件现在遍布80多个国家,内置有12种语言。每天全世界有上千个用户应用我们的软件,所以为了标准化各区域的品牌,我们正在统一全球产品标识:所有以前使用的名字均被重新标签为Advance Steel, Advance Concrete 与Advance Design。
---
 Graitec Advance Suite 2014 | 6.5 Gb
GRAITEC, European software developer and vendor for modeling and drawing creation for the construction industry, announces the release of the GRAITEC Advance 2014 suite.
Designed for structural engineers and professionals in the construction industry, GRAITEC Advance Structural BIM solution provides a complete environment for the development, design and production of all drawing and materials for steel, concrete, and wood structures.
GRAITEC Advance is a unique solution provider in the BIM field since it allows users to complete the entire structural process in a consistent environment, from finite elements analysis, to design according with the latest norms (Eurocodes, ACI, AISC…) and automated documentation production required for the fabrication: drawings, bills of materials and NC files.
GRAITEC Advance consists of three main structural software solutions: Advance Design, Advance Steel, Advance Concrete, completed with Advance CAD.
The "BIM GRAITEC" main characteristic feature is related to its capability to perform structural analysis and fabrication documents under the same concept. More than 10000 users, working daily with GRAITEC Advance, are involved in the design process of various structures such as towers, stadiums, civil engineering works, industrial buildings, stairs, etc.
Version 2014 delivers many improvements and new features and continues to strengthen GRAITEC's leadership in the structural engineering domain. Usability, accomplishment and professional expertise represents the key words of this version – GRAITEC Advance 2014.
– ADVANCE STEEL 2014: TAPERED BEAMS & IMPROVED ERGONOMICS
Advance Steel is specifically designed for steel professionals who require an easy-to-use 3D, powerful structural steel detailing software for automating drawing production, BOMs and NC files.
Among all new functionalities of version 2014, two major developments stand out: significant enhancement of tapered beams in Advance Steel and the continuous investment in the ergonomics and ease of use refinements of Advance Steel. 
– ADVANCE CONCRETE 2014: PERFORMANCE & ENHANCED PROFESSIONAL EXPERTISE
Advance Concrete is specifically designed for structural engineers and reinforced concrete detailers who require professional and easy-to-use 3D BIM software for automating drawings creation.
With increased performance, Advance Concrete 2014 improves the user efficiency experience, especially when it is used on its integrated CAD platform. It also provides several functional changes in response to user requests.
– ADVANCE DESIGN 2014: BIM AND EXTENDED DESIGN
Advance Design is specifically dedicated to structural engineers who require a professional and easy-to-use BIM solution for structural FEM simulation and optimization according with specific design standards (Concrete, Steel or Wood).
Advance Design 2014 has many new features and improvements, mainly focused in two directions: BIM and the enrichment of design capabilities.
About GRAITEC Group.
Founded in 1986, GRAITEC is a major software developer for civil engineering offering a Building Information Modeling (BIM) system that automates the entire structural process. Used by more than 40,000 professionals worldwide, GRAITEC solutions have helped in creating outstanding projects: Cœur Défense tower, Stade de France stadium, Cairo Subway, Düsseldorf International Airport, Băneasa Shopping City in Bucharest, Milano Fair, etc. The GRAITEC Group has more than 260 employees working in 14 companies (France, Germany, Czech Republic, Romania, Russia, Italy, United Kingdom, Singapore, Canada and USA). GRAITEC also manages an international network of more than 40 Value Added Resellers.
Name: Graitec Advance 
Version: 2014 Suite
Home: www.graitec.com
Interface: multilanguage
OS: Windows Seven / 8
Size: 6.5 Gb
Special Thanks LAVTeam
---
 Download uploaded
http://uploaded.net/file/1pffz0da/aGrSe14.part1.rar
http://uploaded.net/file/0pzrr6ab/aGrSe14.part2.rar
http://uploaded.net/file/zzmrmlf3/aGrSe14.part3.rar
http://uploaded.net/file/wte1cu0a/aGrSe14.part4.rar
http://uploaded.net/file/gju0415a/aGrSe14.part5.rar
http://uploaded.net/file/wc4m7h7p/aGrSe14.part6.rar
http://uploaded.net/file/x2sdspho/aGrSe14.part7.rar
Download rapidgator
http://rapidgator.net/file/370f1d2ae2f38c024a553065fc8e6912/aGrSe14.part1.rar.html
http://rapidgator.net/file/ee82d23d96e1eefeb6fb58bcf5fe0d4f/aGrSe14.part2.rar.html
http://rapidgator.net/file/fa55c071ca3bc6dff4f04f2cad2a08b0/aGrSe14.part3.rar.html
http://rapidgator.net/file/961c02ac8f80761bd8eabc0d607ea5f4/aGrSe14.part4.rar.html
http://rapidgator.net/file/add050dbd82643187f7f4ff71ed513f1/aGrSe14.part5.rar.html
http://rapidgator.net/file/530fcba2d2b8bb21c36641ebff1b21f6/aGrSe14.part6.rar.html
http://rapidgator.net/file/59f781f6fa72d63fdcb4a201d9eb0ce1/aGrSe14.part7.rar.html
Download 百度云
你是VIP 1个月(1 month)赞助会员,

转载请注明:0daytown » Graitec Advance Suite 2014