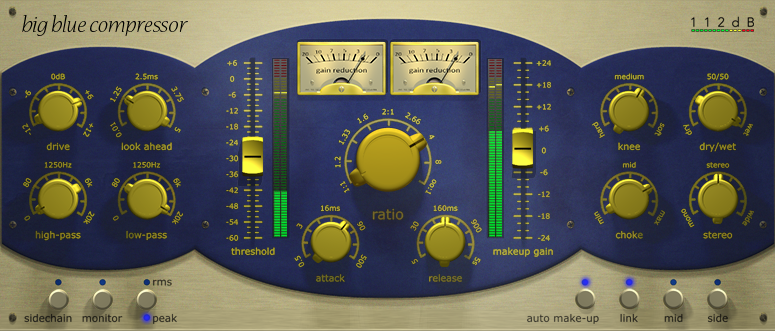 112db Big Blue Compressor v1.0.1 | 7.9 MB
The Big Blue Compressor is a modern compressor with vintage qualities. Although it can sound transparent whenever necessary, it was designed to give character and warmth to your sound. Modern features from the digital world, including a Look Ahead function, are paired with qualities from the analog world, such as the saturation of transients that is typical of tube compressors. Far more than a tool to compress the dynamic range of sound, the Big Blue Compressor gives you unprecedented control over the character of the compression algorithm and the esthetics of the output sound. This enables you to vary from very clean and smooth results to dramatic reshaping of the sound transients. 
Features
• Tube-compressor-style dynamic saturation.
• Variable-knee limiting with proprietary tube modeling.
• Dry/wet control for parallel compression.
• Low- and high-pass filters on input and side chain with unique scaling, allowing for high-precision adjustments at critical frequencies.
• Stereo imaging: stereo narrowing or widening, mid/side mode.
• Sidechain monitor option, to monitor what the compressor detects in the sidechain.
• Auto makeup gain for automatic leveling of pre/post perceived loudness, in addition to user-adjustable makeup gain.
• Adjustable look ahead from 0 to 5 ms.
• Peak/RMS compression mode.
• User-adjustable latency from 0.01 to 5 ms (6 to 440 samples @ 44.1kHz).
• Low CPU load.
• Support for sample rates up to 384 kHz.
• Full parameter automation.
• Native 32- and 64-bit versions.
---
 Download uploaded
http://uploaded.net/file/72e3dag4/112dbBiBlCo1.0.1-R2R.rar
Download filefactory
http://www.filefactory.com/file/28i31quu901d/n/112dbBiBlCo1.0.1-R2R.rar
Download 城通网盘
http://www.400gb.com/file/31175068
Download 百度云
http://pan.baidu.com/s/166szm