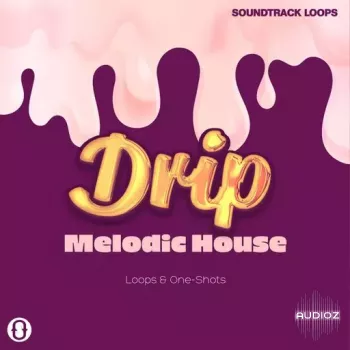 FANTASTiC | 30 September 2023 | 546.01 MB
Soundtrack Loops intros Drip Melodic House Loops & One-Shots. Drip Melodic House, by producer Jordan Aguirre (aka bLiND, Jordan Steven, Steven Silo), is his third Soundtrack Loops outing, following Dark Bass House and Slap House. Staying true to form, Jordan arrives with another comprehensive EDM set that satisfies on every level.
The main loop vault comes packed with a total 171 (120 BPM) loops—throw them on your timeline and arrange with abandon. Next, 126 one shots files expand the construction kit paradigm. It's all here! The drums come in mixed beats and tops, and the basses are pocketed and ripping. There's a chords folder full of pads and immersive arpeggios, while modular and melodic synth folders feature themes and motifs as well as more punchy arpeggios, there to help you fine tune the dynamics and intensity of the feels you're going for. Finally, an FX folder tops things off with builds that will tie your sections together, instantly and seamlessly. Everything flows in a smooth and propulsive arc of positive, major-key Eurotechno-flavored machine music with just the right amount of programmed bounce—a Jordan Aguirre trademark. Drip Melodic House is happy times for happy spaces, and Soundtrack Loops is pleased to be propagating the bLiND music vibe for EDM producers in the field.
转载请注明:0daytown » Soundtrack Loops Drip Melodic House WAV-FANTASTiC