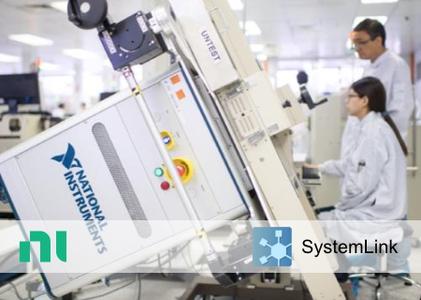 NI SystemLink 2020 R3.2 | 1.9 Gb
Language: English, Deutsch, 日本語, Simplified 中文
National Instruments, the provider of a software-defined platform that helps accelerate the development and performance of automated test and automated measurement systems, announced the new version of SystemLink software.
NI realizes that managing configuration activities and data for a fleet of distributed test and measurement systems can be daunting, especially when systems incorporate a variety of device configurations and software combinations. With the increasing number of distributed systems and the exponential growth of data, engineering teams must manage the disparities across these systems.
SystemLink 2020 R3(2) Bug FIxes
077654 User must have create and modify permissions to import dashboards
To import a dashboard through the Dashboards web application, the user must have both "Create dashboards" and "Modify dashboards" privileges.
1090449 Cannot save a file moving rule with modified mode.
Changing the file saving rule mode from copy to move does not allow the rule to be saved as updated.
1081200 Searching via the REST API for custom properties containing "&" causes an error
Searching via the REST API of DataFinder Service, and including a "&" character in a conditional value for a custom property will result in an error:
"ERROR(65): Server failed with status -12004: (4487): unable to parse query string"
1113901 Tag History data hidden after upgrade to SL 2020 R2 with an external MongoDB server
The external MongoDB instance is not migrated correctly, causing data to be moved to the wrong areas. Data is still present in the database, but will not be visible in the web interface.
NI SystemLink is systems and data management server software that helps your team save hours setting up and managing test systems and searching for data needed for analysis. With a centralized web-based management interface for connected devices, software, and data, your team can update test system software, view system health information, and search for data with a few button clicks. With test and measurement data at their fingertips, teams can analyze even more findings to gain better insights and make effective decisions faster. SystemLink provides out-of-the-box support for NI products like LabVIEW, TestStand, PXI, and CompactRIO along with an open architecture for incorporating a wide range of third-party software and instrumentation.
Since 1976, National Instruments has equipped engineers and scientists with tools that accelerate productivity, innovation and discovery. NI's graphical system design approach to engineering provides an integrated software and hardware platform that speeds the development of any system needing measurement and control. The company's long-term vision and focus on improving society through its technology supports the success of its customers, employees, suppliers and shareholders.
Software company National Instruments (NI) has unveiled its new brand identity including a new logo, visual identity, enhanced digital experiences and a brand campaign aimed at recognising and celebrating the contributions of the engineers and enterprises. NI launched its APAC hub in Penang 10 years ago.
The new logo is the initials of NI in small letters, a vast difference from carrying the company's full name previously.
Product: NI SystemLink
Version: 2020 R3.2
Supported Architectures: 32bit / 64bit
Website Home Page : http://www.ni.com
Language: English, Deutsch, 日本語, Simplified 中文
System Requirements: PC *
Supported Software: *
Size: 1.9 Gb
---
Password/解压密码0daydown
Download rapidgator
https://rg.to/file/74f9d809c9ee87c615214dc119276d03/TsYmLK20r32.part1.rar.html
https://rg.to/file/52e5889b78aad9625088c229c8e48305/TsYmLK20r32.part2.rar.html
https://rg.to/file/99df061b3ad60d2f47f06d38e66ec8a9/TsYmLK20r32.part3.rar.html
Download nitroflare
https://nitroflare.com/view/7F1A94AEC750B2D/TsYmLK20r32.part1.rar
https://nitroflare.com/view/1BA3E83CCA97D3E/TsYmLK20r32.part2.rar
https://nitroflare.com/view/A696508E6D0BA5E/TsYmLK20r32.part3.rar
转载请注明:0daytown » NI SystemLink 2020 R3.2