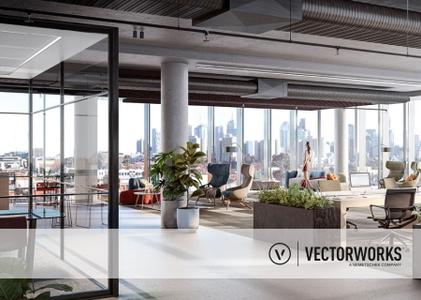 vectorworks2021 是一款功能强大的3d建模工具,被广泛应用于建筑、景观、灯光、机械等领域,软件可以跨平台操作。
官方介绍
Vectorworks在欧美及日本等工业发达国家都是设计师的首选工具软件。Vectorworks提供了许多精简但强大的建筑及产品工业设计所需的工具模组;在建筑设计、景观设计、舞台及灯光设计、机械设计及渲染等方面拥有专业化性能。利用它可以设计、显现及制作针对各种大小的项目的详细计划。使用界面非常接近许向量图绘图软体工具,但其可运用的范围却更广泛,可以应用在MAC及Windows平台.
---
VectorWorks 2021 SP0 macOs | 3.0 Gb
Vectorworks launches new Vectorworks 2021 BIM and CAD product lineup with new focus on quality and performance and simplicity to empower designers.
The new release features big new items like a new Project Sharing Server and dramatic new 5x performance of its Vectorworks Graphics Module (VGM) due to new multithreaded code optimizations.
What's New in 2021
The latest version includes updates to the entire product line, including Vectorworks series Architect, Landmark, Spotlight, Designer and Fundamentals, as well as new 2021 versions of Vision, Braceworks and ConnectCAD.
Vectorworks 2021 features new interoperability capabilities with new Excel Import/Export and PDF Drawing Marker Links. A really big new user-interface/user-experience (UI/UX) feature is called the Smart Options Display which brings Vectorwork's efficient tool palettes to where the mouse is, thereby eliminating the need to take the cursor all the way across the screen to docked palettes.
Other Top Features Include:
– Quick Search — quickly find and activate any tool by simplying typing what you want
– Detachable Tab Palettes — version 2021 has detachable tab palettes that function similarly to Adobe Photoshop, for example
– New Push/Pull Modeling Updates — a new Line tool support makes Push/Pull more powerful and user-friendly
– Structural Grid — A powerful new three dimensional Structural Grid gives BIM and AEC users a streamlined way to maintain a structural grid in all views
– True Materials — true materials adds sophisticated building data and quantification features to Vectorworks for the first time, along with streamlined editing and application of materials to objects and BIM components
– many more features per industry series version.
There are dozens of excellent new features across the entire product line.
Vectorworks is a versatile, on-premise application that provides extensive 2D drafting, 3D modeling, BIM and rendering capabilities for your architectural and landscape design needs. Vectorworks is equipped with designer-focused tools and features, allowing your workflows to have great freedom, ease of use and flexibility.
In addition to quality-and performance-focused features like the new Project Sharing server and multithreaded Vectorworks Graphics Module (VGM) Cache that offers up to five times faster file loading, Vectorworks 2021 boasts interoperability capabilities with Excel Import/Export and PDF Drawing Marker Links. The Smart Options Display also allows users to stay in the modeling space without needing to constantly move their mouse between drawing area and tool palettes, plus it's customizable to easily access the most-used tool sets, last-used tools and more.
Specifically, architecture and landscape professionals will enjoy the new Materials feature that can define the graphical attributes and data of building materials all in one location for a better BIM workflow. Entertainment professionals will streamline their rigging layout process with the help of improvements to the hoist tools.
Vectorworks, Inc. is an award-winning design and BIM software provider serving the architecture, landscape architecture and entertainment industries in 85 countries. Creating intuitive software since 1985, we've become the preeminent software built to manage the entire design process. Globally more than 685,000 users are creating, connecting and influencing the next generation of design with Vectorworks on Mac and Windows. Headquartered in Columbia, Maryland, with offices in Newbury and London, England and Vancouver, Canada, Vectorworks is a part of the Nemetschek Group.
Product: Vectorworks
Version: 2021
Supported Architectures: x64
Website Home Page : http://www.vectorworks.net
Language: english
System Requirements: macOs*
Size: 3.0 Gb
---
Password/解压密码0daydown
Download rapidgator
https://rg.to/file/6108eadd31f7e684813c0b354b1992cd/OrVeckVIS21_mac.part1.rar.html
https://rg.to/file/a946f5a0bfbdeacfb3f6a69cf7aaab86/OrVeckVIS21_mac.part2.rar.html
Download nitroflare
https://nitroflare.com/view/A8CE98B9FF39655/OrVeckVIS21_mac.part1.rar
https://nitroflare.com/view/9CCC4B568C82B7B/OrVeckVIS21_mac.part2.rar
转载请注明:0daytown » VectorWorks 2021 567007 Mac