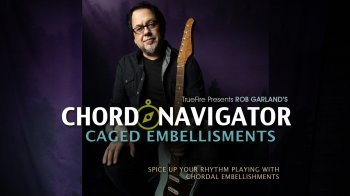 P2P | 11 October 2020 | 3.49 GB
In Rob Garland's first edition of Chord Navigator, you focused on CAGED triads and worked on applying major, minor, augmented, and diminished shapes all across the fretboard. The second edition took things to the next level with the addition of major seventh, minor seventh, and dominant seventh shapes to your CAGED chord vocabulary.
In this CAGED Embellishments edition, you'll delve into the type of chordal embellishments used by legendary guitarists such as Steve Cropper, Jimi Hendrix, James Burton, Prince, and Stevie Ray Vaughan. These simple, yet powerful devices will significantly raise the quality of your rhythm playing, blur the line between comping and soloing, and make you sound like a pro.
"I've organized the course into two sections. In the first section, we'll explore ways to evoke harmonic color and movement from your CAGED major chord shapes. For example, we'll take a look at utilizing double stops in diatonic thirds, sliding fourths, and ways to combine them over changes. We'll also examine suspended chord embellishments and open string extensions.
In the second section, we'll dig into minor chord territory with atmospheric sixth embellishments ideal for blues comping, voice leading, and minor add nines and elevens. Finally, we'll combine embellishments over a chord progression containing major, minor, and dominant chords."
Rob will explain and demonstrate all of the key concepts and approaches along the way. You'll get standard notation and tabs for all of the performance studies. Plus, you'll be able to use TrueFire's learning tools to sync the tab and notation to the video lesson. You can also loop or slow down the videos so that you can work with the lessons at your own pace. All of the backing tracks are included to work with on your own as well.
Grab your guitar and let's embellish our rhythm parts with Rob Garland!
转载请注明:0daytown » Truefire Rob Garland Chord Navigator CAGED Embellishments TUTORiAL