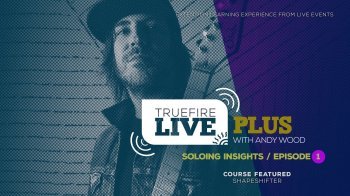 P2P | 09 October 2020 | 2.25 GB
TrueFire's Live Plus series enhances the learning experience of select and previously recorded TrueFire Live broadcasts with high-quality video, video-sync tab and notation, looping, jam tracks, Guitar Pro files, and all of the other learning tools available in TrueFire's desktop, mobile, and streaming apps.
In this edition, Andy Wood goes deeper and wider on the genre-bending left and right-hand techniques, stylistic phrasing, melodic concepts, and soloing approaches presented in his course ShapeShifter masterclass course. Andy demonstrates fresh and original applications and variations of his ShapeShifter improvisation principles across a variety of styles — and they're ALL tabbed and video-synced!
You'll get standard notation and tabs for all of the performance studies. Plus, you'll be able to use TrueFire's learning tools to sync the tab and notation to the video lesson. You can also loop or slow down the videos so that you can work with the lessons at your own pace. All of the backing tracks are included to work with on your own as well.
Grab your guitar and let's ShapeShift with Andy Wood!
Includes
23 Video Lessons
9 Charts (.pdf)
3 Jam Tracks (.mp3)
9 Tabs (.gp5 or .ptb)
Runtime: 01:17:02
转载请注明:0daytown » Truefire Andy Wood Live Plus Soloing Insights Ep. 1 TUTORiAL