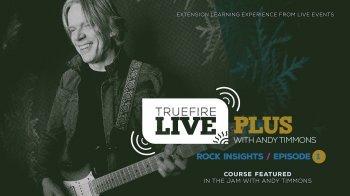 P2P | 07 October 2020 | 2.74 GB
Extension Learning Experience from a TrueFire Live Event
Welcome to Rock Insights, Episode 01 of Live Plus – an extension of live sessions with top TrueFire artists. In this extension course, you'll go in-depth with Andy Timmons, who takes us through some of the techniques, approaches, and solos found in his courses.
Each Live Plus follows along with the commentary and Q&A's of a TrueFire Live, transcribing everything that's being played along the way. You'll also be able to sync the tab and notation to the video using TrueFire's learning tools. You can loop or slow down the videos so you can work with the lessons at your own pace.
Ready to get started? Grab your guitar and tune in!
Includes
•30 Video Lessons
•9 Charts (.pdf)
•8 Jam Tracks (.mp3)
•9 Tabs (.gp5 or .ptb)
•Runtime: 01:35:11
转载请注明:0daytown » Truefire Andy Timmons Live Plus Rock Insights, Ep.1 TUTORiAL MP4 PDF GPX MP3