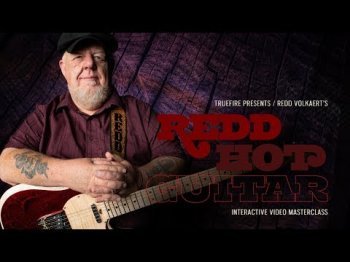 Video: AVC, 854×480, 29.970 FPS, 880 kb/s
Audio: AAC LC , 44.1 kHz, 2 channels, 160 kb/s | 1.14 GB
"When Leo Fender dreamed up the Telecaster electric guitar back in '49 or so, it's doubtful he knew what uses it would be put to, especially in the hands of someone like Redd Volkaert. The local Telecaster master is all over the guitar like grease on a pork chop, quoting jazz, country, blues, and Western swing as effortlessly as turning on the lights in the living room."
Commander Cody, Eric Johnson, Merle Travis, Albert Lee, Vince Gill, George Jones, Buck Owens, Merle Haggard, Dwight Yokum, Trace Adkins, Tim McGraw, Allison Krause, Charlie Pride, Brad Paisley, Billy Gibbons, Sonny Landreth, Dolly Parton and a hundred other top artists that he's played or recorded with would agree — "Redd Volkaert is a master of the Telecaster!"
We're beyond thrilled to welcome Redd to the family with his first TrueFire course, Redd Hot Guitar! You will likewise be thrilled when Redd lifts the hood on his inimitable guitar prowess and shows you a few ear-opening tricks of the trade. We guarantee turned heads at your next gig!
"I've been playing guitar for a long time. I've played with a lot of bands in all styles of music. I'd like to say that I learned a lot and I'd like to share what little I got in my memory with you here in this course.
The course is organized in two sections. The first emphasizing techniques like right-hand combinations, fusing jazz, country, and blues, fills and soloing, as well as how to fit in a band better as a rhythm player. In the second section, we'll play along with tracks utilizing all of these techniques, some special phrases, and a few goofy tricks on the guitar."
In the first section, Redd demonstrates 12 key concepts and techniques: Pick and a Finger, Double Stop Lines, Mix it Up, Rolls, Rolls, Butter Rolls, Bending & Vibrato, Steel Guitar Licks, Hybrid & Chick'n Pick'n, Tip Your Hat to the Melody, Phrasing & Pacing Solos, The Rhythm Section, Harmonic Enhancement, and Advanced Soloing Approaches
In the second section, Redd puts all of the key concepts and techniques to work over six performance studies. Redd will first perform the parts and then break them down emphasizing the key elements being applied.