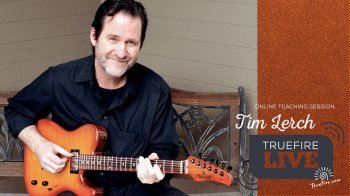 P2P | 25 September 2020 | 4.69 GB
Tim Lerch's Jazz Blues Pathways focuses on how to address more advanced chords when you're soloing on a blues. Most players feel comfortable when improvising over a simple 1-4-5 chord progression, but throw in a few extra chords and you might find yourself in the weeds. The 10 tunes in this course make a progressive journey towards more elaborate chord progressions associated with jazz blues.
"I've always loved the blues and spent many years playing in R&B and blues bands. As a result that blues influence has always been present in my jazz playing. I guess you could say that I like my jazz playing to have a little grease in it, and I love blues with sophisticated harmonies. From a simple 2 5 turnaround to a chromatic back cycle, I'll show you how to navigate comping those changes when improvising.
And if you're going to play these tunes, you gotta know how to comp these changes too. I'll show you rich voicings and rhythmic approaches that will allow you to be supportive of the soloist and a good team player cause that's the name of the game when you're in the rhythm section."
Tim will guide you through a straightforward upbeat shuffle with a two-five on the turnaround, a minor blues with a modal character, a medium tempo funky blues in A with approach-from-above chords and some diminished harmony, and a six-eight blues with some Wes Montgomery inspired changes.
You'll learn how to play a medium tempo D minor progression inspired by a great Ray Charles hit, a Latin tinged blues in D that features soloing with octaves and some block-chord playing, and a venerable gospel classic with a rhumba rhythm feel.
Next you'll take on a cookin' medium up jazz blues in D flat, a wonderful old tune with great bluesy changes and a nice slow-burning tempo, and finally an uptempo bebop-inspired blues in the style of Charlie Parker's Blues for Alice.
Tim will explain and demonstrate all of the key concepts and approaches along the way. You'll get standard notation and tabs for all of the performance studies. Plus, you'll be able to use TrueFire's learning tools to sync the tab and notation to the video lesson.
You can also loop or slow down the videos so that you can work with the lessons at your own pace. All of the backing tracks are included to work with on your own as well.
Grab your guitar and lets head down the jazz blues path with Tim Lerch!
转载请注明:0daytown » Truefire Tim Lerch Jazz Blues Pathways TUTORiAL MP4 PDF GPX