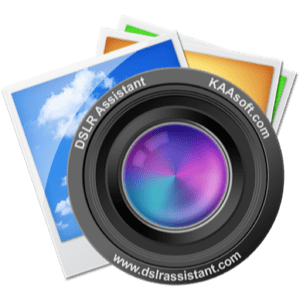 DSLR Assistant是一款单反相机的辅助远程拍摄软件,他允许您远程操控Canon EOS 相机连拍和定时抓拍。
---
File size: 10.78 MB
DSLR Assistant is a camera control application which allows to operate a Canon EOS digital camera from a Mac computer remotely using USB or Firewire cable.
---
It offers a comprehensive set of features that allows to control practically all camera parameters, key settings and shooting functions remotely. With only a few clicks you may change aperture, shutter speed, ISO, image size and quality, control lens focus, release the shutter and more.
With DSLR Assistant intricate tasks become easier and faster. You can take a number of photos at different exposures and focus distances within seconds. This is extremely useful for HDR and macro photographers.
DSLR Assistant supports interval shooting to help you shot time lapse sequence faster and more efficiently.
With bulb exposure you can take a photograph using longer than 30 second exposures.
DSLR Assistant automates the process of downloading and saving pictures from your camera to a computer. There is no need for concern about changing the camera's CompactFlash memory card during remote shooting. All captured images are saved directly to the Mac's hard drive and automatically organized in the built-in library, so you will need no time to find the image you want.
Captured images are instantly shown on a large Mac screen. It is much easier to vertify that focus, exposure, lighting, and of course composition are all the way you want them.
Any photographer is able to improve workflow efficiency using our camera remote control software product. DSLR Assistant is very user friendly and easy to use.
DSLR Assistant is a software product designed to remotelly control Canon cameras using a computer running a Mac OS X 10.11 (El Capitan), macOS 10.12 (Sierra), macOS 10.13 (High Sierra), macOS 10.14 (Mojave) or macOS 10.15 (Catalina). It allows you to capture images from Canon camera remotely and transfer them to your Mac. DSLR Assistant product is an indispensable assistant of any photographer. With application's help tethered shooting using a Mac as easy as with the camera itself.
Key features:
• Ability to set virtually all camera shooting parameters
• The automated process of downloading and organizing images on your hard disk while shooting
• View high-quality image previews
• Interval shooting for time-lapse photography
• Automated shooting at different focus distances for macro photography
• Exposure bracketing
• LiveView mode supported
• Instantly revise the quality of your images and make corrections
• Intuitive interface and wide function capabilities for quick and efficient work
• Save time, save money, enhance image quality
• These strong points make DSLR Assistant an indispensable and reliable tool for professional and amateur photographers who need to remotely capture pictures using Canon cameras.

Supported Operation System:
• 64-bit processor
• OS X 10.11 or later
转载请注明:0daytown » DSLR Assistant 3.5.0 MacOS