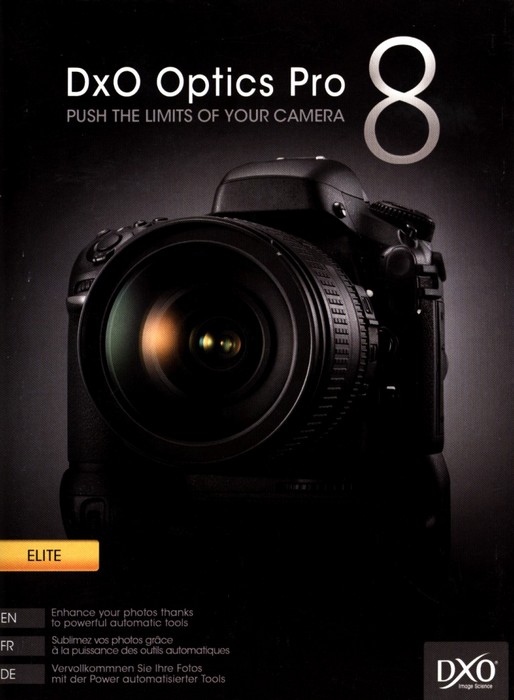 DxO Optics Pro是一款专业的图像处理软件,具有图像光学纠正、优化曝光、调整对比度、色彩控制、RAW格式转换、消除噪点和增强细节等功能。
DxO Optics Pro 8是世界上最好的照片后期处理软件之一,目前该公司发布的DxO Optics Pro 8正式版将会延续这一经典RAW处理软件的辉煌。DxO Optics Pro 8会自动提高图像质量,并突破相机极限,纠正所有的镜头变形,和改进相机拍照时传感器带给照片的常见现象,包括智能化的照片降噪。DxO Optics Pro是一款屡获殊荣的RAW程序软件,其开发公司基于长期专一的相机和镜头属性研究获取到的研发知识为DxO Optics Pro提供了出色的图像质量输出,即使照片是拍摄在​​超高的ISO下的JPEG或RAW文件格式。
DXO OPTICS PRO的独特之处在于它拥有最高质量的照片后期优化修正能力,无需人工干预。无论你是想简单一次性自动化获得一张你要的高质量效果照片,而不必仔细设置 滑块,或者您想手动设置自己的校正参数,DXO OPTICS PRO 8 都将满足您的需要。 DXO OPTICS PRO8是开发理想便是减轻你的工作量,最佳化纠正你宝贵的影像图片。
---
 DxO Optics Pro 8.3.2 | Mac Os X | 140.6 MB
DxO Optics Pro software automatically improves image quality by taking into account the precise characteristics of your photographic equipment (camera body and lenses). Designed for serious amateurs as well as for professional photographers who are looking for the best image quality possible, DxO Optics Pro processes both JPEG and RAW image files. Recognized around the world for its award-winning automatic optical corrections, DxO Optics Pro handles every kind of problem that can affect image quality. Whether you want to use its image processing capabilities to automatically improve hundreds of images through batch processing, or if you prefer to manually define the processing settings for each photo, DxO Optics Pro perfectly adapts to your needs to give you unsurpassed image quality and incomparable productivity.
Feautures: http://www.dxo.com/intl/photo/dxo_optics_pro/features
Requirements
Macintosh:
Mac with 64-Bit Intel Processor (Intel Core 2 Duo or higher) OS X 10.6, 10.7, 10.8 
Memory necessary:
2 Gigabytes of RAM (3 Gigabytes of RAM is recommended for processing images taken with cameras having a sensor size greater than 20 Megapixels).
Disk space necessary: 
Running the software requires a minimum of 2 GB on the hard drive. It is recommended to have 6 GB available for optimal software performance.
Home Page: http://www.dxo.com/intl/photo/dxo_optics_pro/introduction
Download uploaded
http://ul.to/0w9lm1uh
Download 城通网盘
http://www.400gb.com/file/31332573
Download uploaded
http://uploaded.net/file/ly48hfpo/Optics8.rar
Download filefactory
http://www.filefactory.com/file/2mmskz4vziqx/n/Optics8.rar
Download 城通网盘
http://www.400gb.com/file/29660801
Download 百度云
http://pan.baidu.com/share/link?shareid=2008694339&uk=1328701476
转载请注明:0daytown » DxO Optics Pro 8.3.2 MacOSX