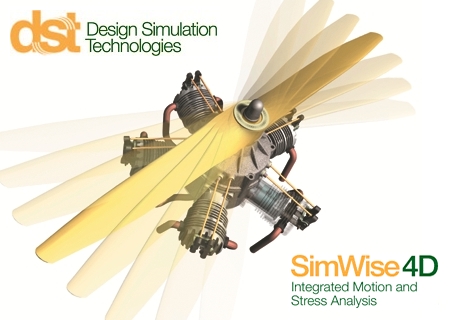 SimWise4D是面向复杂产品研发的集数字几何样机、功能样机、控制样机和性能样机于一体的设计-仿真环境。SimWise4D从产品样机工程的角度,完美的支持从描述产品组成的几何样机、描述产品机构运动的功能样机、描述产品工作逻辑的控制样机,到描述产品力学特性的性能样机的数字样机设计、仿真、优化过程,是目前唯一的能够支持四个层面样机一体化的设计仿真环境。
SimWise4D解决方案:
 几何样机直接关联
SimWise4D与CAD软件的完美结合,能够直接使用CAD的几何样机。
   功能样机快速创建
SimWise4D基于数字几何样机,可快速的增加运动约束,形成表达产品机构运动特征的功能样机,快速将几何样机转换功能样机。
   控制样机无缝集成
SimWise4D与Matlab-Simulink无缝关联,可对功能样机增加控制逻辑,形成具有运动过程控制反馈的控制样机,真实描述产品的工作原理。
  力学性能样机同步仿真
SimWise4D通过动力学、强度、模态、热完全一体化耦合的强大求解器和自动化的有限元前处理技术,实现了功能样机与有限元力学性能样机的完美统一,具备在三维运动仿真的同时进行有限元分析,实现了力学性能仿真的边界条件的真实性、实时性,极大的提升了仿真的真实性。
  样机可视化展示
SimWise4D提供强大的数字样机可视化操作和展示功能,特别是对三维仿真过程的注释、标注、数据实时可视化等功能,可极大提升工程师对仿真数据的识别、判断能力。SimWise4D可视化渲染可对仿真结果直接编辑与渲染,形成样机的展示动画。
  基于样机的优化设计
SimWise4D基于Red Cedar的HEEDS优化引擎技术实现设计优化,极大地方便了设计人员的操作,加快优化速度。
---
Design Simulation SimWise4D 9.x with Catia plugins | 1.1 Gb
DST (Design Simulation Technologies, Inc.), a leading provider of affordable and flexible physics based simulation software for the professional and education markets, announced the availability of SimWise 9.0. This release introduces a significant new integrated Optimization capability as a standard feature in the SimWise 4D product. This enhancement will allow the powerful simulation capabilities of SimWise 4D to be used with the HEEDs optimization engine providing designers and engineers with the ability to achieve optimal designs.
SimWise delivers 3D kinematic and dynamic motion simulation tightly coupled with 3D Finite Element Analysis (FEA) in a single, affordable package integrated with leading CAD systems allowing fundamental engineering questions such as "Does it work?" and "Will it break?" to be answered. The new optimization capability answers the question "How to make it better?". Knowing the answer to these questions early in the design cycle allows necessary changes to be made at the most cost effective time without going through the expensive and time consuming steps of building a physical prototype, testing it, and redesigning it.
Major capabilities of SimWise now include:
– 3D dynamic motion simulation featuring a robust 3D contact capability that allows real-world interactions between moving parts to be simulated.
– 3D Finite Element Analysis (FEA) coupled with the motion simulation allowing stresses due to dynamic loading to be quickly calculated. Features such as automatic adaptivity provide high quality results. Normal modes, buckling and steady state thermal analyses are also provided.
– A Simulink interface that allows control systems modeled in Simulink to be co-simulated with a mechanical system modeled in SimWise.
– Associative interfaces with SolidWorks, Solid Edge, Autodesk Inventor, and SpaceClaim Engineer.
– Ability to read CAD data from Catia V5, NX, Creo/Elements, ACIS, Parasolids, STEP, IGES, and STL.
– The new optimization capabilities based in the HEEDS engine licensed from Red Cedar Technology.
Bonus: Interactive Physics 9.0
Interactive PhysicsTM, the award-winning educational software from Design Simulation Technologies, makes it easy to observe, discover, and explore the physical world through exciting simulation. This easy-to-use program will support the most basic to complex topics in STEM education.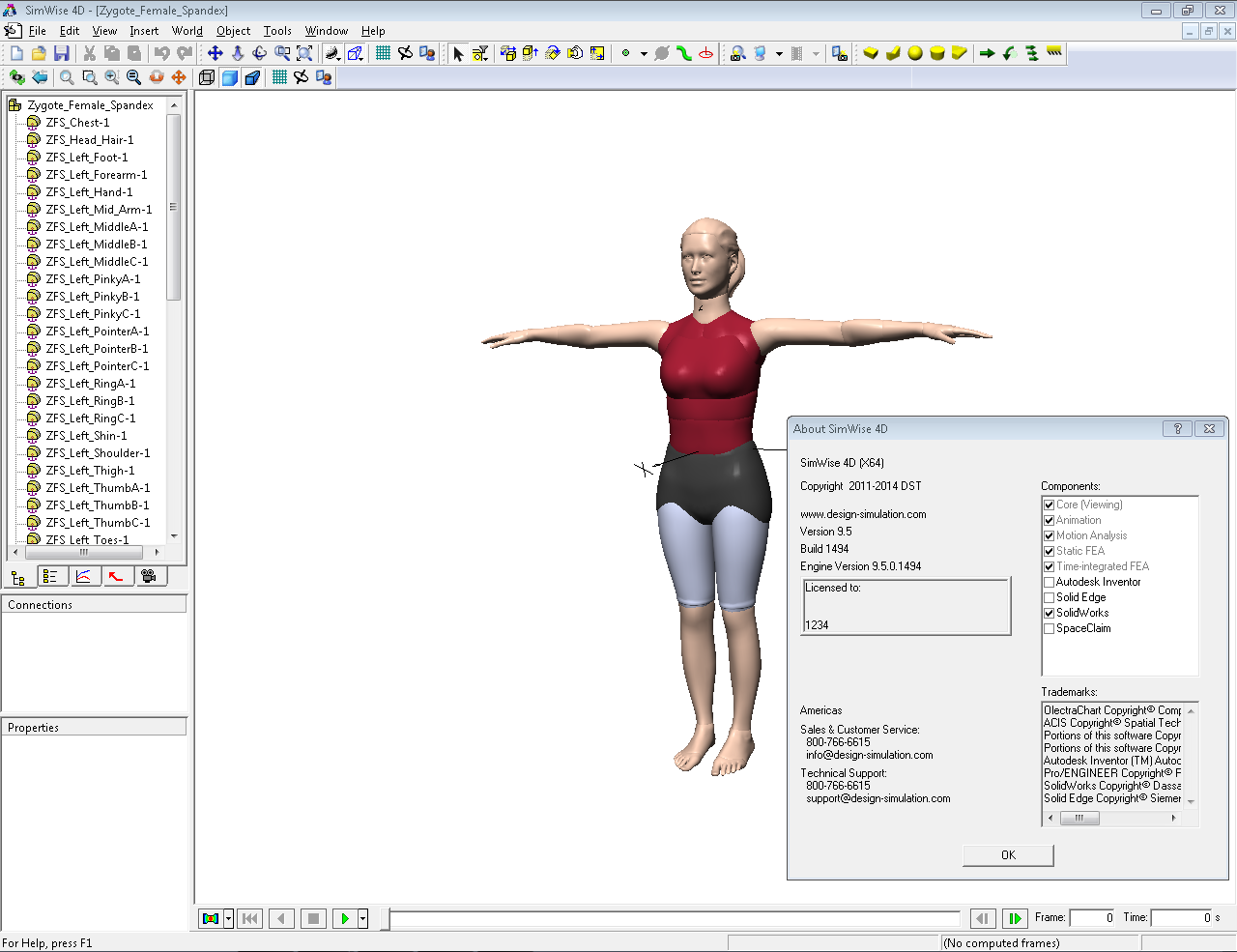 About DST
DST develops physics-based simulation software. The company's products are used by engineering professionals to build and test virtual models of their mechanical designs, and by STEM educators and students in the classroom to teach and learn about physics and engineering kinematics, dynamics, and machine design.
With DST's SimWise 4D, Working Model 2D, and Dynamic Designer products, users evaluate design performance, by conducting complete, accurate simulations. Engineers, professors and students can quickly perform "what-if" analyses, find and correct design problems, plus refine and validate designs without the need for physical prototypes.
Name: Design Simulation SimWise4D
Year / Release Date: 2014
Version: 9.5.0 Build 1535
Developer: Design Simulation Technologies
Bit depth: 32bit, 64bit
Language: English
Medicine: Present
System requirements: Windows 32-bit / 64-bit
Special Thanks SSQ & RG Engineer
---
Download iiiup
http://www.iiiup.com/5I3/Design.Simulation.SimWise4D.v9.5.0.incl.Catia.Plugins-SSQ.part1.rar
http://www.iiiup.com/5I4/Design.Simulation.SimWise4D.v9.5.0.incl.Catia.Plugins-SSQ.part2.rar
http://www.iiiup.com/5I5/Design.Simulation.SimWise4D.v9.5.0.incl.Catia.Plugins-SSQ.part3.rar
Download uploaded
http://uploaded.net/file/0i661d9r/Design.Simulation.SimWise4D.v9.5.0.incl.Catia.Plugins-SSQ.part1.rar
http://uploaded.net/file/i04pg7sk/Design.Simulation.SimWise4D.v9.5.0.incl.Catia.Plugins-SSQ.part2.rar
http://uploaded.net/file/by42aupa/Design.Simulation.SimWise4D.v9.5.0.incl.Catia.Plugins-SSQ.part3.rar
Download rapidgator
http://rg.to/file/a67725cad010e0416437cfd9cc79c4e1/Design.Simulation.SimWise4D.v9.5.0.incl.Catia.Plugins-SSQ.part1.rar.html
http://rg.to/file/57cae74bb8593e0c7c38745dac249a99/Design.Simulation.SimWise4D.v9.5.0.incl.Catia.Plugins-SSQ.part2.rar.html
http://rg.to/file/54863a1f99b5df3a480bc5edfbc733fe/Design.Simulation.SimWise4D.v9.5.0.incl.Catia.Plugins-SSQ.part3.rar.html
Download 百度云
转载请注明:0daytown » Design Simulation SimWise4D 9.5.0 Build 1535 with Catia plugins