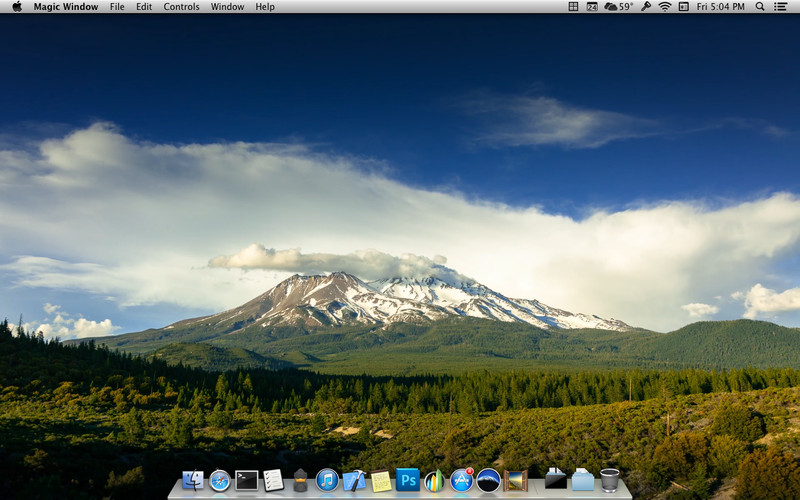 让你的桌面变得更佳的美丽. 软件内置了超过百种的动态壁纸.包括海岸, 城市, 山, 河流等. 绝对让你有一个赏心悦目的桌面.
Magic Window这款软件的功能其实也很简单,他能显示漂亮的"动态图像",不过这些图像并非视频,而是许多连续的静态图片组成的流畅画面。这些图片像素之高,让你能够洞悉云端或海面的任何细节。
Magic Window自带了10种不同的风景(最新版本将自带风景数增加到了18个),你还可以免费下载811MB的免费风景。Magic Window自带的风景除了我们刚才提到的两项以外,还包括夏威夷Haleakala国家公园的日出、毛纳基山天文台、旧金山湾的夜景、旧金山夜晚的交通、新西兰的冰河、圣巴巴拉市云端的日出,新墨西哥州桑里代克里斯托山脉以及壁炉柴火燃烧的景象。
Magic Window播放图像时还伴有环境声音,例如旧金山的车流或者夏威夷的风声,简直让人心旷神怡。
观看美丽风景变换的同时,你还可以调整风景变换速度,也就是说你可用3分钟时间看完一场日出,也可以正常的时间长度来欣赏。此外,你还可以点触图像并向或向右拖曳,以快进或快退图像。
---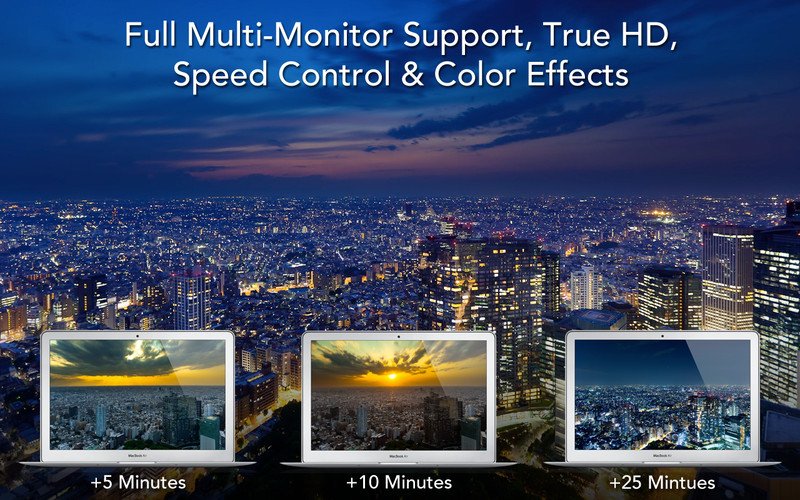 Magic Window – Timelapse Desktop 1.6 (Mac OS X) | 557 Mb
Magic Window is the absolute best and most beautiful live wallpaper and screen saver available for your Mac. It includes complete timelapse views of coasts, beaches, cities, mountains, lakes, and more. Watch as time and light slowly paint the skies beautiful colors and the cities transform from day to night and back again.
Created by the same team that brought you Magic Window for iPad and iPhone, Timelapse Desktop is a new style of desktop wallpaper made using timelapse photography. The wallpapers slowly blend over time revealing magical changes in scenery and color.
Magic Window includes 60 scenes: 7 are built into the app, and 53 are downloaded after you install the app. We use scene downloads so we can bring you more and more scenes without making the app larger and larger. There are no additional charges for scenes. You can install the app on as many Mac's as you want and download scenes as many times as you want.
Magic Window scenes are full 16:10 HD resolution (1920×1200) and look fantastic on every single Mac as well as HD displays. These are truly high definition wallpapers, not stretched low resolution videos.
Magic Window fully supports multiple monitors, allowing you to have different scenes on each display and to selectively enable or disable displays. AirPlay can also be used in Mountain Lion to display the scenes on an Apple TV.
Magic Window offers a variety of speeds that let you control how much CPU it consumes. On the slowest speed Magic Window can consume less than 2% CPU, leaving your Mac free to focus on other tasks.
OS X Mountain Lion: This version of Magic Window has been updated to support OS X Mountain Lion.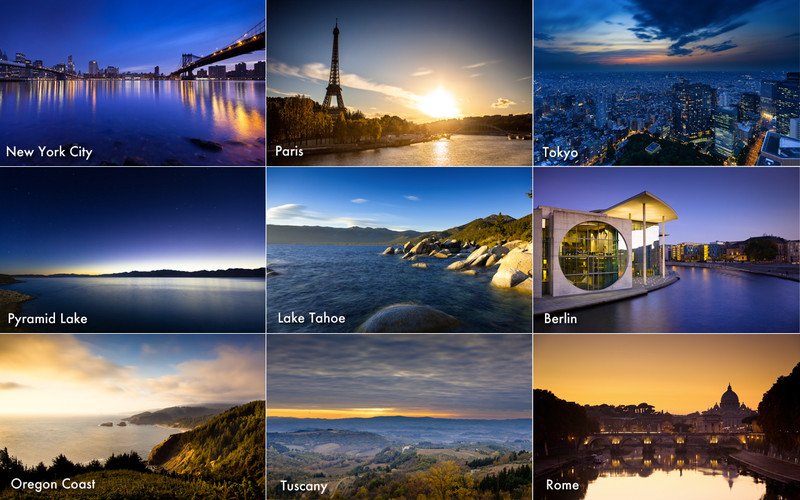 Each Scene is Made From Over 1,000 Photographs.
Over 200,000 Photographs Were Used To Make This App.
CITYSCAPES:
Barcelona, Berlin, Chicago, Hamburg, Florence, Las Vegas, London, Los Angeles, Lucerne, New Orleans, New York City, Prague, Portland, Rome, San Francisco, Seattle, Tokyo, Venice
NATURESCAPES:
Bohicket Marina, Glen Lake, Half Moon Bay, Lake Tahoe, Lake Murray, Pyramid Lake, Santa Monica, Suisse Fog, Pacifica, Oregon Coast
COUNTRYSIDE:
Hill Street Bridge (New York), Ivinghoe Beacon (England), River Falls (Wisconsin), Saugerties Lighthouse, Tuscany (Val D' Elsa)
MOUNTAIN:
Carson Valley (Nevada), Gore Range (Colorado), Heavenly Mountain (California), Mt. Shasta (Summer & Winter), Vail Village (Colorado), Whiskeytown Lake (California)
TRANSPORTATION & MORE:
Battersea Power Station, Charleston Bridge, Golden Gate Bridge, Los Angeles Airport, Boston, Logan Airport, Martinez Refinery, Oakland Railyards, Rainbow Bridge, Tower Bridge
PLEASE NOTE:
This is not a system screensaver, it works independently of the system screensaver.
What's New in Version 1.4
– 15 new scenes including the Aurora Borealis! 75 total scenes!
– Show/Hide Downloads option moved to Preferences
– Fixed issues with fast user switching
– Fixed various bugs
Requirements: OS X 10.6.6 or later
Download uploaded
http://uploaded.net/file/ucwmglkt/Magic.Window.Timelapse.Desktop.v1.6.MacOSX_0daydown.com.part1.rar
http://uploaded.net/file/gq5s04h1/Magic.Window.Timelapse.Desktop.v1.6.MacOSX_0daydown.com.part2.rar
http://uploaded.net/file/64g5x1kf/Magic.Window.Timelapse.Desktop.v1.6.MacOSX_0daydown.com.part3.rar
http://uploaded.net/file/2a8d7u6p/Magic.Window.Timelapse.Desktop.v1.6.MacOSX_0daydown.com.part4.rar
http://uploaded.net/file/3u9fb0ii/Magic.Window.Timelapse.Desktop.v1.6.MacOSX_0daydown.com.part5.rar
http://uploaded.net/file/guv8cajt/Magic.Window.Timelapse.Desktop.v1.6.MacOSX_0daydown.com.part6.rar
Download filefactory
http://www.filefactory.com/file/125jl3zm5iz5/n/Magic.Window.Timelapse.Desktop.v1.6.MacOSX_0daydown.com.part1.rar
http://www.filefactory.com/file/38x0lz8zrny9/n/Magic.Window.Timelapse.Desktop.v1.6.MacOSX_0daydown.com.part2.rar
http://www.filefactory.com/file/62pk06ehwti7/n/Magic.Window.Timelapse.Desktop.v1.6.MacOSX_0daydown.com.part3.rar
http://www.filefactory.com/file/2bvytwtqyhub/n/Magic.Window.Timelapse.Desktop.v1.6.MacOSX_0daydown.com.part4.rar
http://www.filefactory.com/file/4c3wkhqmccxn/n/Magic.Window.Timelapse.Desktop.v1.6.MacOSX_0daydown.com.part5.rar
http://www.filefactory.com/file/47sc43ndhnfr/n/Magic.Window.Timelapse.Desktop.v1.6.MacOSX_0daydown.com.part6.rar
Download 城通网盘
Magic.Window.Timelapse.Desktop.v1.6.MacOSX_0daydown.com.part1.rar: http://www.t00y.com/file/32143931
Magic.Window.Timelapse.Desktop.v1.6.MacOSX_0daydown.com.part2.rar: http://www.t00y.com/file/32143932
Magic.Window.Timelapse.Desktop.v1.6.MacOSX_0daydown.com.part3.rar: http://www.t00y.com/file/32143933
Magic.Window.Timelapse.Desktop.v1.6.MacOSX_0daydown.com.part4.rar: http://www.t00y.com/file/32143934
Magic.Window.Timelapse.Desktop.v1.6.MacOSX_0daydown.com.part5.rar: http://www.t00y.com/file/32143935
Magic.Window.Timelapse.Desktop.v1.6.MacOSX_0daydown.com.part6.rar: http://www.t00y.com/file/32143936
Download 百度云
转载请注明:0daytown » Magic Window Timelapse Desktop 1.6 MacOSX 桌面美化