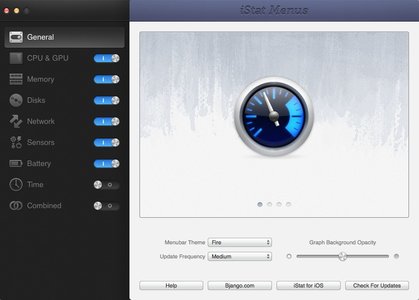 这是我们在Mac下最常见到的一款硬件信息实时查看工具,能以直观的方式向我们使用者实时反映当前Mac电脑的温度、CPU使用情况、网速、内存使用情况以及硬盘使用情况等多项硬件指数。
---
 iStat Menus  Mac Os X | 13.5 MB
iStat Menus is an advanced Mac system monitor, covering an enormous range of stats. It lives right in your Mac's menubar, so detailed information is only ever a glance or single click away. iStat Menus 4 introduces an all-new, Retina display friendly design, per process network bandwidth monitoring, history graphs across the board, calendar events and much, much more.
CPU
Realtime CPU graphs and a list of the top 5 CPU resource hogs. CPU usage can be tracked by individual cores or with all cores combined, to save menubar space. 
Memory
Memory stats for your menubar as a pie chart, graph, percentage, bar or any combination of those things. Opening the menu shows a list of the apps using the most memory, and other useful info. 
Network
A realtime graph to keep on top of what's being sent and received for all network connections, including a bandwidth breakdown for the top 5 apps. 
Disk Usage
See used and free space for multiple disks in your menubar. SMART status monitoring and more detail for all your disks is only a click away. 
Disk Activity
Detailed disk I/O in your menubar, displayed as a graph, a variety of different read and write indicators, or both. 
Sensors
Realtime listings of the sensors in your Mac, including temperatures, hard drive temperatures (where supported), fans, voltages, current and power. Fan speeds can be controlled, with different rules when on battery power, if you'd like. 
Date & Time
A highly configurable date, time and calendar for your menubar, including fuzzy clock and moon phase. 
Open iStat Menus' calendar to display upcoming events, or events for any day. Plus, a world clock with sunrise, sunset, moonrise and moonset times for over 20,000 cities. 
Battery
Detailed info on your battery's current state and a highly configurable menu item that can change if you're draining, charging, or completely charged. 
Plus, Magic Mouse, Magic Trackpad and Apple wireless keyboard battery levels.
64-bit Mac and OS X 10.6, 10.7 or 10.8 required.
Languages: English
Download uploaded
http://uploaded.net/file/kzasjmjt/iStat.Menus.v4.10.MacOSX.rar
Download filefactory
http://www.filefactory.com/file/4u24xf1k5k1v/n/iStat.Menus.v4.10.MacOSX.rar
Download 城通网盘
http://www.400gb.com/file/32982601
Download 百度云
http://pan.baidu.com/s/1xeZ3A
Download freakshare
http://freakshare.com/files/1vsw7bhu/iSM.4.06.zip.html
Download filefactory
http://www.filefactory.com/file/5pobfvg36x43/iSM.4.06.zip
Download uploaded
http://uploaded.net/file/l6mflld0/iSM.4.06.zip
Download 城通网盘
http://www.400gb.com/file/23575879
Download 百度云
http://pan.baidu.com/share/link?shareid=806369920&uk=2972715548