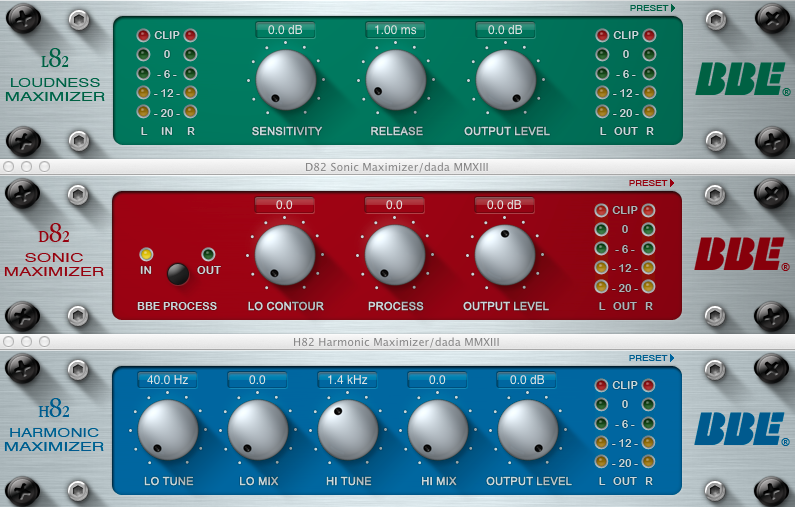 BBE Sound All Plugins Bundle VST AU RTAS v1.2 (Win / Mac OS X) | 77.7 MB / 117.2 MB
BBE Sound Inc. and Nomad Factory are proud to announce their collaboration in the development and design of the Sonic Sweet Plugins. Building on the success of the D82 Sonic Maximizer plug-in, the Sonic Sweet is a suite of professional plug-ins useful for every facet of digital audio production, giving your projects a high-quality finishing touch to every stage of production, from tracking to editing, mixing to mastering.
D82 Sonic MaximizerThe D82 is the latest Sonic Maximizer application in a easy-to-use plug-in that restores natural clarity and depth to the sound image.
H82 HARMONIC MAXIMIZERThe H82 Harmonic Maximizer is a Multi-band enhancer that generates harmonics for adding emphasis to frequencies, from low-end punch to top-end sizzle.
L82 LOUDNESS MAXIMIZERThe L82 Loudness Maximizer is an effective, easy-to-use Mastering/Dynamics Limiter that fattens up tracks for a polished, professional feel.
STOMP WARE is a suite of eight plugins modeled from our very own line of boutique analog stomp boxes. The suite consists of our Free Fuzz ('70 fuzz), Green Screamer (vintage overdrive), Mind Bender (vibrato/chorus), Opto Stomp (optical compressor), Sonic Stomp (Sonic Maximizer), Soul Vibe ('60 rotary speaker simulator), Tremor (vintage tremolo) and Two Timer (analog delay) to warm up every facet of digital audio production.
---
 Download uploaded
http://uploaded.net/file/ck3es9nu/BBSoAlPlBuVSAURT1.2.MAC.OSX-ArCADE.rar
http://uploaded.net/file/vsfqytch/BBSoAlPlBuVSRT1.2-AiR.rar
Download filefactory
http://www.filefactory.com/file/3vtqjtenjt9/n/BBSoAlPlBuVSAURT1.2.MAC.OSX-ArCADE.rar
http://www.filefactory.com/file/3mt1hfe59t9n/n/BBSoAlPlBuVSRT1.2-AiR.rar
Download 城通网盘
BBSoAlPlBuVSAURT1.2.MAC.OSX-ArCADE.rar: http://www.t00y.com/file/30700953
BBSoAlPlBuVSRT1.2-AiR.rar: http://www.t00y.com/file/30700954
Download 百度云
http://pan.baidu.com/s/1A9Qn4
转载请注明:0daytown » BBE Sound All Plugins Bundle VST AU RTAS v1.2 Win/MacOSX