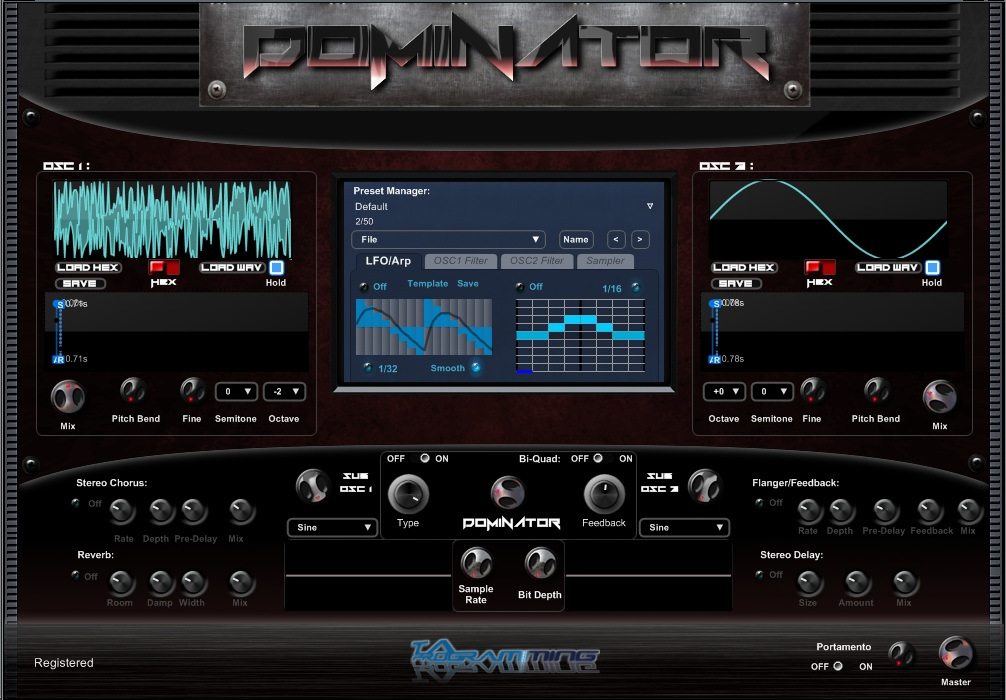 TA Programming DOMINATOR v1.04 | 11.5 MB
Dominator is a revolutionary new synth that can create the hardest hitting bass-lines to the most sonically clear plucks! All through its radically new method of creating wavetables: Multi-Cycle Wave Analysing synthesis! Dominator also employs the use of Frequency Dissonance to create Dubstep-style wobbles instead of the traditional use of the LFO (though one is still included)! Ideal for styles ranging right from: Dubstep, DnB, Electro, House, and Trance to Avant Garde and contemporary!
Oscillator modules:
2x Main oscillators employing Multi-cycle Wave Analysing Synthesis (including 52 pre-analysed wavetables saved in HEX format ranging from simple to complex)
Each containing:
• A Graphical ADSR Envelope for maximum precision
• A Detune module incorporating Fine tuning, Semitone, and tone shifting.
• High precision Pitch-bend with an Octave range.
• Mix level
2x Sub Oscillators (Sine, Sawtooth, Triangle, and square waveforms) making use of Frequency Dissonance
Dominator Module:
High Quality overdrive distortion including:
• Space Type
• Feedback
• Bi-quad
Inversely proportional Bitcrusher section with:
• Sample rate
• Bit Depth
LFO Module:
• Saw, Sine, pulse, and random waveform presets.
• Custom waveform that can be drawn in and saved.
• The Smooth tool controls the path of the signal through the LFO.
• OSC Phase control
• OSC Filter Cut-off control
• Automatic DAW tempo Sync
• Speeds: 1/1, 1/2, 1/4, 1/8, 1/16, 1/32, 1/64, 1/128
Arpeggiator/Sequencer:
• Step based Arp which can double as a sequencer
• Automatic DAW tempo Sync
• Speeds: 1/1, 1/2, 1/4, 1/8, 1/16, 1/32, 1/64, 1/128
2X Multi-mode Filters (dedicated to each OSC):
• Types: LPF, HPF, BPF, BRF, PF
• Cutoff
• Resonance
• Q
• ADSR controls for each filter
High Quality Sampler (independent from the main OSC's):
• Supports 44.1Khz, 16-bit WAV files
• Pitch follow function (subjective to the samples original pitch)
• Mix level
Stereo Chorus Module:
• Rate
• Depth
• Pre-delay
• Mix Level
Customizable Digital Reverb Module:
• Room size
• Dampening
• Stereo Width
• Mix Level
Flanger/Feedback Module:
• Rate
• Depth
• Pre-Delay
• Feedback
• Mix Level
Stereo Delay:
• Delay amount
• Feedback
• Mix Level
User customizable Preset Manager:
• Load, Save individual presets or whole expansion packs.
• Includes 135 factory installed presets
• Presets marked with a "(FD)" after their name make use of Frequency Dissonance.
Other features:
• Dual Oscilloscopes for each Channel (L/R)
• Single voice mode with Portamento (variable time controls)
• 32 voice polyphony mode
• Main output level
---
 Download uploaded
Download filefactory
http://www.filefactory.com/file/4ol4om6g0e3d/n/TAPrDO1.04-R2R.rar
Download 城通网盘
http://www.400gb.com/file/30641226
Download 百度云
http://pan.baidu.com/s/1bxViM