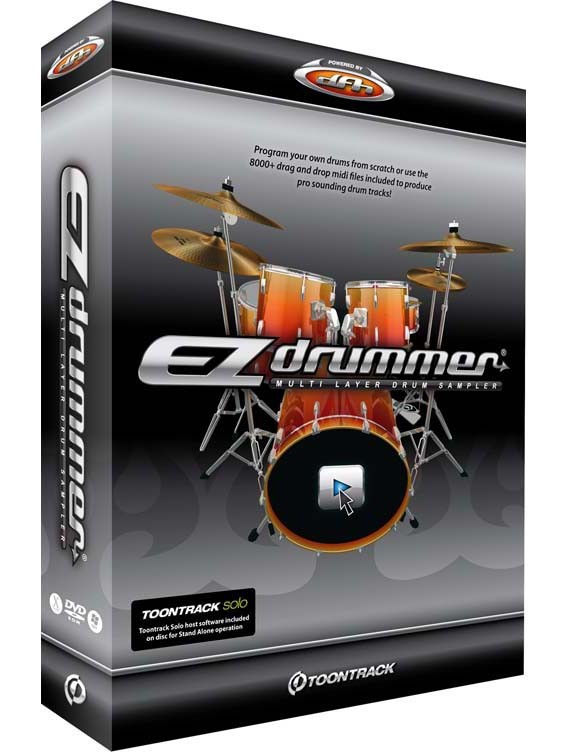 Toontrack EZdrummer v1.3.3 Update (Win / Mac OS X) | 48.7 MB / 28.9 MB
EZdrummer is the world's leading drum production tool and the number one pick for top songwriters, producers, artists and home users alike. Its sounds are heard daily in countless new major label productions, TV shows and commercials around the world. Meet your new drummer, the undisputed industry standard for quick and easy drum production: EZdrummer.
The sounds for EZdrummer were recorded in New York's legendary Avatar Studios by engineer duo Neil Dorfsman (Bruce Springsteen, Dire Straits) and Pat Thrall (Beyoncé, Katy Perry) together with renowned session drummer Nir Z (Chris Cornell, Genesis). Avatar Studios is known for having one of the world's finest acoustic environments and has won several industry awards. Since its inception in the 1970s, it's hosted bands and artists like Aerosmith, Bon Jovi, Journey, Kings of Leon and The Clash.
Combining all elements, EZdrummer is like having a world-class session drummer, ready to deliver killer drum tracks recorded by award-winning engineers in one of the greatest drum rooms in the world – at your beck and call, 24/7, any day of the week.
Meet your new drummer: EZdrummer.
---
 Download uploaded
http://uploaded.net/file/1f76rhx5/Toontrack.EZdrummer.v1.3.3.Update.Incl.Keygen-R2R.rar
http://uploaded.net/file/4ecqv9s5/Toontrack.EZdrummer.v1.3.3.Update.MacOSX.Incl.Keygen-R2R.rar
Download filefactory
http://www.filefactory.com/file/4e6gzbbracj1/n/Toontrack.EZdrummer.v1.3.3.Update.Incl.Keygen-R2R.rar
http://www.filefactory.com/file/47wlcu6v6x27/n/Toontrack.EZdrummer.v1.3.3.Update.MacOSX.Incl.Keygen-R2R.rar
Download 城通网盘
Toontrack.EZdrummer.v1.3.3.Update.Incl.Keygen-R2R.rar: http://www.t00y.com/file/30641258
Toontrack.EZdrummer.v1.3.3.Update.MacOSX.Incl.Keygen-R2R.rar: http://www.t00y.com/file/30641235
Download 百度云
http://pan.baidu.com/s/1efK78
转载请注明:0daytown » Toontrack EZdrummer v1.3.3 Update Win/MacOSX