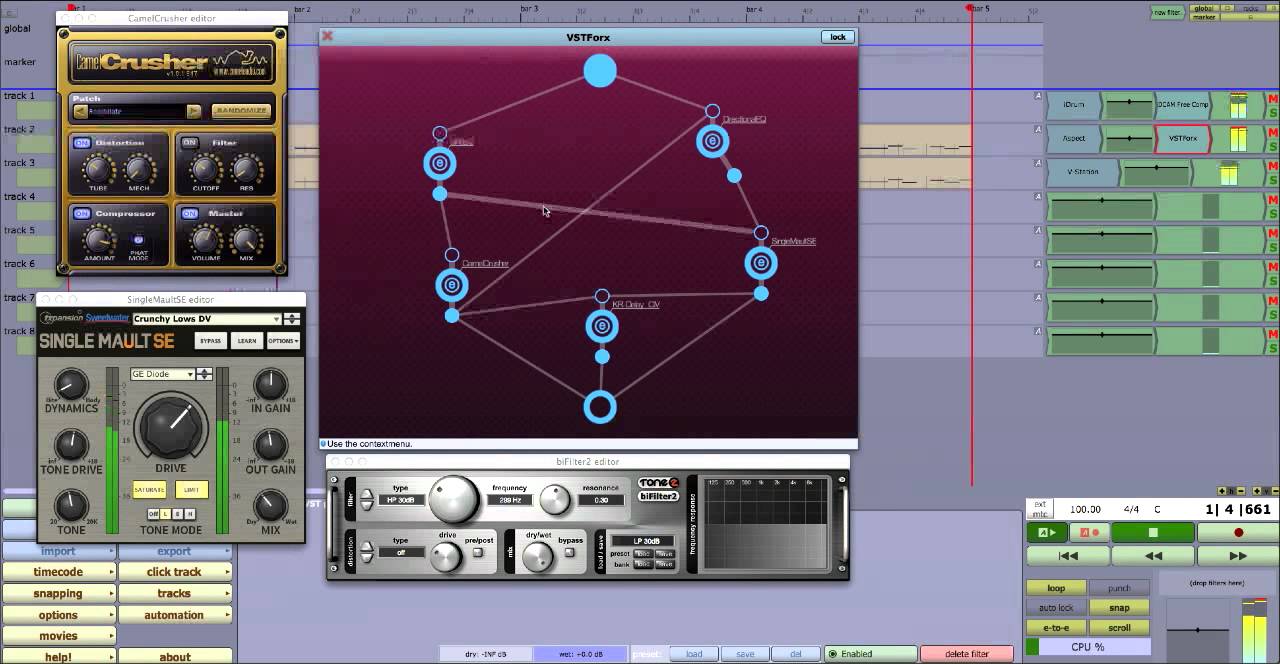 Samba Godschynski VSTForx v1.0.1 Mac OS X | 13.1 MB
VSTForx is a full-modular effect network creation tool which comes as a VST-plugin. With VSTForx you are able to load any number of VST-plugins and connect them anyway you want. Additional modules allow you to manipulate such signal chains and offer a whole new way in mixing and producing.
Advanced Controls
Build complex controler chains by creating parameter networks composed of arbitrary plugin parameters. With special audio-transformer modules it's possible to control parameters with audio events.
Basic Features
Completely Free Plugin Chaining: Unlike many other plugin chainers you are able to build effect chains similar to "real" circuits. With that you have more control on how your sound is created. 
Free Parameter binding: Every effect and every module is controlled by parameters. All of these parameters have a knob representation which can be placed and controlled on the main "circuit" view. With the knobs you are able to bind parameters together, so that every parameter changing will be transmitted to its neighbours. 
Parameter Connection Operators are modificators for parameter value transmissions. Available operators are Inverse, Logarithmic, Exponential and Offset. 
Internal Modules
Besides the plugins VSTForx knows three types of modules: the signal processor, the signal switch and the signal transformer. 
Volume: The Volume module is a signal processor. It contains a single parameter which allows to control the volume of the incoming signal. 
Pan: Like the Volume module, the Pan module is a signal processor with a single parameter. Use it to control the panning of the incoming signal. 
Input / Output Switches are able to switch between several states while every state belongs to an input respectively to an output. An "Input Switch" for example can switch several inputs to one output. A "selector" parameter controls the switch state. Furthermore several parameters control the "fade-in / fade-out" behaveiour. 
Input / Output Step Switches: Unlike the "I/O Switches" the "Step Switch" state is not controlled by a parameter. The states will be iterated automatically. Either with a fixed time per state or synced to the beat of the current DAW. 
The Midi-Receiver is a transformer module. It transforms MIDI signals into parameter values. 
The Peak Transformer transforms incoming audio peaks into an output parameter value. 
The ADSR Trigger generates an ADSR sequence triggered by an audio signal. This sequence will be transformed into an output parameter value. Thus it's possible to control parameters (or rather the connected units) with any audio input.
---
 Download uploaded
Download filefactory
http://www.filefactory.com/file/6yolz2xoogkh/n/SaGoVSTFo1.0.1.MacOSX-Xdb.rar
Download 城通网盘
http://www.400gb.com/file/30634909
Download 百度云
http://pan.baidu.com/s/1opjnV