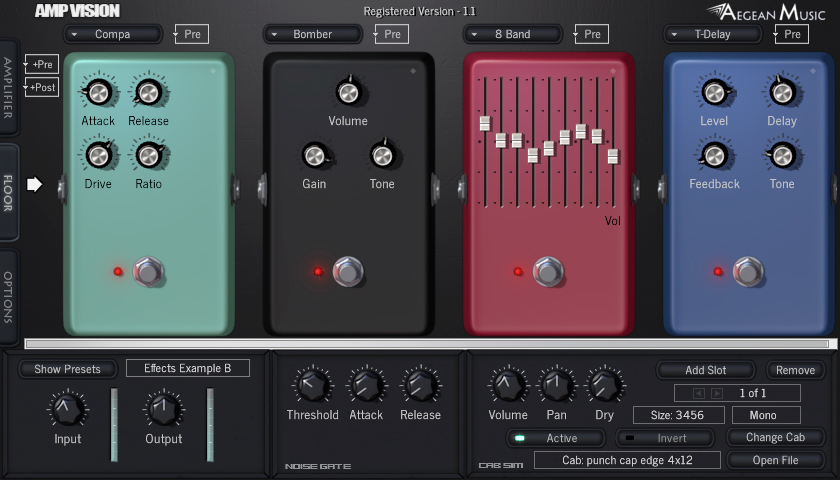 Aegan Music Amp Vision给你无限的音调容易立即使用封装的VST插件。它的接口与您现有的VST主机,兼容昂,或其他音频的应用具有多重角色,如记录,执行,实践,和Re绰号或重新想象存在的痕迹。
---
 Aegan Music Amp Vision v1.1 | 20.3 MB
Amp Vision is a VST plugin for guitar processing giving you limitless tones instantly in an easy to use package. It interfaces with your existing VST HOST, compatible DAW, or other audio application and excels in multiple roles such as recording, performing, practice, and re-amping or re-imagining existing tracks.
• 28 amps to choose from
• 12 Effect Pedals
• Cabinet Sims are included and standard files can be loaded
• Customizable Library of presets and categories
• Many adjustable features such noise gate and oversampling
• Cab sim, effects, or amp modeling can be bypassed.
• Internal 64 bit (double precision) processing.
• No added latency (aka zero latency).
THE AMPS
The amp simulations in this plugin cover an incredibly wide range of guitar tones. Many of these amps are inspired by classic guitar recordings and vintage amplifiers. Modern amps are also represented, letting you produce the tones of modern metal, or pristine clean rigs.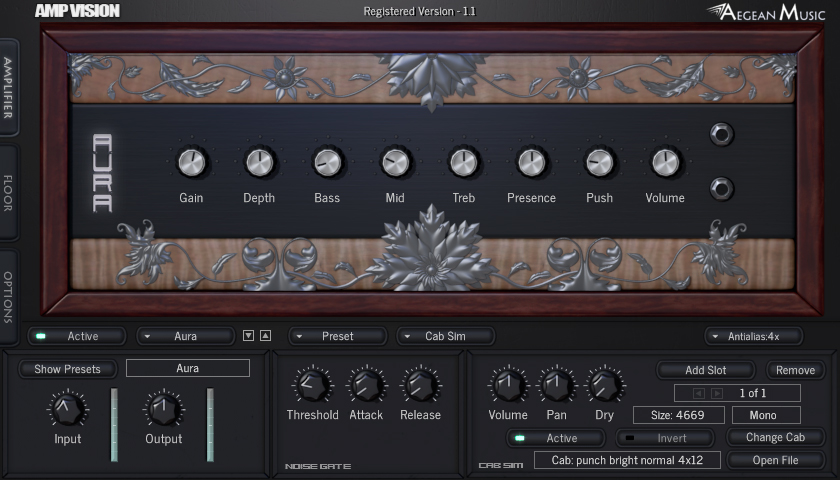 THE LIBRARY
Your presets are easily organized in an internal library that is part of the plugin. You can customize unlimited presets and organize them in your own categories. The library is a simple file that the plugin produces allowing you to keep copies of it or transfer the data. The factory presets are a great resource for getting the tones you are looking for quickly, and a good starting point for making your own unique sound.
EFFECTS
Plug in effect pedals before or after the amp circuits in any combination to suit your needs. Multiple distortion and overdrive effects (also usable as a boost, or "dirty boost") are featured. Compression, auto-wah, octave fuzz, delay, and equalizer options are also included. At the front of the signal chain is a noise gate to control any hum or noise.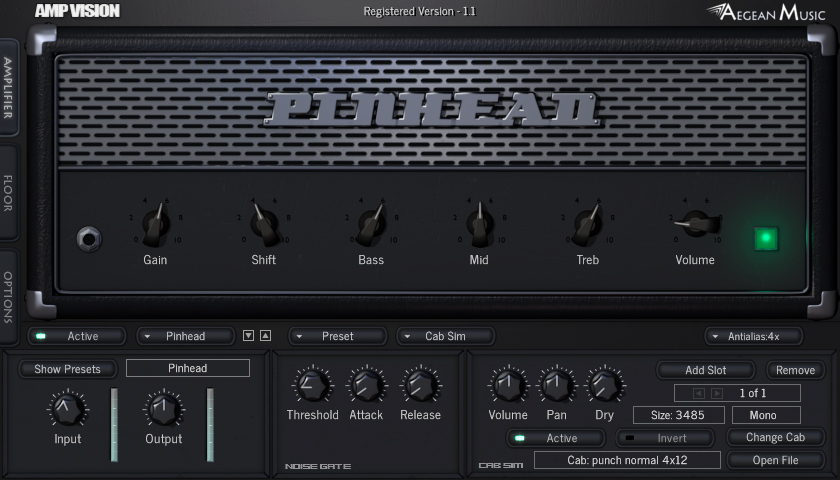 SPEAKER AND CABINET SIMULATION
Along with simulations for an amplifiers electronics, simulation of the speaker and cabinet is a must have feature to achieve realistic guitar amp tones. Amp Vision includes this (we call it "cab sim") and there are a number of cab/mic positions to choose from built into the program. That's just scratching the surface though, the program can import the standard cab sim files (called impulses, impulse responses, etc.) available on our site and around the net. These files can be organized in the internal library, with categories, meaning you can build an organized database of thousands of can and mic positions.
---
 Download uploaded
http://uploaded.net/file/3pk4vkcm/AeMuAmVi1.1-R2R.rar
Download filefactory
http://www.filefactory.com/file/1l9rphbedoch/n/AeMuAmVi1.1-R2R.rar
Download 城通网盘
http://www.400gb.com/file/30629003
Download 百度云
http://pan.baidu.com/s/19nSmi
转载请注明:0daytown » Aegan Music Amp Vision v1.1