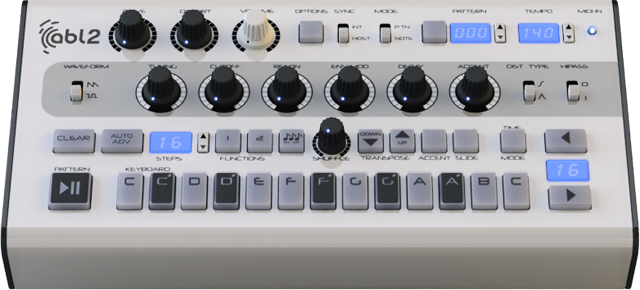 AudioRealism Bass Line 2 (ABL2) v2.9.1.5 | 5.5 MB
The legendary silver box which is hallmark in electronic music has been recreated in AudioRealism Bass Line 2 (ABL2). Analog modeling techniques have been employed to create a DSP-algorithm that accurately emulates every aspect of the original 303, from growling basses to hollow middles and beeping highs with metal rattling accents. Patterns are composed in a fashion similar to the original using the integrated step sequencer with easy to use manipulation functions such as transpose and randomization
Advanced pattern analyzer
The pattern analyzer is a tool for editing and analyzing patterns. In further aid to help users transition their original patterns into ABL an audio detection algorithm has been devised. That's right – it can create patterns using audio files as a source. How does it work? The original patterns are recorded under certain conditions, then simply hit Detect from wave and select the audio file. ABL2 will create a pattern resembling the audio input.
Configuration Screen
The configuration screen allows you to customize your ABL2 to your liking, we even go as far as allowing you to tweak some of the internals such the Filter Vcc feed voltage, pre-gain and basic frequency offset. There is also options for selecting VCA clicks and whether to auto level the volume (which is like a compressor but without any lag).
Features
• Authentic 303 emulation
• Internal step sequencer with per pattern shuffle
• Full MIDI CC control with learning function
• Integrated distortion unit
• High pass filter (low cut)
• Rebirth pattern import 
• Two MIDI modes (Pattern or Note)
• Sample accurate sync to VST and AU hosts
• Shuffle
• And much more!
---
 Download uploaded
http://uploaded.net/file/lwvlynnj/AuReABL22.9.1.5-R2R.rar
Download filefactory
http://www.filefactory.com/file/p38r5gkkb8x/n/AuReABL22.9.1.5-R2R.rar
Download 城通网盘
http://www.400gb.com/file/30629006
Download 百度云
http://pan.baidu.com/s/1eLI7D