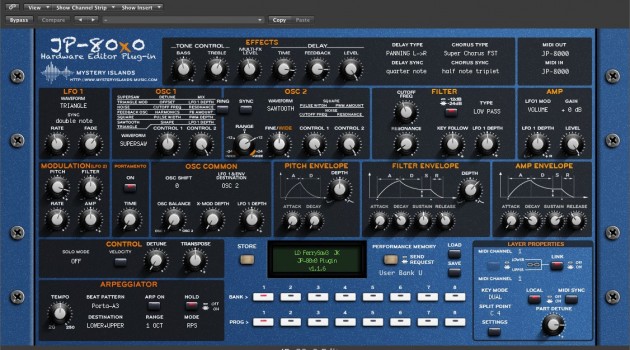 Mystery Islands Music JP-80×0 v1.1.7 Mac OS X | 13.7 MB
Have you ever wanted to control, automate and work with your JP-8000 / JP-8080 the way this modern world requires? Now it's possible with our AU / VST plugin that allows you to get your Hardware into your modern DAW. We developed this plugin together with Arto Vaarala who's long experience with coding made all this possible.
Here is a little something we've done for this plugin:
• Connect your JP-8000 / JP-8080 directly into your DAW.
• Edit almost every parameter of your synth from the plugin (AudioUnit or VST).
• If you edit any CC knob from JP, you can see it moving directly in the plugin window.
• Automate almost every parameter within your DAW.
• Edit both layers from the plugin individually or link layers together.
• You can request User Performance, Presets and Memory Card library from the plugin (Memory Card only in JP-8080).
• You can send the parameters from the plugin to your synthesizers Temp buffer and save them from there.
• When you open the project with the plugin, all the parameters are automatically sent to JP.
• Load and Save performance banks to / from your HDD.
• Store patches to your JP-8000 & JP-8080.
• JP-8000 incompatible parameters marked with **.
• Alan Marcero and Mystery Islands soundsets included with the plugin.
---
 Download uploaded
Download filefactory
http://www.filefactory.com/file/19s0yuj9u7of/n/MyIsMuJP-80×01.1.7.MacOSX-Xdb.rar
Download 城通网盘
http://www.400gb.com/file/30629022
Download 百度云
http://pan.baidu.com/s/1pBdyz
转载请注明:0daytown » Mystery Islands Music JP-80×0 v1.1.7 MacOSX