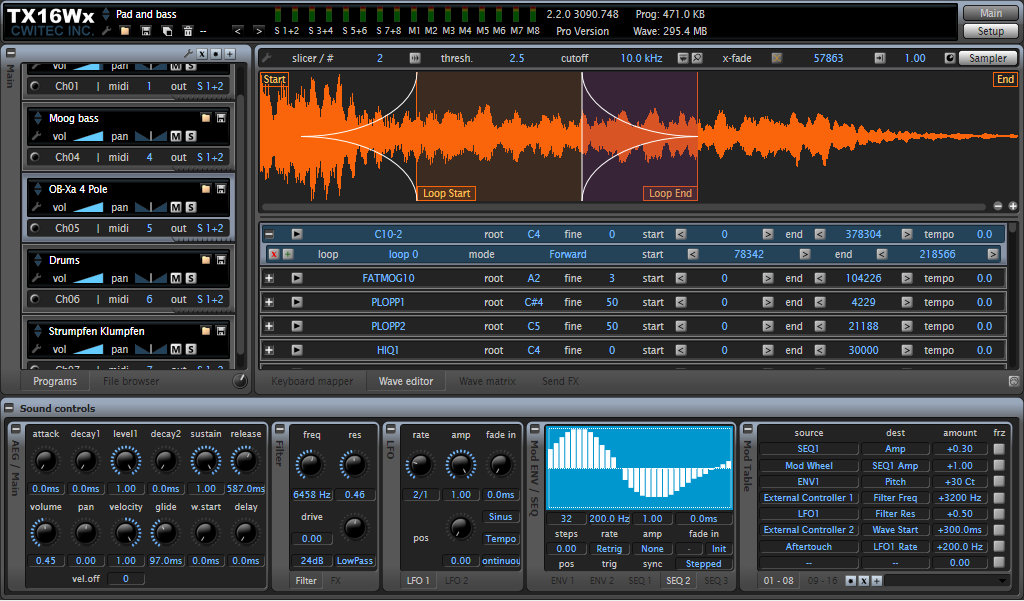 CWI Technology TX16Wx Professional v2.2.3 (Win / Mac OS X) | 20.3 MB
Tired of the same old sample playback plug-ins, rehashing tired preset sounds and locking you in to a single manufacturer and data format? Would you like to experience that sheer joy that comes from building your own sounds, recording your own samples and mangling them with near endless sound shaping possibilities? TX16Wx Software Sampler is a plug-in for the creative musician, inspired and modeled after the best hardware samplers with all the ease and new exiting features modern software brings. A multitimbral instrument that actually samples, and with a documented file format so you never will be locked in to a single instrument.
Features:
• Re-sizable, flexible GUI
• Full Undo/Redo support.
• Built-in file browser with wave preview.
• Unlimited multi-timbral operation.
• 128 voice polyphony
• 24dB resonant filters.
• Two syncable LFOs per voice.
• Two Modulation Envelopes per voice.
• Three Step Sequence LFOs per voice.
• Modulation matrix with 16 modulation slots per voice.
• Multiple keyboard scales.
• Multiple trigger modes.
• Mono/Poly/Legato operation.
• 8 choke groups per program.
• Per-sample loop start/end/direction modulation.
• Polyphonic glide.
• Polyphony limit per channel.
• Built-in sample editor
• Automatic, interactive Loop Slicing + slice mapping.
• Actually Samples. Record audio straight into the sampler.
• Automatic pitch detection.
• Automatic keyboard layout.
• Loop tools.
• Loop cross fading.
• Multiple loop definitions per wave.
• Trim, cut, duplicate.
• Pitch detection.
• Normalize.
• Reverse.
• Tempo detection.
• Graphical keyboard mapping editor
• Automatic sample layout.
• Flexible drag & drop-based group edit.
• Quick select of sound data via MIDI.
• Drag & drop of samples/programs/performances/banks.
• Multiple outputs
• 4 Stereo + 8 Mono outputs.
• Individual output mapping for key groups (drums).
• 16 mappable controllers for automation.
• 48 mappable VST parameters for automation.
• Preview loaded programs and samples in your song before loading.
• Reads multiple sample and bank formats
• WAV/AIFF/AIFC.
• SoundFont 2.
• SFZ Files.
• Ogg Vorbis.
• FLAC.
• Typhoon compressed AIF files.
• Original Yamaha OS Wave files.
• 100% documented XML-based sound file format.
• Anyone can write conversion tools.
• Saves data in DAW project directory.
• Low CPU usage.
• Fully native, optimized for SSE2.
• 64-bit support.
• Windows / Mac OS X support.
• Style sheet based skinning.
• Nice sound.
---
 Download uploaded
http://uploaded.net/file/7he5k379/CWTeTX16WxPr2.2.3.MacOSX-Xdb.rar
http://uploaded.net/file/3x4bd3og/CWTeTX16WxPr2.2.3-R2R.rar
Download filefactory
http://www.filefactory.com/file/77e5wjp9pm65/n/CWTeTX16WxPr2.2.3-R2R.rar
http://www.filefactory.com/file/35be63fmwvyz/n/CWTeTX16WxPr2.2.3.MacOSX-Xdb.rar
Download 城通网盘
CWTeTX16WxPr2.2.3-R2R.rar: http://www.t00y.com/file/30629012
CWTeTX16WxPr2.2.3.MacOSX-Xdb.rar: http://www.t00y.com/file/30629013
Download 百度云
http://pan.baidu.com/s/1f1Fvq
转载请注明:0daytown » CWI Technology TX16Wx Professional v2.2.3 Win/MacOSX