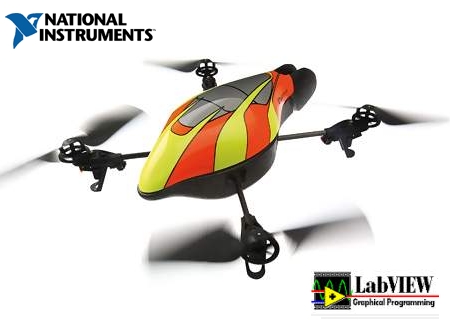 NI LabVIEW 2013 f1 Update with Modules Toolkits and Drivers | 39.0 Gb
National Instruments released NI LabVIEW 2013, the newest version of its system design software for engineers and scientists. With LabVIEW 2013, NI integrated the latest and most innovative technologies into the software while reducing design complexity from basic measurements to full test platforms.
New LabVIEW 2013 benefits include:
– Native support for the newest hardware from vendors like ARM and Xilinx, including the Xilinx Zynq All Programmable system on a chip used in high-performance systems.
– Enhanced application reliability and quality for complex applications through a suite of code management, documentation and review tools. New tools integrate with a software engineering process, including a new Subversion plugin from Viewpoint Systems.
– Streamlined deployment technologies for developers who want to deliver professional applications to users, including a new tool from Wirebird Labs.
– Delivering systems on the latest mobile platformsfor iOS and Android that enable dashboards for remote monitoring and system control.
These new capabilities are delivered through the familiar LabVIEW programming paradigm, eliminating developer need for expensive new toolchains or the acquisition of OS- or hardware-specific training or talent.
LabVIEW 2013 emphasizes the incorporation of ongoing user feedback through the inclusion of more than 100 new features and improvements in the LabVIEW editor. NI has also simplified and expanded access to resources that ensure LabVIEW programmers can take full advantage of a product's broad toolset. Customers with an active service contract will benefit from an expanded library of online training resources from the use of real-time targets to programming for FPGAs and even object-oriented programming. This training is combined with redesigned application examples and new sample projects to provide programmers a variety of resources that cater to different learning styles.
This version has also new features for all LabVIEW modules as well as updates and bug fixes to the rest of the LabVIEW platform.
Included:

LabVIEW Advanced Signal Processing Toolkit 2013
LabVIEW Digital Filter Design Toolkit 2013
LabVIEW 2013 Adaptive Filter Toolkit
SignalExpress 2013
LabVIEW 2013 FPGA Module – English
NI-RIO Device Drivers August 2013
NI LabVIEW 2013 FPGA Module Xilinx Tools 10.1
LabVIEW 2013 FPGA Module Xilinx Tools 14.4
LabVIEW 2013 FPGA Module f1 Patch
LabVIEW 2013 FPGA IP Builder
LabVIEW 2013 FPGA Compile Farm Toolkit
LabVIEW 2013 Desktop Execution Trace Toolkit
LabVIEW 2013 Datalogging and Supervisory Control Module
LabVIEW 2013 Real-Time Module – English
C/C++ Development Tools for NI Linux Real-Time, Eclipse Edition 2013
LabVIEW 2013 EPICS Client I/O Server
LabVIEW Database Connectivity Toolkit 2013
LabVIEW 2013 Control Design and Simulation Module
LabVIEW 2013 GPU Analysis Tookit (32-bit)
LabVIEW 2013 GPU Analysis Tookit (64-bit)
LabVIEW Biomedical Toolkit 2013
LabVIEW 2013 MathScript RT Module
LabVIEW 2013 for myRIO Module
NI OPC Servers 2013
LabVIEW 2013 PID and Fuzzy Logic Toolkit
LabVIEW Report Generation Toolkit for Microsoft Office 2013
LabVIEW 2013 Robotics Module
LabVIEW Statechart Module 2013
LabVIEW 2013 Touch Panel Module
LabVIEW Unit Test Framework Toolkit 2013
LabVIEW 2013 VI Analyzer Toolkit
LabVIEW DataFinder Toolkit 2013
LabVIEW Run-Time Engine 2013 – (32-bit Web Browser Plug-in)
LabVIEW Run-Time Engine 2013 – (64-bit Web Browser Plug-in)
LabVIEW Run-Time Engine 2013 – (32-bit)
LabVIEW Run-Time Engine 2013 – (64-bit)
NI Motion Assistant 2013
NI-DAQmx 9.7.5
LabWindows/CVI Real-Time Module 2013
LabVIEW 2013 Multicore Analysis and Sparse Matrix Toolkit Run-Time Engine
NI-TimeSync 1.3.0
Vision Development Module 2013
National Instruments RF Device Drivers April 2013
NI System Configuration 5.5
NI ELVISmx 4.5
NI TestStand 2013
NI TestStand Development System 2013 Patch 417513
LabVIEW 2013 LEGO MINDSTORMS NXT Module
LabVIEW Real-Time Module 2013 – USB Utilities – PharLap
LabVIEW 2013 (32-bit) f1 Patch
LabVIEW 2013 (64-bit) f1 Patch
NI LabVIEW Modulation Toolkit 4.3.4
LabVIEW Electrical Power Suite 2013
LabVIEW Jitter Analysis Toolkit 2013
LabVIEW 2013 System Identification Toolkit
NI TestStand ATML Toolkit 2013
Sound and Vibration Measurement Suite 2013
Name:
NI LabVIEW
Version:
2013 f1 Update with Modules Toolkits and Drivers
Home:
www.ni.com
Interface:
english
OS:
Windows XP / Vista / Seven
Size:
39.0 Gb
Warning: The share will be updated with new tools and patches
Download 百度云
转载请注明:0daytown » NI LabVIEW 2013 f1 Update with Modules Toolkits and Drivers