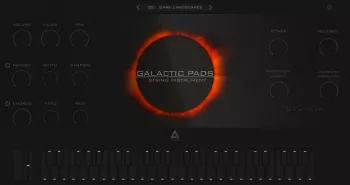 Team DECiBEL | 15 Sep 2023 | 3.00GB
"CREATE BEAUTIFUL 3D PADS"
Hollywood Pads Plug-in is a collection of surround sound evolving / atmospheric Pads that sound like they belong in Hollywood. We used real synthesizers, extensively sampled and custom designed for musicians/composers/creatives. Recorded with amazing hardware gear like stereo filters to create that 3D effect and other studio gear and production tricks. If you are into unique Pads that just don't sound like anything else we introduce you to Hollywood Pads VST/AU.
3 LAYER MULTI-TIMBRAL (Gold Version)
ATMOSPHERIC / MOTION PADS
ADSR ENVELOPE + PAN For Each Layer
FILTER, REVERB & LFO (Pitch & Panning)
MIDI VELOCITY