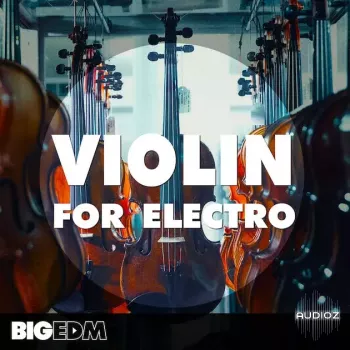 WAV | 570Mb
Experience the cinematic intensity of "Violin for Electro" from Big EDM.
The violin is a classic instigator of all types of emotions. From suspense to tragedy. Twangy and upbeat to totally staccato (unpredictable). A violin quivers and pierces with galvanizing shrieks, and like the changing of a chameleons colors, it morphs into a sound that is elegantly beautiful and inspiring. Big EDM has captured the essence of the violin and paired it with a wide variety of complimentary electro synth, bass, and drum sounds.
New to the genre? Want to stay up to date on the latest techniques? Or just looking to be inspired?
Then load up 1 of 4 construction kits included. Construction kits give you a hands on look into the studio with the professional sound designers at Big EDM. You will have access to every sound and preset used to create their sample backing track. Now that all the tools are at your fingertips, deconstruct and build your own high quality mix.
Our audio sample packs and construction kits are created by experienced sound design professionals. Our goal is to provide you with the most unique and innovative sounds with our highest regard for quality.
Download "Violin for Electro" from Big EDM and drive your electro mix to a new level filled with intense and dramatic power.
This pack contains:
143 Violin Loops (80-140 BPM)
5 Construction Kits
22 Synth Loops
15 Bass Loops
24 Bass Chops – For Resampling
File Size 1.82GB
348 WAV/MIDI Files Included