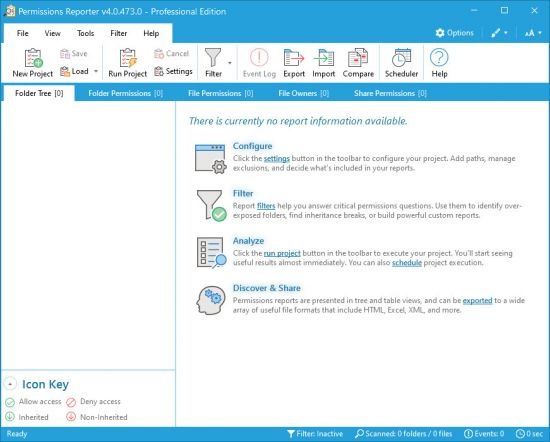 一款非常好用的强大的NTFS权限记录追踪软件,可以查看你的系统中那个应用程序调用了NTFS权限。然后列出一张详细的表格用于报告Windows文件服务器上的目录权限,从而然你进一步查看。感兴趣的朋友一起看看吧。
NTFS权限的特征有:权限累加-用户最终权限是所属所有组权限之和。拒绝权限-优先级最高。继承权限-文件夹的权限会被其文件和子文件继承。
---
Windows x64 | File size: 56.88 MB
System administrators are constantly being asked to audit user permissions for specific files and folders. This is often a time-consuming task, with multiple layers of NTFS permissions and repeated adjustments over time creating a security labyrinth. You need a visual, interactive software tool to help you manage file system permissions. You need Permissions Reporter – the ultimate network-enabled NTFS permissions reporter for Windows. It allows you to validate the security posture of entire file systems quickly and efficiently. All with multiple export formats, command-line support, built-in scheduling, advanced filtering, and much more.
BUILT-IN SCHEDULER
Schedule the creation and export of folder, file, owner, and share permissions report data quickly and easily. Includes support for all export file types, email integration, and more.
FOLDER PERMISSIONS REPORT
The Folder Permissions Report table view presents a "flat" view of file system permissions. It includes advanced sorting, filtering, and grouping capabilities – allowing you to create highly customized permissions reports.
FILE OWNERS REPORT
The File Owners Report view offers a hierarchical overview of disk space consumed by file type and owner. Quickly determine which users and file types are consuming valuable disk space. Includes a hierarchical treemap visualization.
SHARE PERMISSIONS REPORT
The Share Permissions Report view provides an overview of shares (local and across the network) and their permissions. Quickly see who has access to shares, along with their rights and access levels.
ADVANCED FILTERING
Permissions Report features an advanced filtering system that can be applied either at scan-time (when defined at the project level) or after the scan completes.
FILE PERMISSIONS REPORT
The File Report view shows files not inheriting or with permissions differing from their parent folders. Advanced filtering, sorting and grouping features make it easy to isolate specific entries and customize report layouts.
EXPORT FORMATS
Export permissions report data to a variety of formats, including HTML, XML, MS Excel, and CSV. Data exported to the XML file format can be re-imported at a later date for further analysis.
IMPORT EXISTING DATA
Report data that has previously been exported in XML file format can be re-imported at a later date and time. This feature works well with the built-in scheduler, allowing you to generate report data during off hours and analyze it when time permits.
Flexible command line interface for integration & automation
Native 32 & 64 bit, Unicode enabled, support for long NTFS paths
Download rapidgator
https://rg.to/file/cb475906fc7af6fbd5bda90f4a6ea817/PR.4.0.473.0_x64.rar.html
Download nitroflare
https://nitroflare.com/view/8FCDAB0217CA37E/PR.4.0.473.0_x64.rar
Download 百度网盘
链接: https://pan.baidu.com/s/1y-z8KrLVtsumRZkjmAm9Tw?pwd=kdbi 提取码: kdbi
转载请注明:0daytown » NTFS Permissions Reporter 4.0.504 Enterprise Edition