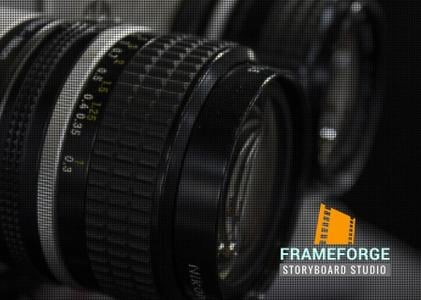 FrameForge Storyboard Studio 4.0.1 (Build 166) Stereo 3D | 556.5 mb
Innoventive Software, LLC. has released an update to FrameForge Storyboard Studio 4 Stereo 3D is designed for filmmakers working in a 3D environment. This software lets you experience and pre-visualize each shot before filming your movie. You can produce a virtual 3D (interactive) storyboard on your computer screen using powerful tools to position numerous virtual cameras in any spot, direction or level.
FrameForge Storyboard Studio Version 4 Update History
Version 4.0.1 (Build 63) June 12, 2017
Fixed/Improved
– Restored Pan & Dolly Lock Controls – these controls had been removed because of the Camera Target functionality, which does much the same thing but is more powerful, but we listen to our users and enough of your wanted it back… so here they are!
– Misc. Bug fixes

What's new in FrameForge 4:
– Live Backgrounds
Import photos from a real location to bring unparalleled realism to your FrameForge project. Take any photograph of a set or location and match the camera properties of the original source image – either by reading camera data from the image itself, if available, or through a unique visual calibration function. You can then move your actors and props forward and back in the photograph as if they were in the actual 3D Space of the location. Unique Synch Mode locks your background to your camera so you can zoom, pan and tilt within the frame and the background moves as expected.
– Incredible new Tweening Functions
. New Waypoints Option lets actors "hit their marks" without stopping, allowing you to create complex, uninterrupted movements with ease
. New TIme-Shifting Option lets you put snapped frames exactly where you want in a sequence
. New Auto-Calculate Times & Duration lets you tell the program how fast you want an actor to move in tweened sequence (stroll, walk, jog or run) and then it will automatically set the durations for your actor to cover the distance in the tweens at the desired speed without any guesswork!
– New Integrated Green Screen Composing (PRO/STEREO ONLY)
Use FrameForge's all new integrated Green Screen Compositing for Virtual Set Compositing/Set Extensions, Image Plate Composition, and use either real-world Green Screen limitations or work free form in infinite Green Screen mode.
– Object Cloning
Reduces the memory load of scenes with many objects and allows for posing of multiple actors/objects at one step, making it easy to create active crowd scenes with visual variety
– New Shooting Order(PRO/STEREO ONLY)
In addition to having your boards in Storyboard Order, you can now also have a Completely Different Shooting Order containing only those shots you want in your production boards, in the order you intend to shoot them.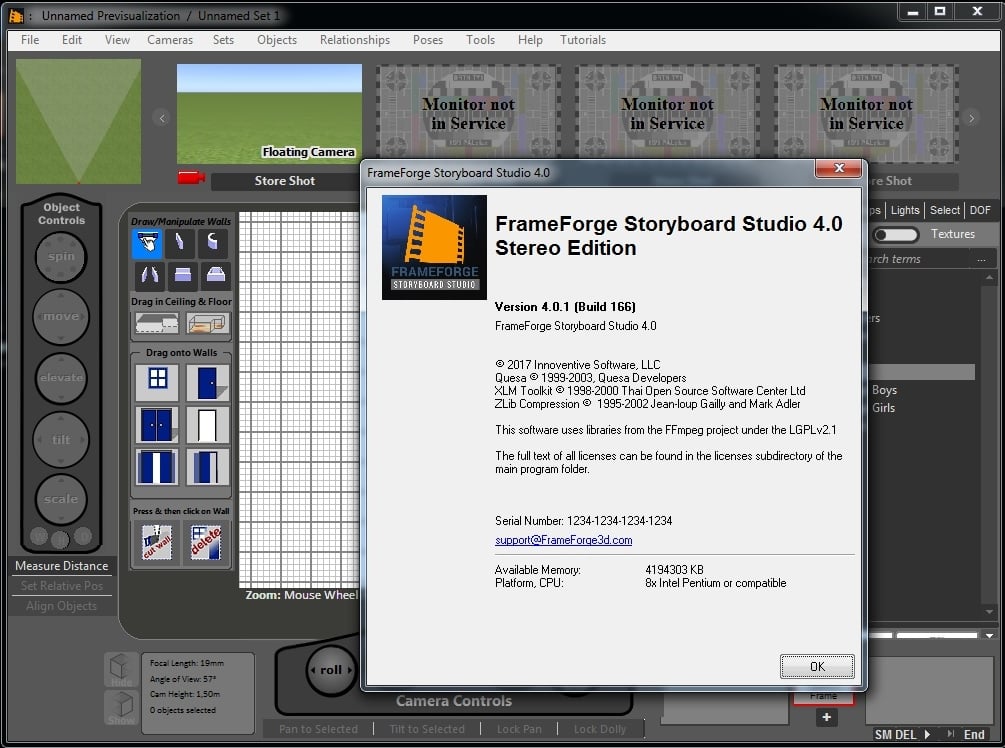 About FrameForge Storyboard Studio. FrameForge Studio allows you to construct a 3D virtual film production environment on your computer screen using menu-driven and mouse-movement tools to position numerous virtual cameras at any angle, height or location. Each camera mimics a real camera—you have controls to zoom in and out, pan, tilt, and dolly. You can control how much the camera lens spans over a given area, or key in precise numbers for ceiling height to represent your physical equipment that you will use on location. 
FrameForge Stereo 3D adds fully customizable 3D rigs, control over convergence & IA, and dynamic report­ing of parallax.
Other Stereo 3D features include:
– Work real-time in Stereo 3D on virtually any projector or monitor.
– Fully customizable 3D rigs both mirror rigs and side-by-side.
– Real-time Multi-Rig compositing from two live cameras.
– Target any screen size from phone to IMAX.
– Auto-rig option to calculate your rig settings based on your desired parameters.
About Innoventive Software, LLC. Innoventive Software, LLC is a leading software development company for film and video. It has a long history in the filmmaking and creative writing fields. The principal designer and software architect is Ken Schafer, creator of Movie Magic Screenwriter, Power Writer and FrameForge Previz Studio. Frame Forge 3D Studio helps in directing film, TV, videos and commercials with optically-correct storyboards.
Product: FrameForge Storyboard Studio
Version: 4.x
Supported Architectures: x64
Website Home Page : http://www.frameforge.com
Language: multilanguage
System Requirements: PC
Supported Operating Systems: Windows 7even or newer
Size: 556.5 mb
---
Download rapidgator
https://rg.to/file/40baa2b5314b6a2accc6d26af87da7eb/FrameForge.Storyboard.Studio.4.0.6.Build.25.Stereo.3D.rar.html
Download nitroflare
https://nitroflare.com/view/B8630F9BA46D7D8/FrameForge.Storyboard.Studio.4.0.6.Build.25.Stereo.3D.rar
Download 百度网盘
链接: https://pan.baidu.com/s/1vIEB4Bp-Uz26Yu-pZLGEfQ?pwd=tya8 提取码: tya8
---
Download rapidgator
https://rg.to/file/ef32fad413e148516a4132441cebf00e/Storyboard-Studio.4.0.3.rar.html
Download nitroflare
http://nitroflare.com/view/5AEA54090F79564/Storyboard-Studio.4.0.3.rar
Download 城通网盘
https://u7940988.ctfile.com/fs/7940988-298000995
Download 百度云
链接: https://pan.baidu.com/s/14DaP79gGRhQQVK7uVKLXiw 密码: frmt
---
Download uploaded
http://uploaded.net/file/mzir2s0j/meFoStoS401B166.rar
Download nitroflare
http://nitroflare.com/view/60D7DF698FB25E8/meFoStoS401B166.rar
Download 百度云
链接: https://pan.baidu.com/s/1nv84RR7 密码: cq8a
转载请注明:0daytown » FrameForge Storyboard Studio 4.0.6 Build 25 Stereo 3D Edition