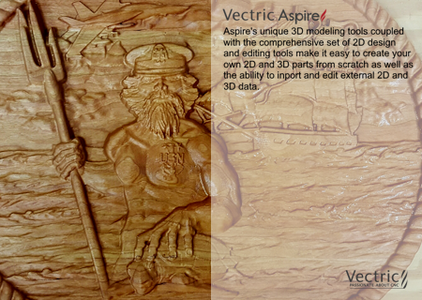 Vectric Aspire 11.016 | 415.2 mb
Languages Supported: English, Deutsch, Русский, Español, Suomi, Français,
Italiano, 日本語, 한국어, Dutch, Czech, Polski, Português
Vectric Ltd. has announced the release of Vectric Aspire 11.016, its 3D modeling and CNC machining software – the easiest way to convert a 2D drawing into high quality 3D relief and CNC toolpaths.
Aspire provides a powerful but intuitive software solution for creating and cutting parts on a CNC router. Aspire is built on the same platform as Vectric's VCarve Pro software, sharing the intuitive interface and ease of use for production design and routing. In addition to the powerful drawing and production routing tools of VCarve Pro, Aspire also has tools to let you transform 2D sketches, photos, drawing and digital artwork into detailed 3D relief models and then to calculate 3D Roughing and Finishing toolpaths to accurately cut these shapes.
The release Aspire V11 includes lots of new features including; custom brush sculpting, multi sheet support for easy management of multi material projects, spell checking, 3D rest machining for optimized machining times and much more.
This video shows the process to model a 3D sign using the create shape and two rail sweep function. We then look at how you can incorporate 3D clip art into the design and finish the example off by looking at the 3D roughing, 3D finishing, V-Carving and profile toolpaths to cut that out on a CNC machine.
Vectric Ltd. is a UK based company specializing in Design and Machining software solutions for CNC Router users. Due to an emphasis on customer success, based on affordable, easy to learn but full-featured products, Vectric has seen year on year sales and personnel growth since being founded in 2005. This growth was recognised when Vectric was awarded the prestigious Queen's Award for Enterprise: International Trade 2010.

Owner: Vectric Ltd.
Product Name: Aspire
Version: 11.016 Build 84633.10855.1432
Supported Architectures: x86
Website Home Page : http://www.vectric.com
Languages Supported: multilanguage
System Requirements: Windows *
Size: 415.2 mb
---
Password/解压密码www.tbtos.com
转载请注明:0daytown » Vectric Aspire 11.016