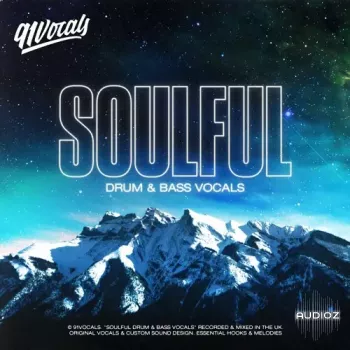 FANTASTiC | 10 September 2023 | 645 MB
91Vocals presents Soulful Drum & Bass Vocals, a distinctive collection of female vocal hooks and delicate ethereal melodies. Designed to add emotion, elevate high-tempo production, and counter-balance deep melodic electronica. Showcasing the soulful voice of singer-songwriter Natalie Landi, with her raw and heartfelt style.
Discover royalty-free vocal hooks, phrases, and adlibs, with both wet and dry versions to maximize flexibility. Plus stacked phrases with harmonies and non-lyrical melodies. Find the perfect topline or chop and re-pitch crisp, clean acapellas to create new layers and stand-out sounds.
Recorded and mixed in-house by producer Luke Targett and the 91Vocals team using high-end mics and analog hardware. Featuring expertly mixed and processed performances in 4 different key signatures and tempos. Every loop has been carefully key-tagged and tempo locked.
Please note: This sample pack contains vocals only. All instrumental elements heard in the demo track are for illustration purposes only. Demo created by Luke Targett.
Vocal Hooks, Phrases & Adlibs
30 Vocal Hooks in 4 Keys & Tempos (Wet & Dry – 60 Total)
6 Vocal Hook Vocoder Stacks (Wet & Dry – 36 Total)
26 Vocal Phrases (Wet & Dry – 52 Total)
10 Stacked Vocal Phrases (Wet & Dry – 56 Total)
11 Vocal Adlib Loops (Wet & Dry – 22 Total
17 Stacked Vocal Adlib Loops (Wet & Dry – 34 Total
Vocal Loops
6 Vocal Chop Loops
13 Ambient Vocal Loops
Vocal One Shots
48 Vocal One Shots
29 Vocal Adlib One Shots
23 Vocal Atmospheres
23 Shouts, Chants & Spoken Words
转载请注明:0daytown » 91Vocals Soulful Drum and Bass Vocals WAV-FANTASTiC