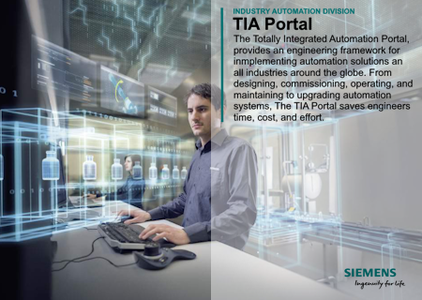 西门子系统是完全无缝集成的自动化解决方案。可以应用于所有工业领域,包括过程工业,制造工业,混合工业以及工业所涉及的所有制造和过程自动化产品。作为先进的过程控制系统,SIMATIC 形成了一个带有典型过程组态特征的全集成系统。
---
Siemens Simatic TIA Portal V18 Update 2 (072023) | 20.1 Gb
Siemens has released second update for TIA Portal V18 Step 7 and WinCC Unified. New software contains some improvements and changes.
Improvements in TIA Portal Update 2 Step7
Length limitation for names and namespaces in software units (S7-1500)
The namespace and the name of a program element must not exceed the total length of 125 characters. The separators (.) are included.
Previously, separate length limitations of 60 characters each applied to the namespace and 60 characters to the name of the element.
Behavior when exporting objects in the Version Control Interface (VCI)
As of V18 Update 2, SIMATIC ML files exported with Version Control Interface (VCI) no longer display default values. If a change was made to a default value, an entry is written to the exported XML file. This can lead to changes in the behavior when comparing the existing files with the objects in VCI. Run the export again to get the new export format.
Improvements in TIA Portal Update 2 WinCC
Faceplates
When objects are grouped into faceplates, the group gets its own interface. Any existing interfaces of the individual objects are lost.
Runtime Professional
WebUX
Stability and performance have been improved.
The display and dynamization of screens and screen objects has been improved.
The configuration dialog has been improved.
WebNavigator
Stability and performance have been improved.
The WinCC WebBrowserControl (Chromium) has been improved.
Diagnostics
The system diagnostics display has been improved.
Channel diagnostics has been improved.
Zooming without pressing the control button
You can configure zooming in runtime in the runtime settings of the device. You have the following options:
– Zooming by turning the mouse wheel with pressing the control button.
– Zooming by turning the mouse wheel without pressing the control button.
To zoom in runtime without pressing the control button, follow these steps:
1. Under "Runtime settings > General > Screen", activate the option "Zoom without pressing the control button".
This option is disabled by default.
TIA Portal is a software and tools package developed by Siemens, which aims to integrate multiple development tools for automation devices from the unification and remodelling of preexisting software such as Simatic Step 7, Simatic WinCC, and Sinamics Starter. The environments are responsible for programming, developing, and configuring Siemens PLCs, HMIs, and frequency inverters. The user's programming logic in TIA Portal follows a structure of blocks, a facilitating agent for the development, maintenance, and diagnostics of machines and industrial processes when developed in a structured and organized way.
The new version of TIA Portal V18 boosts engineering efficiency with optimized functionalities for multi-user engineering, allowing users to work in teams and parallel on projects and build and manage shared libraries. In addition, access rights can be assigned individually or by group, making collaboration more flexible.
Siemens is expanding the TIA Portal, an all-in-one engineering ecosystem with IT-oriented workflows, by integrating Simatic Automation Xpansion (Simatic AX). This integration provides IT professionals with a familiar development environment based on Visual Studio Code and version control via GitLab. Object-oriented libraries can be created in Structured Text and integrated. OT and IT users can use the engineering platform without reskilling. This development is a decisive step towards IT/OT integration and counters the growing need for more skilled workers in the OT world. Simatic AX is available as a cloud-based service, allowing projects to be easily downloaded and updated at any time and place.
Version 18 of TIA Portal also offers simple and holistic engineering of 5D/6D kinematics, enabling motion control functions across six interpolating axes. This flexibility allows companies to expand, convert, or modify production facilities – without interfering with running systems. The scope for TIA Portal and Simatic controllers has also been further extended, with the Simatic S7-1500 and the Simatic ET 200SP providing higher computing and communication performance and supporting R1 redundancy. This functionality ensures the maximum availability of applications and helps solve future automation challenges.
In addition, the R1 redundancy can be quickly and flexibly integrated into existing networks with no programming effort, making it one of the most straightforward solutions on the market that can be used in various applications – factory automation, logistics, or infrastructure. The new hardware also supports the latest security standards, with the Version 18 release focusing on state-of-the-art security improvements.
In short, TIA Portal version 18 offers even more efficient and flexible automation engineering thanks to enhanced team-collaboration functionalities, IT/OT integration, the advanced engineering of kinematics, and maximum availability through R1 redundancy. As a result, it's a tool well-suited for industrial companies looking for efficient automation engineering that can be quickly modified to meet new requirements, shorten time-to-market, counterbalance the lack of skilled workers, and most importantly, always remain competitive.
Its John DeTellem from Siemens who tells us about What's New In TIA Portal V18.
Siemens Digital Industries (DI) is an innovation leader in automation and digitalization. Closely collaborating with partners and customers, DI drives the digital transformation in the process and discrete industries. With its Digital Enterprise portfolio, DI provides companies of all sizes with an end-to-end set of products, solutions and services to integrate and digitalize the entire value chain. Optimized for the specific needs of each industry, DI's unique portfolio supports customers to achieve greater productivity and flexibility. DI is constantly adding innovations to its portfolio to integrate cutting-edge future technologies. Siemens Digital Industries has its global headquarters in Nuremberg, Germany, and has around 75,000 employees internationally.
Owner: Siemens Digital Industries (DI)
Product Name: Simatic TIA Portal
Version: V18 Update 2 (072023) *
Supported Architectures: x64
Website Home Page : https://support.industry.siemens.com/
Languages Supported: english
System Requirements: Windows **
Size: 20.1 Gb
SIMATIC_WinCC_Runtime_Professional_V18_Upd2.exe
SIMATIC_WinCC_UnifiedRT_V18_Upd2.exe
SIMATIC_WinCC_UnifiedRT_V18_Upd2_SR1.exe
SIRIUS_Safety_ES_V18_Upd2.exe
SIRIUS_SIMOCODE_ES_V18_Upd2.exe
SIRIUS_Soft_Starter_ES_V18_Upd2.exe
SiVarc_V18_Upd2.exe
S7-PLCSIM_V18_SP2.iso
SIMATIC_S7-PLCSIM_Advanced_V5_Upd2.iso
SIMATIC_Target_V6.iso
SIMATIC_Target_V6_Upd1.iso
STARTDRIVE_ADVANCED_V18_SP1.iso
STARTDRIVE_ADVANCED_V18_SP2.iso
Totally_Integrated_Automation_Portal_V18_Upd2.iso
SIMATIC_STEP7_CFC_V18_Upd2.zip
---
Password/解压密码www.tbtos.com
转载请注明:0daytown » Siemens Simatic TIA Portal V18 Update 2 (072023)