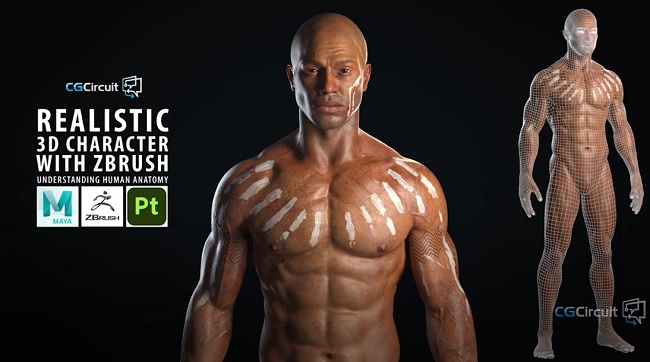 Duration 15h 52m Project Files Included MP4
Title: CGCircuit – Realistic 3D Character with Zbrush
Info:
Released on: 01/03/2022
Updated on: 08/11/2023
Category: Modeling, Sculpting, Texturing
Total Duration: 15h 52m 19s
Level: From Beginner to Intermediate
Language: English
Note: This looks the same as this rls
but the cgcirciut site says this was updated 2023 after the other post was released.
In this online course, the viewer will learn how to create a realistic human body ready for production using Zbrush, Maya and Substance Painter. We will go through human anatomy in a way that I consider the best way to learn it, that is putting hands on it. Apart from going through the theory and names of the human anatomy, we will create the entire skeleton and the main muscles of the body one by one. In this way, we will start understanding the internal structure of the body for later applying this in any character. After having that anatomy base we will pick up our concept from the last course and we will sculpt, retopo and texture the body. We will do all the sculpting in Zbrush, retopology and UVs in Maya and the texturing in Substance 3D Painter.
This course has been designed for beginner and intermediate students with a passion for realism, anatomy and the human body. This is the third of a series of tutorials where we will create a full 3D character ready for production. For this course, you will need to have a basic previous knowledge of Zbrush, Maya and Substance 3D Painter as in this course we don't teach the software itself but the fundamentals of the creation of a character and the full workflow to make it ready for production.
Main takeaways:
– Understanding of Human anatomy in 3D, including the skeleton and muscles systems.
– Ability to create an anatomically correct human body in Zbrush or any sculpting software without using scans or base meshes
– Ability to create an animatable topology ready for production
– Ability to create good sets of UVs
– Ability to create primary, secondary and tertiary details on a sculpt.
– Understanding of a texturing process using photo projections and more artistic approaches in Substance Painter, but with techniques that can be applied also in Mari or other texturing software.
– Understanding of the entire workflow of character creation, not limited to the softwares used in the course.
After viewing this course, people can expect to be able to replicate a realistic human body using the same workflow used for film, TV production, games and any high res metaverse platform. This is a key element in the process of getting a job as a Character Artist in the industry or just to make successful 3D character art pieces.
---
Password/解压密码www.tbtos.com
转载请注明:0daytown » CGCircuit – Realistic 3D Character with Zbrush