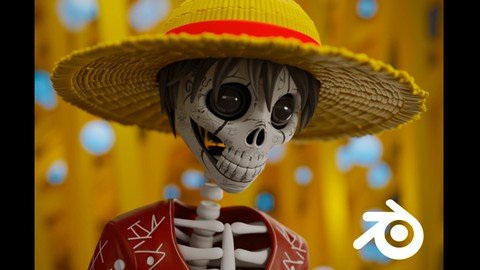 Published 9/2023
MP4 | Video: h264, 1280×720 | Audio: AAC, 44.1 KHz
Language: English | Size: 12.48 GB | Duration: 11h 58m
A course that teaches you to create full process of Character Creation and also convert that project for 3d printing !!
What you'll learn
Project Based Course
Skull Anatomy
Stylization
Full Creation Process
Texture Painting in Blender
Free to Create Project
Character Sculpting
Cloth Sculpting
Human Anatomy used for Stylized Character
Making it 3D print Ready
Requirements
Little bit of Blender knowledge is Required
Description
My name is Bharat Sharma and I'm Freelance 3D character artist, This project is one of my favorite's that I have worked on and I wanna share all the info and the workflow through which I was able to create this Monkey D. Luffy with the use of free but awesome software called Blender. This workflow does not include the use of any third party resources from internet but we do everything in blender and own our own to achieve the end result that you saw in the Trailer.This whole Project is free to create you won't need any paid 3rd party Resources to Achieve this much amount of Details.This Course is made for artist on Beginner level where we are gonna learn about full Project creation in Blender which also include 3D Printing. We are gonna learn to Create Skull, Inner Bones, Clothes and then we'll texture Paint it and create material from the Paint, This course also include lighting and rendering and in the end we would make the whole project 3d print ready for us to have a physical figurine of Luffy.This Course contains- 12 Hours of Content – 18 lectures- Resource files – 3D printable FilesSoftware you need for this courseBlender Photoshop ( or any Image editing Software like Gimp, krita etc ) Blender is freeSo you can start this journey straight away !! Watch the Index Video for more Info !!You can contact me on Udemy if you have any problems.
Overview
Section 1: Introduction
Lecture 1 Trailer
Lecture 2 Whole course in Short
Section 2: Tutorials
Lecture 3 Skull Theory
Lecture 4 Sculpt Start
Lecture 5 Sculpting Continue
Lecture 6 Skull Polish
Lecture 7 Polishing Timelapse
Lecture 8 Spine and Ribs
Lecture 9 Eyes and Hat
Lecture 10 Luffy Hat Randomization
Lecture 11 Hairs
Lecture 12 Clothes
Lecture 13 Fixes
Lecture 14 Buttons
Lecture 15 Texture Painting
Lecture 16 Materials
Lecture 17 Lighting
Lecture 18 Preparing for 3D printing part 1
Lecture 19 Preparing for 3d printing part 2
Lecture 20 Keys
Lecture 21 Cura Settings
Beginner who have learned blender and sculpting but wanna know the right workflow for creating projects and also convert them for 3D Printing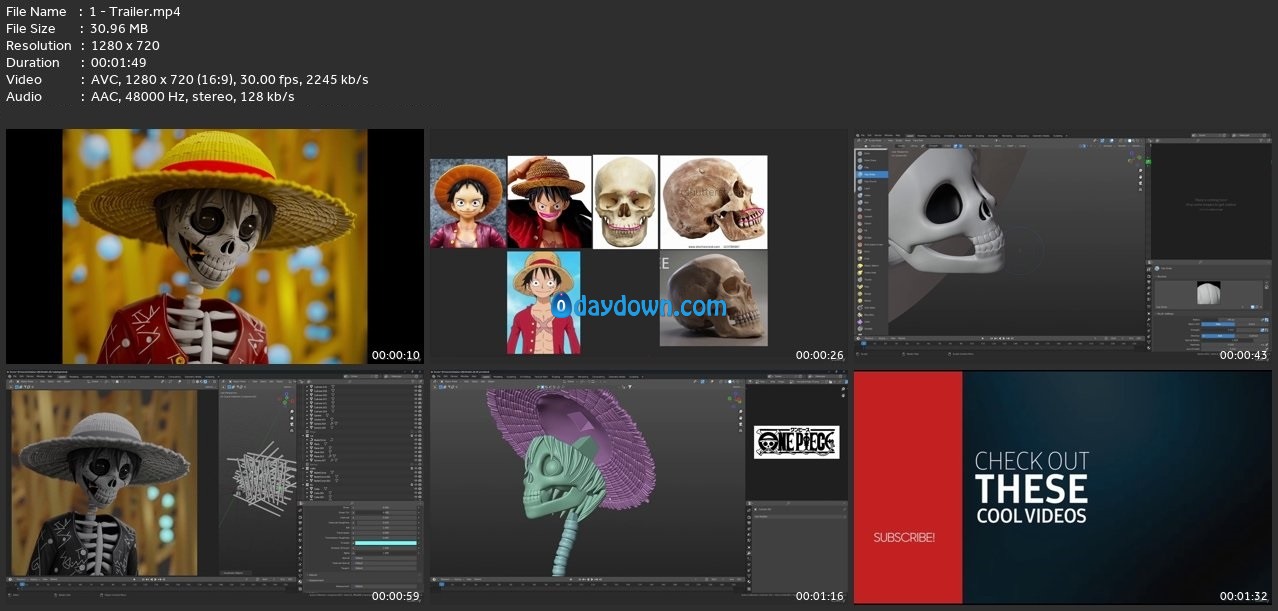 Password/解压密码www.tbtos.com
转载请注明:0daytown » Skeleton Luffy – Character Creation For Beginners In Blender