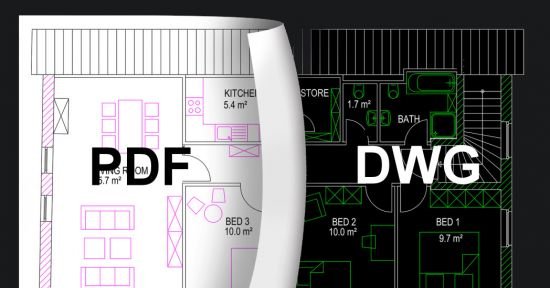 一款pdf转dwg转换器,该软件不仅能够将2D PDF转换为2D DWG格式并且完全可编辑,还可以将3D PDF转换成3D DWG,STEP,SAT,OBJ,PRC,U3D等格式文件,同时具有文本和符号识别功能,以及识别层,墙,角和线型,让用户可以在任何cad系统中进行编辑操作。新版本的Print2CAD 2020功能进行了全面升级,能够支持cad2012-2020版本,支持3D PDF到3D DWG的转换为完全可编辑的3D DWG,STEP,SAT,OBJ,PRC,U3D格式,还可以带有词库和词典的17种语言的新OCR文本识别,新修订的圆弧识别,以及矢量化栅格图片中的新箭头检测等等,可以更好的为用户提供全面的pdf转dwg解决方案。
---
File size: 129.3 MB
Print2CAD 2024 AI converts all PDF vectors, PDF raster images (vectorization), native and non-native PDF text (OCR). Print2CAD 2024 AI recognizes circles, arcs, right corners, rectangles, frames, crosses, small symbols. Powered by OpenAI. Print2CAD 2024 AI converts or recognize layers, linetypes and line weights.
Perfect PDF to DWG/DXF conversion
Print2CAD 2024 AI converts all PDF elements into full editable CAD elements. All PDF lines, polylines, splines, texts, circles, arcs, layers will be converted into native DWG/DXF entities.
Print2CAD 2024 AI vectorizes all PDF raster pictures as DWG/DXF vectors or solids using "Center Line Tracing", "Outline Tracing" or "Solidization" as vectorization methods.
Print2CAD 2024 AI uses Artificial Intelligence (AI) Methods for H/V line recognition, right corner recognition, solid walls recognition, symbol recognition and OCR of text.
Print2CAD 2024 AI applies Optical Character Recognition (OCR) to all kind of text (line, hatch or raster) and with all inclination angles.
AI PDF Raster 2 Vector and OCR of Text
Print2CAD 2024 AI offers vectorization of PDF raster pictures as DWG vectors or solids using special vectorization and contourization methods.
Raster image preprozessor with filling of small holes and connection of broken pixel traces corrects automatic raster pictures before vectorization and OCR of Text.
Alternative vectorization as center line, outline or solid. Separation of parts of a raster picture (homogenization) and applying of appropriate raster to vector method on separated pictures.