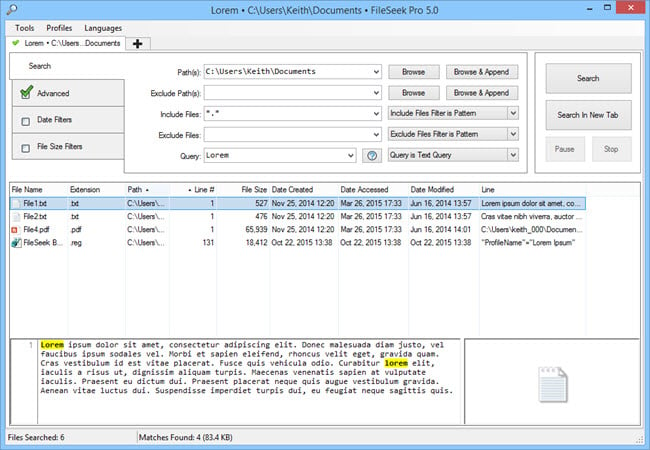 文件匹配查找工具Binary Fortress Software FileSeek Pro是一款快如闪电、体积超小而且非常容易使用的文件字符串搜索工具,用户可使用简单的文本查询快速搜索文件,或使用正则表达式完全控制搜索结果。你甚至可以设置计算机之间同步您的搜索。
---
FileSeek Pro 6.x Multilingual | 4 Mb
FileSeek is a simple, easy-to-use file search utility that includes advanced functionality for power users too. Search through your files using simple text queries, or use regular expressions for complete control. You can even sync your search settings between computers.
Features
Lightning Fast Searching
FileSeek uses multithreading technology to improve the speed of its searches, making it able to out-perform any Windows search. With no background search indexing, FileSeek will never affect the performance of your computer while closed.
Search Profiles
Improve your workload by saving your search criteria as a Search Profile. Save, load, or modify your most common searches to make your life easier.
Tabbed Interface
With FileSeek's tabbed search interface, there is no longer any need to wait for a search to be complete before starting a new one. You can start a search in another tab without opening another window, keeping your taskbar neat and tidy.
Advanced Querying
Use FileSeek's query language or regular expressions to search for specific information inside files or folders. Give up simple searching and unpredictable results, and start obtaining the information you need from your computer.
Sync Your Settings
Sync your Search Profiles between computers for easy access anywhere you are. Syncing is automatic and keeps your Search Profiles always up-to-date.
Search Result Actions
Save search results in different formats for easy reference later, or perform common tasks such as copying, deleting, and dragging into other applications. Choose what you want FileSeek to do when you double-click on a search result by selecting from a number of pre-defined options and make your search experience entirely yours.
Refine Your Search
Include and exclude files and folders from your search, and filter through files based on when they were created, accessed, modified, or how big they are.
FileSeek works with these versions of Windows:
Windows 10, 8.1, 8, and 7 (32-bit and 64-bit)
Windows Server 2016, 2012 R2, 2012, and 2008 R2 (32-bit and 64-bit)
Home Page – http://www.binaryfortress.com/
---
Download rapidgator
https://rg.to/file/1e8947d37dc2027c1d729624b7571177/FileSeek6.rar.html
Download nitroflare
https://nitroflare.com/view/569248A88A207F0/FileSeek6.rar
Download 百度网盘
链接: https://pan.baidu.com/s/1v_6LBn-NODRVHndGILFJZQ?pwd=t19c 提取码: t19c
---
Download rapidgator
https://rg.to/file/b50bf372f3f76d519400a3412c129175/FileSeek6.rar.html
Download nitroflare
https://nitroflare.com/view/566E72A9E8E84F6/FileSeek6.rar
Download 百度网盘
链接: https://pan.baidu.com/s/1cxKcwP7bz0Gc75dRSh1agg?pwd=5ry7 提取码: 5ry7
---
Download rapidgator
https://rg.to/file/8b32ba2fde133de2e9d3645ae5873f63/FileSeek.6.rar.html
Download nitroflare
https://nitroflare.com/view/547F57B92452EF0/FileSeek.6.rar
Download 百度网盘
链接: https://pan.baidu.com/s/1oCO8gYllZ6R81VRcu7bcng?pwd=v6w9 提取码: v6w9
---
Download rapidgator
https://rg.to/file/9d497326709deeb936173aeedf753274/FileSeek.6.rar.html
Download nitroflare
https://nitroflare.com/view/E5D159224D57AC1/FileSeek.6.rar
Download 百度网盘
链接: https://pan.baidu.com/s/18in6Tv3ZYqMmRza5-3x-FQ 提取码: kqjw
---
Download rapidgator
https://rg.to/file/9d588160aa5d9c90cb5e9d2ed08c0caf/FileSeek6.rar.html
Download nitroflare
https://nitroflare.com/view/B0D3B77555ED9C0/FileSeek6.rar
Download 百度网盘
链接: https://pan.baidu.com/s/1NUu3i_iy4kizA6Z_jMcNRQ 提取码: 7b7r
---
Download rapidgator
https://rg.to/file/83ad1694eba701e41dc7498eb6971933/FileSeek.6.4.rar.html
Download nitroflare
https://nitroflare.com/view/EF641FE6B0D9A5D/FileSeek.6.4.rar
Download 城通网盘
https://n459.com/file/7940988-450515856
Download 百度网盘
链接: https://pan.baidu.com/s/1lOxIKjoQUrPo1S6zr6hj7Q 提取码: a92n
---
Download rapidgator
https://rg.to/file/1ffd4639b0a95c1edee701623b0eaf25/FileSeek_Pro_6.3.rar.html
Download nitroflare
https://nitroflare.com/view/DE96EA18BFBF3AB/FileSeek_Pro_6.3.rar
Download 城通网盘
https://t00y.com/file/7940988-414500651
Download 百度网盘
链接: https://pan.baidu.com/s/1K-2c-VCBySDTU8VLo02rLA 提取码: k73w
---
Download rapidgator
https://rg.to/file/0c6be9d0eb364032aee272e13397c50f/FileSeekSetup-6.2.rar.html
Download nitroflare
https://nitroflare.com/view/7E8B4DC811B1D4A/FileSeekSetup-6.2.rar
Download 城通网盘
https://u7940988.ctfile.com/fs/7940988-395021634
Download 百度网盘
链接: https://pan.baidu.com/s/1kYxfxkD7n-u8jh4nG93C5g 提取码: bw86
---
Download rapidgator
https://rg.to/file/7a4cdca8f93c9c6bcad95d708c23832e/Temp_Monitor_1.0.4_%5BTNT%5D.dmg.html
Download nitroflare
http://nitroflare.com/view/6AC7521BBDEDA9A/FileSeek.Pro.6.1.1.rar
Download 城通网盘
https://u7940988.ctfile.com/fs/7940988-297830307
Download 百度云
https://pan.baidu.com/s/1FUd_D-TMUhGOQr5mEsJmRw