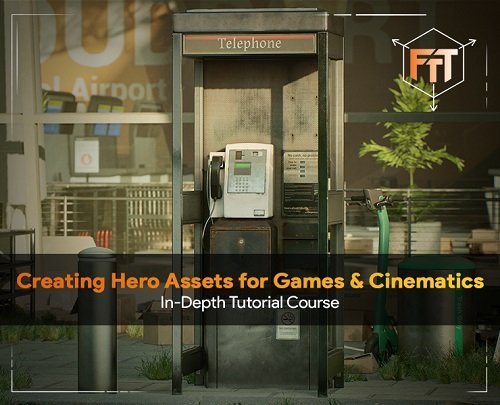 MP4 | Video: h264, yuv420p, 2560×1440 | Audio: aac, 44100 Hz | Duration: 20h 11m | 26.1 GB
Genre: eLearning | Language: English
Learn how a professional prop artist works when creating assets for games & cinematics. In this course you will learn from start to finish how to create a high quality game asset including everything from Modeling, Sculpting, UV-Unwrapping, Texturing, Rendering and more.
BLENDER, SUBSTANCE, ZBRUSH AND MARMOSET TOOLBAG
This course will cover the complete process from start to finish on how to create hero assets for games. Some of the main topics we will cover are as followed
Proper project planning and creating a blockout of our asset.
Creating the low poly version.
Creating the base high poly version.
Sculpting any additional damages and details on our high poly.
Efficiently UV-Unwrapping and baking our model.
Creating our textures in multiple stages, Starting with height details, then base colors, then material definition and some final polish.
Rendering our asset in Marmoset Toolbag and creating final screenshots.
We will also cover a lot more information in-between these main topics.
The general takeaway of this course is that at the end, you will have the knowledge on how to create exactly what you see in the images, and you can apply this knowledge to almost any type of asset not just hero assets but also simple production assets.
20+ HOURS!
This course contains over 20+ hours of content – You can follow along with every single step – This course has been done 100% in real-time with narration except for a few timelapses for very repetitive tasks. However even the timelapsed chapters have narration.
This course has been divided up into easy-to-understand chapters.
We will start the course off by planning our asset and creating the blockout for proper scale and shape definition.
We will then start turning this blockout into a high quality low-poly model in which we will be using weighted normals for proper baking and smoothing.
Finally we will duplicate our low-poly and turn it into a high poly mesh. Of that mesh we will prepare some elements for Zbrush in which we can sculpt some additional damage details.
Once that is done we will UV-Unwrap our model and bake the high to low poly textures.
Then we will move over to Substance 3d Painter in which we texture our asset. Starting with creating the height map only details. Then we will move on to defining the base colors and finally we will refine and polish our texture.
We will end the course with setting up our asset in Marmoset Toolbag and creating some final render screenshots.
SKILL LEVEL
This game art tutorial is considered a intermediate course and we require students to have some familiarity with a 3d Modeling tool, Zbrush and Substance Painter – Everything in this tutorial will be explained in detail but we will not be going over the very basics of the software mentioned below.
TOOLS USED
Blender
Zbrush
Substance Painter
Marmoset Toolbag 4
Please note that most techniques used are universal, so they can be replicated in almost any 3D software like Maya & 3DS Max.
YOUR INSTRUCTOR
Kobus Viljoen is a 3D Prop Artist currently working for FastTrack Studio, where he is responsible for creating high-quality assets for various un-announced projects.
CHAPTER SORTING
There's a total of 20 videos split into easy-to-digest chapters.
All the videos will have logical naming and are numbered to make it easy to find exactly the ones you want to follow.
SUBTITLES
Subtitles are offered for this tutorial in English, Spanish, and Chinese.
Please note the subtitles are auto generated and might not always be 100% accurate.
Chapters List
01-Creating Our Blockout.mp4
02-Creating Our Frames.mp4
03-Creating The Phone Booth Internals Part1.mp4
04-Creating The Phone Booth Internals Part2.mp4
05-Creating The Phone Booth Internals Part3.mp4
06-Creating The Phone Booth Internals Part4.mp4
07-Geomatry Cleanup.mp4
08-Creating Our High Poly Part1.mp4
09-Creating Our High Poly Part2.mp4
10-Sculpting Damages.mp4
11-Uv Unwrapping And Baking Our Phone Booth.mp4
12-Setting Up Substance Painter And Painting Height Details.mp4
13-Defining The Base Colors.mp4
14-Material Refinement Part1.mp4
15-Material Refinement Part2.mp4
16-Material Refinement Part3.mp4
17-Creating Our Decals And Branding.mp4
18-Setting Up Our Marmoset Scene.mp4
19-Polishing Our Texture.mp4
20-Creating Final Presentation Images.mp4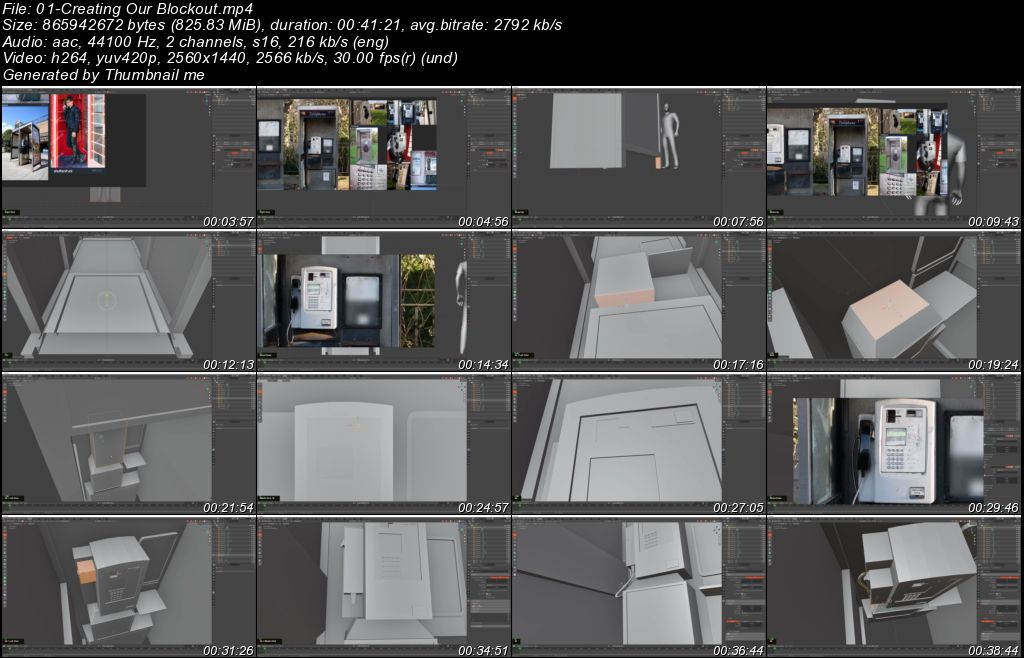 Password/解压密码www.tbtos.com
转载请注明:0daytown » Creating Hero Assets for Games & Cinematics