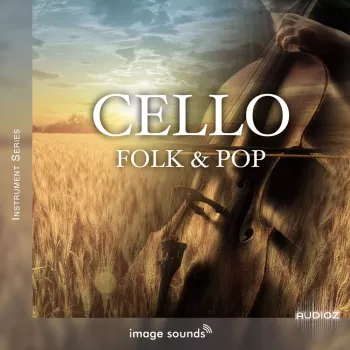 Team DECiBEL | 02 Sep 2023 | 1.25GB
Introducing the Cello – Folk and Pop Sample Pack is a great way to enrich your music with the infectious charm of the cello. This comprehensive collection is designed to blend seamlessly with folk, indie and pop styles. It is an indispensable resource for musicians, producers and composers who want to enhance their creations with the evocative power of this classical instrument. Featuring a generous 2.83 GB of content, the Cello – Folk and Pop Sample Pack showcases a diverse array of 620 meticulously crafted cello loops.
Each loop resonates with the heartfelt expressiveness of the cello, weaving an intricate tapestry of emotion throughout your folk, indie and pop tracks. For flawless musical cohesion, every loop in this pack is meticulously tempo-synced to ensure smooth integration into your projects. In addition, each loop is expertly labeled with its root key, streamlining the process of matching these loops to your musical compositions. Spanning a wide range of tempos from 70 BPM to 150 BPM, the Cello – Folk and Pop sample pack is perfect for a variety of musical moods.
Whether you're looking to add the warmth of the cello to a soothing folk ballad, add a touch of raw emotion to an indie track, or enhance a pop anthem with its melodic grace, you'll find loops that resonate with your chosen tempo and style. With our unwavering 100% Royalty Free license, you are free to immerse yourself in the creative process without restriction. Use these cello loops in your personal projects as well as your commercial endeavors, and feel free to pursue your artistic aspirations. Include the captivating sounds of the Cello – Folk and Pop sample pack in your music, adding a timeless yet contemporary essence to folk, indie, and pop styles. Convey emotion and storytelling through the distinctive voice of the cello and watch your compositions blossom into heartfelt masterpieces. This pack guarantees an unparalleled synergy of sonic excellence and creative inspiration. Immerse yourself in the allure of the cello and witness your music reach new dimensions of beauty and depth.
Structure:
In each carefully organized folder, you'll find an extensive selection of guitar loops from which to choose. Whether you want to assemble an entire song from our diverse collection or simply integrate a sample into your composition, the possibilities are endless. Navigating through these loops is a breeze thanks to the user-friendly and intuitive structure. They fit seamlessly into your creative process and facilitate a fast and efficient workflow – an important aspect of music production. Save valuable time and bring your musical ideas to life effortlessly with our user-friendly loops. Experience the freedom to explore and experiment, knowing that our guitar loops have been carefully crafted to enhance your creative journey. Discover the perfect riff, the ideal melody, or the captivating chord progression that will elevate your music to new heights. With our collection of guitar loops, you can realize your sonic vision with ease and precision. Every single loop in this collection comes with all the important tempo and key information to ensure seamless integration into your projects. Recorded to perfection, each loop features impeccable frequency balance enhanced by subtle EQ adjustments and gentle compression.
Recordings:
You can rest assured that our experienced team of experts spared no effort during the recording process. Using top-of-the-line studio equipment, they captured every detail with extreme precision. The result is pristine sound quality that will take your productions to new heights. To ensure optimal fidelity, all samples were carefully recorded and optimized at 24-bit, 44.1 kHz resolution. This high-resolution format provides exceptional clarity and depth, allowing you to experience the full richness and complexity of every guitar loop.
Important: Please note that except the guitar all instruments are for demonstration purposes only.
620 Cello Loops
Product Details/Specs:
– 620 Loops
– 2,83 MB
– 70 BPM – 150 BPM
– 100% Royalty Free
– tempo-synced & root key labeled
– WAV Format
转载请注明:0daytown » Image Sounds Cello Folk and Pop WAV-DECiBEL