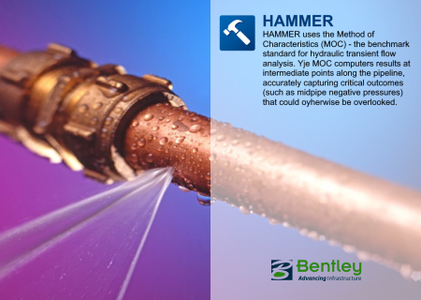 OpenFlows HAMMER CONNECT Edition Update 4 | 996.6 mb
The Hydraulics and Hydrology software development team are pleased to announce the availability of OpenFlows HAMMER CONNECT Edition Update 4 (10.04.00.106). This update introduces improvements and features to help you be more successful.
What's new in OpenFlows HAMMER CONNECT Edition Update 4 (10.04.00.106)
Removal of output size limit and profile animation size limit
The output file size limit for the calculation, as well as the size limit for transient profile animations have been removed. The user will no longer run into limitations in the output generated in HAMMER, in particular when viewing the results. With this major enhancement, the Transient Results Viewer will open much faster and profile animations of transient results will be much smoother, enabling you to more easily understand your transient simulation.
Time Step Export Options added to Export to Excel feature
An option has been added to the Export to Excel feature enabling the user to filter the time steps that are exported to Excel.
This feature will be useful to limit the number of rows exported out to Excel and decrease the time needed to export the data.
Note: if you exceed the limit of the number of rows for Excel, select CSV for the "Format".
Bulk Archive feature for Change Tracking
A new bulk archive feature is available for change tracking. With this, you will be able to archive a large number of items from the Change Tracking database. This will remove the items from the model database file and store the archived changes in an external database file. You can access this by going to the Review tab. Note that this does not replace the Archive feature in the Change Tracking manager. (change tracking bulk archive.jpg)
Compatible Platforms and Operating Systems
Compatible Operating Systems
– Windows 11 (32-bit or 64-bit)
– Windows 10 (32-bit or 64-bit)
– Windows 8 (32-bit or 64-bit)
– Windows Server 2019 and 2022
Supported Platforms:
– Standalone (no CAD or GIS software required)
– MicroStation CONNECT Edition
– AutoCAD 2023 and 2022
– ArcMap 10.8 and earlier
Model Compatibility
Older model files can be opened in the latest version without issue.
Stability enhancements and fixes to reported issues
As with all new versions, this release of HAMMER includes fixes to various user-reported issues from the previous release, providing an overall more stable experience.
With OpenFlows WorkSuite, you can confidently plan, design, and operate water systems of any complexity. OpenFlows technologies combine real-time intelligence with spatial analytics, delivering visibility and insights to ensure optimal real-world outcomes.
Apply OpenFlows solutions to a wide array of water-related processes, including water distribution and analysis, sanitary and combined sewer management, and flood risk assessment and mitigation.
A transient analysis and water hammer software, HAMMER is the most cost-effective way to control transients. If left unchecked in a water or sewer system, transient pressures can cause catastrophic damage to pipes and equipment, risk the safety of operators, allow intrusion of dangerous contaminants into the system, and interrupt service to customers. Used successfully on high-profile projects around the world, HAMMER can identify critical points in the system that need protection and facilitate sound system design.
In this presentation you will be introduced to Bentley's OpenFlows HAMMER and learn the basics of a transient analysis.
Bentley Systems, Incorporated is the global leader dedicated to providing architects, engineers, constructors, and owner-operators with comprehensive architecture and engineering software solutions for sustaining infrastructure. Founded in 1984, Bentley has nearly 3,000 colleagues in more than 45 countries, $500 million in annual revenues, and, since 2001, has invested more than $1 billion in research, development, and acquisitions.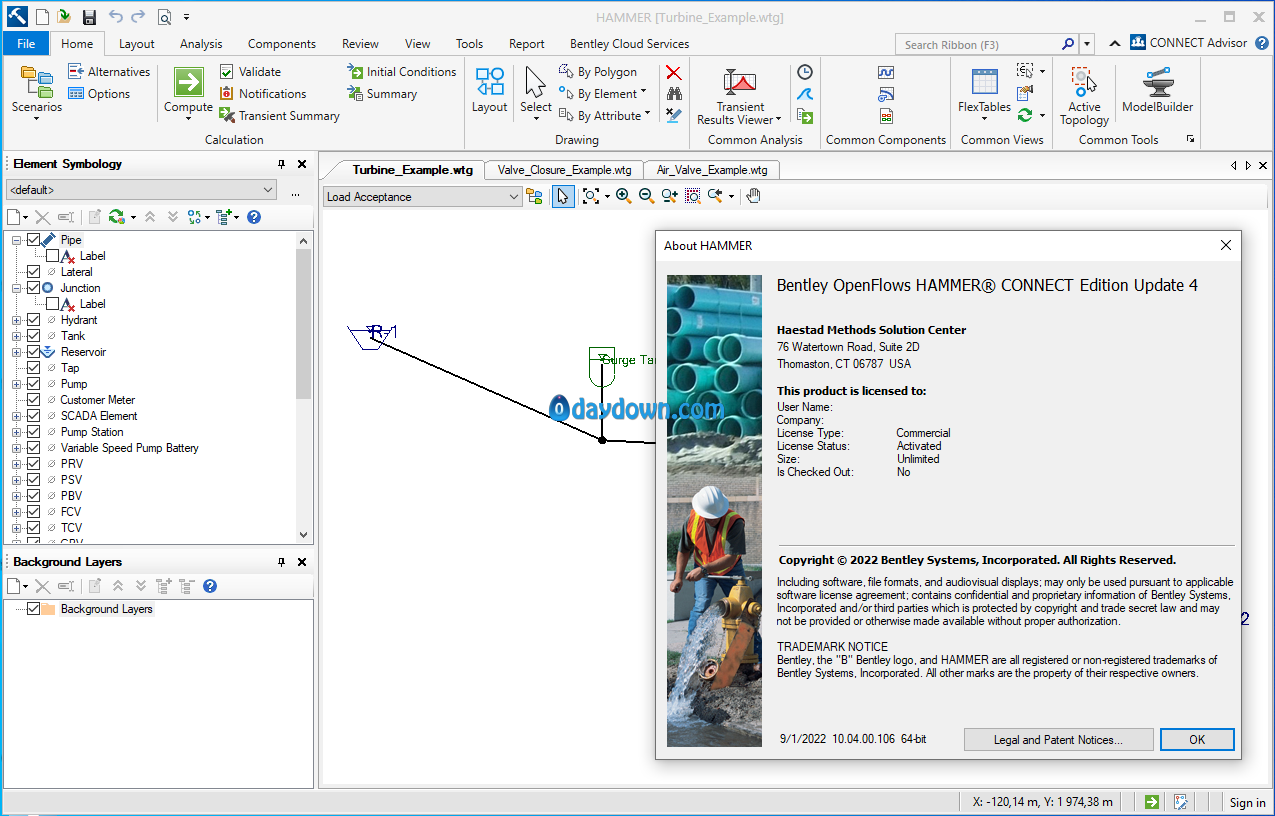 Product: OpenFlows HAMMER
Version: CONNECT Edition Update 4 (10.04.00.106)
Supported Architectures: x86 or x64
Website Home Page : http://www.bentley.com
Languages Supported: english
System Requirements: Windows *
Size: 996.6 mb
---
Password/解压密码www.tbtos.com