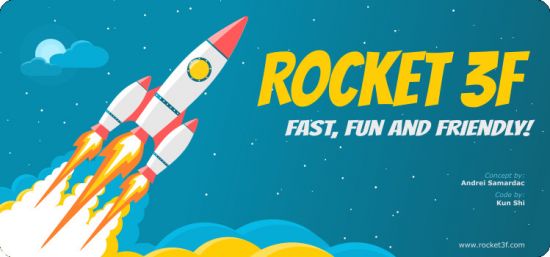 一款非常好用的多边形建模软件,这款软件可以在软件中进行绘图然后快速的转换为可以使用的三维模型,这款软件提供的设计方案都是非常简单,启动软件就可以进入绘图界面,使用软件提供的多边形工具就可以快速设计几何模型,随后转换为可以直接使用的三维模型。这款软件只要用户见到的几下鼠标点击就可以完成操作,这款软件就和绘图软件绘图一样简单、快速。
---
File size: 67.4 MB
Rocket 3F is Windows based Polygonal Modeller for Concept Artists and Designers. Developers Andrei Sarmadac and Kun Shi have released Rocket 3F, a streamlined new polygonal and subdivision surface modeling application with a number of interesting features.
Modeling with Rocket 3F is like drawing – very Simple and Inspiring! The Most important feature of Rocket 3F is Workflow! It is Fast Fun and Friendly!
The software – the '3F' stands for 'fast, fun and friendly' – is intended to give concept artists and designers a more intuitive route into 3D modelling than conventional DCC software.
From the developer of Nvil : Rocket 3F shares a code base with Nvil – formerly known as VoidWorld – Kun Shi's existing modeling software, which also remains in active development.
Offering a highly customisable toolset and user interface, Nvil has been described by users as an extremely quick modeler, although time-consuming to set up.
Rocket 3F looks to preserve some of the unique features of Nvil, but with a workflow geared more towards artists who are new to 3D modeling.
Solid basis poly and sub-D modelling tools, plus a few interesting features
The software includes a standard basic range of tools for creating and editing polygonal and sub-D geometry, including a scene hierarchy and simple array, Boolean and instancing functionality.
More unusual features include the workflow, which is geared towards mouse or stylus-only input, and what Sarmadac describes as "absolutely unique" crease tools. There is also the option to display models in silhouette-only mode, which looks useful for concept design.
Rocket 3F also comes with bridging plugins to intuitive NURBS modeler MoI, voxel sculpting and retopology tool 3D-Coat, and Luxion's KeyShot renderer.
Feedback from early testers – this thread on The Foundry's forum dates back to the beta release – has been broadly positive, with criticism centering mainly around the visual style of the UI, which was described by one poster as having an "ice-cream shop look".
Requirements
No less than Windows 7, 64 or 32bit.
Rocket 3F can run on any Hardware, the faster Hardware you have the faster Rocket 3F will be!
– Must be installed SlimDX.
– Must be installed .NET Framewark 4.6
转载请注明:0daytown » Rocket 3F 1.9 Pro