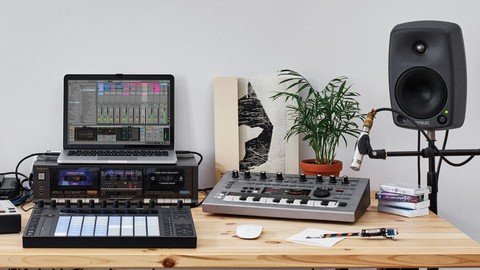 Last updated 3/2022
MP4 | Video: h264, 1280×720 | Audio: AAC, 44.1 KHz
Language: English | Size: 1.74 GB | Duration: 2h 45m
Learn How To Use Powerful Tips And Tips In Ableton.
What you'll learn
Learn about Ableton Live
Learn about Music Production
Connect With Likeminded Producers
Become a Music Producer.
Requirements
Ableton – or trial from site.
Description
Omar Meho is an artist from the United Kingdom. He is a Label Owner, Music Production/ DJ Teacher, Mastering Engineer and International Resident in Ibiza, France, U.K & Dubai. He has played in some of the biggest clubs in the U.K Including Egg LDN, Fabric, The Arch, The Cause & Much more. He has played festivals in front of 12,500 people and has support on his tracks from some of the biggest DJ's in the world including Marco Carola, East End Dubs, Chris Stussy, Jamie Jones, Adam Beyer And More.Connect with likeminded producers and unravel the mystery that is music production!What Students Are Saying?1. RandyOmar has a lot of experience as a DJ and a good understanding of the music business side of things. He's helpful in any regard and is practical when explaining ideas. Overall great session.2. BrettOmar knows his stuff – both as a DJ and producer!3. HarryOmar changed the way i see ableton. Big recommends for anyone looking to expand their profile, up their work flow or master ableton! Big up4. SamOmar was incredibly inspiring and helpful. I'm looking forward to continuing to progress towards a career in music with his direction.5. JamieA truly experienced professional in the music industry, knowledgeable in all areas from production to marketing and distribution. Each lesson I take away valuable information and advice that accelerates my career. Thank you Omar6. KyleOmar is an very experienced and well rounded DJ, with knowledge of a wide variety of genres. He has massively improved my mixing within a matter of weeks. Furthermore, I look forward to his coaching regarding music production and self promotion in the future. Overall, I have come on leaps and bounds under his guidance.7. DavidOmar is very knowledgeable about music production. More importantly he knows how to save a lot of time and time saves money and that's a good thing. You'll make his fees back because you'll be able to produce much faster. Save your time and your money with Omar.8. ShannonOmar is a trustworthy tutor He taught me how to DJ from scratch and I now play on the radio He is an expert and very professional9. YasminOmar is a trustworthy tutor as he is always on time and very patient with his clients, he helped me start up on my producing and getting to grips with the software I use as well as some important tips and tricks.10. NicoleOmar is a fantastic tutor, a passionate dj who taught me how to start up on my decks, transitions and bpm through to producing my own records and signing to record labels. I recommend him 100%.11. VazLearnt Ableton 11 really quick. Highly recommended tutor.12. WajihI've met Omar through one of his online courses then decided to meet 1:1. Upon working with Omar for almost half a year now, Omar has a vast amount of knowledge in the DJ industry and has played at countless festivals and clubs to attest to it. There is a wealth of knowledge in his DJing and music production courses and am very glad to have met him!Learn to become an expert with Music Production.Go ahead and click the enrol button, and I'll see you in lesson 1!Thank you,Omar.
Overview
Section 1: Introduction
Lecture 1 Audio Interface
Lecture 2 60 Second Vocal Gate
Lecture 3 How To Arpeggiate Chords Randomly In 60 Seconds In Ableton Live
Lecture 4 How To Make A House Track In 60 Seconds In Ableton Live
Lecture 5 How To Make A Bassline Sound Good In 60 Seconds In Ableton
Lecture 6 How To Use Wavetable In 60 Seconds In Ableton
Lecture 7 How To Make Chords In 60 Seconds
Lecture 8 Quick 60 Gate Trick Using Stock Ableton Audio Plugins
Lecture 9 How To Make ANY Audio Groove Sound Better In Ableton Live In 60 Seconds
Lecture 10 How To Make ANY Bassline More INTERESTING In 60 Seconds In Ableton!
Lecture 11 60 Sec Tip – Freezing A Bassline And Slicing It
Lecture 12 How To Fatten Up Your Kick In 60 Seconds!
Lecture 13 How To Make A Bassline In 60 Seconds Using MIDI & Instruments In Ableton
Lecture 14 How To Create A Buildup In 60 Secs In Ableton
Lecture 15 Using the D-50 To Make An Interesting, Groovy Bassline in 60 Seconds
Lecture 16 A Quick Graphic Design Tip (60 Second Tips – PhotoMosh Pro)
Lecture 17 How To Make A Groove & Bassline in 60 secs with Ableton Live
Lecture 18 How To Make Interesting Pads In 60 Seconds
Lecture 19 How To Make An M1 House Organ Bass In 60 Seconds
Lecture 20 QUICK 60 SEC TIP – AUTOMATING THE BPM IN ABLETON
Section 2: Live Lessons
Lecture 21 Live Lesson 2
Lecture 22 Live Lesson 3
Music Producers
---
Password/解压密码www.tbtos.com